GDP (2008): $67 billion.
Per capita GDP: $20,200.
Growth Rate 6.7%

Budget: Income .............. $14.6 Billion
Expenditure ... $16.7 Billion

Main Crops: dates, limes, bananas, alfalfa, vegetables; camels, cattle; fish .

Natural Resources: Petroleum, copper, asbestos, some marble, limestone, chromium, gypsum, natural gas.

Major Industries: Crude oil production and refining, natural gas production, construction, cement, copper
NATIONAL GNP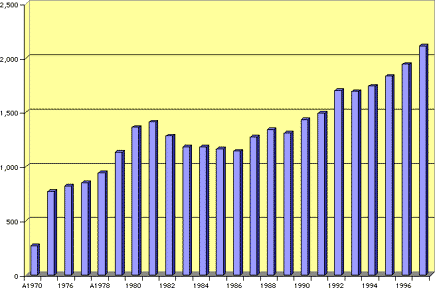 When Oman declined as an entrepot for arms and slaves in the mid-19th century, much of its former prosperity was lost, and the economy turned almost exclusively to agriculture, camel and goat herding, fishing, and traditional handicrafts. Today, oil fuels the economy and revenues from petroleum products have enabled Oman's dramatic development over the past 34 years.

Oil was first discovered in the interior near Fahud in the western desert in 1964. Petroleum Development (Oman) Ltd. (PDO) began production in August 1967. The Omani Government owns 60% of PDO, and foreign interests own 40% (Royal Dutch Shell owns 34%; the remaining 6% is owned by Compagnie Francaise des Petroles [Total] and Partex). In 1976, Oman's oil production rose to 366,000 barrels per day (b/d) but declined gradually to about 285,000 b/d in late 1980 due to the depletion of recoverable reserves. From 1981 to 1986, Oman compensated for declining oil prices by increasing production levels to 600,000 b/d. With the collapse of oil prices in 1986, however, revenues dropped dramatically. Production was cut back temporarily in coordination with the Organization of Petroleum Exporting Countries (OPEC), and production levels again reached 600,000 b/d by mid-1987, which helped increase revenues. By 2000, production had climbed to more than 900,000 b/d, however it declined to roughly 800,000 b/d in 2003. Oman is not a member of OPEC.

Natural gas reserves, which will increasingly provide the fuel for power generation and desalination, stand at 30 trillion cubic feet. An LNG processing plant located in Sur was opened in 2000, with production capacity of 6.6 million tons/yr, as well as unsubstantial gas liquids, including condensates. This plant is scheduled for expansion by the end of 2005, when total production capacity will reach 9.9 million tons/yr.

Oman does not have the immense oil resources of some of its neighbors. Total proven reserves are about 5.5 billion barrels. Oman's complex geology makes exploration and production an expensive challenge. Recent improvements in technology, however, have enhanced recovery.

Agriculture and fishing are the traditional way of life in Oman. Dates and limes, grown extensively in the Batinah coastal plain and the highlands, make up most of the country's agricultural exports. Coconut palms, wheat, and bananas also are grown, and cattle are raised in Dhofar. Other areas grow cereals and forage crops. Poultry production is steadily rising. Fish and shellfish exports totaled $78 million in 2003.

The government is undertaking many development projects to modernize the economy, improve the standard of living, and become a more active player in the global marketplace. Oman became a member of the World Trade Organization in October 2000, and continues to amend its financial and commercial practices to conform to international standards. Increases in agriculture and especially fish production are believed possible with the application of modern technology. The Muscat capital area has both an international airport at Seeb and a deepwater port at Mina Qaboos. The large-scale modern container port at Salalah, capital of the Dhofar Governate, continues to operate at near-capacity levels, and the government in early 2004 approved a project worth over $250 million to add two berths and extend the breakwater at the port. A national road network includes a $400 million highway linking the northern and southern regions. In an effort to diversify the economy, in the early 1980s, the government built a $200-million copper mining and refining plant at Sohar. Other large industrial projects underway or being considered include an 80,000 b/d oil refinery, a large petrochemical complex, fertilizer and methanol plants, an aluminum smelter, and two cement factories. Industrial zones at Rusayl, Sohar, and several other locations showcase the country's modest light industries. Marble, limestone, and gypsum may prove commercially viable in the future.

The Omani Government is implementing its sixth 5-year plan, launched in 2000, to reduce its dependence on oil and expatriate labor. The plan focuses on income diversification, job creation for Omanis in the private sector, and development of Oman's interior. Government programs offer soft loans and propose the building of new industrial estates in population centers outside the capital area. The government is giving greater emphasis to "Omanization" of the labor force, particularly in banking, hotels, and municipally sponsored shops benefiting from government subsidies. Currently, efforts are underway to liberalize investment opportunities in order to attract foreign capital.

Some of the largest budgetary outlays are in the areas of health services and basic education. The number of schools, hospitals, and clinics has risen exponentially since the accession of Sultan Qaboos in 1970.

U.S. firms face a small and highly competitive market dominated by trade with Japan and Britain and re-exports from the United Arab Emirates. The sale of U.S. products also is hampered by higher transportation costs and the lack of familiarity with Oman on the part of U.S. exporters. However, the traditional U.S. market in Oman, oil field supplies and services, should grow as the country's major oil producer continues a major expansion of fields and wells.