GDP (March 2008): US$135.7 billion.
Real annual GDP growth rate (March 2004): .2%.
Per capita income (2008): US$27,900.


Budget: Income .............. $55.1 Billion
Expenditure ... $54.66 Billion

Main Crops: Wheat, barley, potatoes, pulses, fruits, vegetables; wool, beef, dairy products; fish .

Natural Resources: natural gas, iron ore, sand, coal, timber, hydropower, gold, limestone.

Major Industries: Food processing, wood and paper products, textiles, machinery, transportation equipment, banking and insurance, tourism, mining .
NATIONAL GNP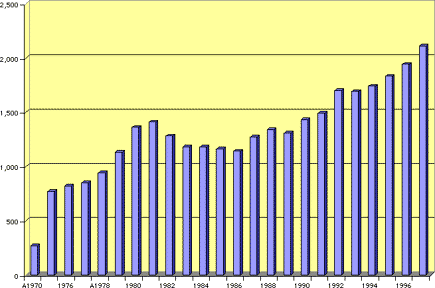 New Zealand's economy has been based on a foundation of exports from its very efficient agricultural system. Leading agricultural exports include meat, dairy products, forest products, fruit and vegetables, fish, and wool. New Zealand was a direct beneficiary of many of the reforms achieved under the Uruguay Round of trade negotiations, with agriculture in general and the dairy sector in particular enjoying many new trade opportunities. The country has substantial hydroelectric power and reserves of natural gas, although the largest gas field -- supplying 84% of New Zealand's natural gas -- is expected to be tapped out by 2007. Leading manufacturing sectors are food processing, metal fabrication, and wood and paper products.

Since 1984, government subsidies including for agriculture were eliminated; import regulations liberalized; tariffs unilaterally slashed; exchange rates freely floated; controls on interest rates, wages, and prices removed; and marginal rates of taxation reduced. Tight monetary policy and major efforts to reduce the government budget deficit brought the inflation rate down from an annual rate of more than 18% in 1987. The restructuring and sale of government-owned enterprises in the 1990s reduced government's role in the economy and permitted the retirement of some public debt. As a result, New Zealand is now one of the most open economies in the world.

Economic growth has remained relatively robust in recent years (i.e., around 3%), benefiting from a net gain in immigration, rising housing prices, strong consumer spending and favorable international prices for the country's exported commodities. New Zealand did not experience the slowdown in growth seen in many other countries following the events of September 11, 2001, and the subsequent fall in overseas share markets. The prolonged period of good economic growth led the unemployment rate to drop from 7.8% in 1999 to a 17-year low of 4% in mid-2004. The growth has also helped to substantially narrow the current account deficit, which stood at 4.5% of GDP in 2003.

New Zealand's economy has been helped by strong economic relations with Australia. Australia and New Zealand are partners in "Closer Economic Relations" (CER), which allows for free trade in goods and most services. Since 1990, CER has created a single market of more than 22 million people, and this has provided new opportunities for New Zealand exporters. Australia is now the destination of 20.5% of New Zealand's exports, compared to 14% in 1983. Both sides also have agreed to consider extending CER to product standardization and taxation policy. New Zealand initialed a free trade agreement with Singapore in September 2000 and is seeking other bilateral/regional trade agreements in the Pacific area.

U.S. goods and services have been competitive in New Zealand, with the strong New Zealand dollar creating opportunities for U.S. exporters in 2003-2004. The market-led economy offers many benefits for U.S. exporters and investors. Investment opportunities exist in chemicals, food preparation, finance, tourism, and forest products, as well as in franchising. The best sales and investment prospects are for information technology, biotechnology, telecommunications, tourism, franchising, food processing and packaging, and medical equipment. On the agricultural side, the best prospects are for fresh fruit, snack foods, specialized grocery items such as organic foods, and soybean meal.

New Zealand welcomes and encourages foreign investment without discrimination. The Overseas Investment Commission (OIC) must give consent to foreign investments that would control 25% of more of businesses or property worth more than NZ$50 million, although the government has proposed raising that threshold to NZ$100 million. Restrictions and approval requirements also apply to certain investments in land and in the commercial fishing industry. OIC consent is based on a national interest determination. While no performance requirements are currently attached to foreign direct investment after consent is given, the government has proposed requiring foreign buyers of land to report periodically on their compliance with the terms of the consent. Full remittance of profits and capital is permitted through normal banking channels.

A number of U.S. companies have subsidiary branches in New Zealand. Many operate through local agents, and some are in association in joint ventures. The American Chamber of Commerce is active in New Zealand, with its main office in Auckland and a branch committee in Wellington.