GDP (2008): $31.09 billion.
Annual growth rate: 5.6%.
Per capita income: $1,100.
Avg. inflation rate (Consumer Price Index): 4.8%.
Budget: Income .............. $1,700 million
Expenditure ... $2,300 million

Main Crops: Rice, wheat, corn, sugar cane, milk, buffalo meat.

Natural Resources: quartz, water, timber.

Major Industries: Small rice, jute, sugar and oil seed mills, cigarette and brick factories, and tourism.
NATIONAL GNP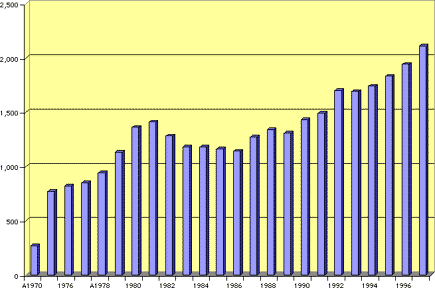 Nepal is among the poorest and least developed countries in the world with almost one-third of its population living below the poverty line. Agriculture is the mainstay of the economy, providing a livelihood for three-fourths of the population and accounting for about one-third of GDP. Industrial activity mainly involves the processing of agricultural products, including pulses, jute, sugarcane, tobacco, and grain. Bumper crops, better security, improved transportation, and increased tourism pushed growth past 5% in 2008, after growth had hovered around 3% - barely above the rate of population growth - for the previous three years. The deteriorating world economy in 2009 will challenge tourism and remittance growth, a key source of foreign exchange. Nepal has considerable scope for exploiting its potential in hydropower and tourism, areas of recent foreign investment interest. Prospects for foreign trade or investment in other sectors will remain poor, however, because of the small size of the economy, its technological backwardness, its remoteness and landlocked geographic location, its civil strife and labor unrest, and its susceptibility to natural disaster.