GDP: $224 million.
GDP per capita (nominal): $1,977.
National income (GDP + foreign assistance): $340 million.
National income per capita: $2,925.
GDP composition by sector: Services 77%, agriculture 19%, indus

Budget: Income .............. $58 million
Expenditure ... $52 million

Main Crops: Black pepper, tropical fruits and vegetables, coconuts, cassava (tapioca), sweet potatoes; pigs, chickens

Natural Resources: forests, marine products, deep-seabed minerals.

Major Industries: Tourism, construction, fish processing, craft items from shell, wood, and pearls
NATIONAL GNP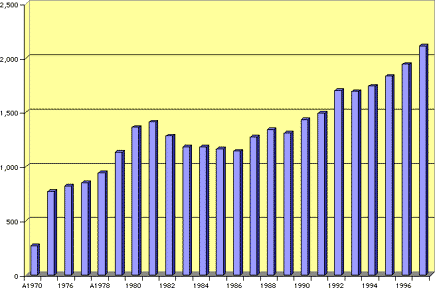 Under the terms of the Compact of Free Association, the U.S. provided FSM with around $2 billion in grants and services from 1986 to 2001. The Compact's financial terms were renegotiated for a 20-year period through 2023. In 2002 the U.S. provided more than $100 million in Compact grants--an amount equivalent to over one-third of FSM's GDP--plus more than $20 million through other federal programs.

The FSM public sector plays a central role in the economy as the administrator of the Compact funds. The national and state-level governments employ over one-half of the country's workers and provide services accounting for more than 40%of GDP. Beginning in 2004, assistance under the amended Compact will be distributed via grants to the following six sectors: education, health, infrastructure, public sector capacity building, private sector development, and the environment.

The fishing industry is highly important. Foreign commercial fishing fleets pay over $20 million annually for the right to operate in FSM territorial waters. These licensing fees account for nearly 30% of domestic budgetary revenue. Additionally, exports of marine products, mainly re-exports of fish to Japan, account for nearly 85% of export revenue.

Visitor attractions include SCUBA diving in each state, World War II battle sites, and the ancient ruined city of Nan Madol on Pohnpei. Some 15,000 tourists visit the islands each year. However, the tourist industry has been hampered by a lack of infrastructure and limited commercial air connections. The Asian Development Bank has identified tourism as one of FSM's highest potential growth industries.

Farming is mainly subsistence, and its importance is declining. The principal crops are coconuts, bananas, betel nuts, cassava, and sweet potatoes. Less than 10% of the formal labor force and less than 7% of export revenue come from the agriculture sector. Manufacturing activity is modest, consisting mainly of two garment factories in Yap.

The large inflow of official assistance to FSM allows it to run a substantial trade deficit and to have a much lighter tax burden than other states in the region (11% of GDP in FSM compared to 18%-25% elsewhere). The government borrowed against future Compact disbursements in the early 1990s, yielding a significant external debt.