John Tyler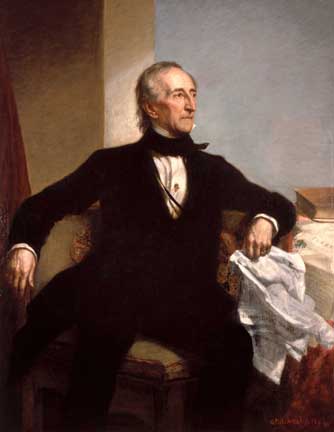 Tyler was the first vice president to assume the office of President after the death of his predecessor. His most notable accomplishment was the annexation of Texas.
---
The Early Years
John Tyler was born in Greenway, Virginia. His mother died when he was seven years old. He attended The College of William and Mary. Upon graduation,Tyler began to study law, first under his father (a former governor of Virginia), then under his cousin and finally under Edmund Randolph, the first US Attorney General. Tyler was admitted to the bar in 1809.
From 1811-1816 he served as a Member of the Virginia House of Delegates. He led the efforts to censure the two Virginian senators who had voted for the creation of the Bank of New York.
During the War of 1812, Tyler enlisted in the militia as a Captain. His unit, however, saw no combat. From 1816- 1821, Tyler, who was elected on a states' rights platform, served in the House of Representatives. In January of 1821, after consistently finding himself in the minority on most issues, he resigned. From 1823-1825, he was a member of the Virginia House of Delegates and from 1825-27 was Governor of Virginia. For the next nine years, Tyler served in the US Senate. He became a vocal opponent of Andrew Jackson.
From 1838 to 1840 Tyler served as a Member of the Virginia House of Delegates. In 1840 he was elected Vice President to balance the ticket of William Harrison.
Accomplishments in Office
As the first President to attain that office because of the death of the previous President, Tyler was forced to address the question of the legitimacy of his Presidency. To many, when he assumed the Presidency after Harrison's untimely death, Tyler was thought to be an "acting" President. This was a designation he did not accept. At the first cabinet meeting that Tyler chaired, Daniel Webster, then Secretary of State, asked whether Tyler would continue Harrison's policy that votes in the cabinet be based solely on majority rule, and in which the President had only one vote. Tyler refused, and stated that "I can never consent to being dictated to ... I, as President, shall be responsible for my administration."
Tyler became involved in a major battle with Congress, led by Senator Henry Clay, over the issue of national banking. Tyler refused to accede to the view of his party of the need to create the Third National Bank, and he twice vetoed attempts to create that bank. As a result, Tyler's complete cabinet resigned, except for Daniel Webster.
During Tyler's term of office, the Webster-Ashburton treaty was signed with Great Britain, thus settling the long-simmering territorial dispute along the Canadian border. The issue for which Tyler will no doubt be best remembered was his support for the annexation of Texas. While Congress at first opposed the annexation, Tyler's successor, Polk, was elected on a platform supporting annexation, and Congress passed a joint resolution supporting annexation signed into law by Tyler three days before his term expired.
The First Family
Father: John Tyler sr
Mother:Mary Marot Tyler (Armistead)
Wife: Letitia Christian, Julia Gardner
Children: 15
Major Events
Webster-Ashburton Treaty
Treaty of Wanghia
Texas Annexed
The Cabinet
Secretaries of State: Daniel Webster, Abel Upshur, John Calhoun
Secretaries of Treasury: Thomas Ewing, Walter Forward, John Spencer, George Bibb
Secretaries of War: John Bell, John Spencer, William Wilkins
Atorney General: John Crittendon, Hugh Legare, John Nelson
Secretaries of the Navy: George Badger, Abel Upshur, Thomas Gilmer, John Mason
Postmaster Generals: Francis Granger, Charles Wickliffe
Military
Sent military forces the Texas to protect against a possible Mexican attack.
Did You Know?
First President to be elevated from vice-president to President.
First President to marry in office.