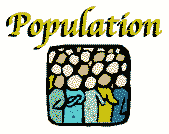 The culture, customs, and language of the Panamanians are predominantly Caribbean Spanish. Ethnically, the majority of the population is mestizo (mixed Spanish and Indian) or mixed Spanish, Indian, Chinese, and West Indian. Spanish is the official and dominant language; English is a common second language spoken by the West Indians and by many in business and the professions. More than half the population lives in the Panama City-Colon metropolitan corridor.
Population (2004 estimate): 3.2 million.
Annual growth rate: 1.31%.
Ethnic groups: Mestizo (mixed Amerindian and European ancestry) 70%, Amerindian and mixed (West Indian) 14%, Caucasian 10%, Amerindian 6%.
Religions: Roman Catholic 84%, Protestant 15%, other 1%.
Languages: Spanish (official); 14% speak English as their native tongue; various indigenous languages. Many Panamanians are bilingual.
Education: Years compulsory--6. Attendance--95% for primary school-age children, 60% for secondary. Literacy—92.6% overall: urban 94%, rural 62%.
Health: Infant mortality rate—20.95/1,000. Life expectancy—72.14 yrs.
Work force (1.1 million): Commerce (wholesale and retail)--19.1%; agriculture, cattle, hunting, silviculture--14%; industries (manufactures)--8.8%; construction--7.7%; transportation, storage, communications--7.2%; public and defense administration--6.9%; other community and social activities--5.8%; hotels and restaurants--3.7%; financial intermediation--2.6%.
POPULATION GRAPH