GDP (2008 estimate): $38.49 billion (nominal).
Annual growth rate (2008): 8.3%;
Per capita GDP (2008 estimate): $11,600.
Budget: Income .............. $6.09 Billion
Expenditure ... $6 Billion

Main Crops: Bananas, rice, corn, coffee, sugarcane, vegetables; livestock; shrimp.

Natural Resources: copper, mahogany forests, shrimp.

Major Industries: construction, petroleum refining, brewing, cement and other construction materials, sugar milling.
NATIONAL GNP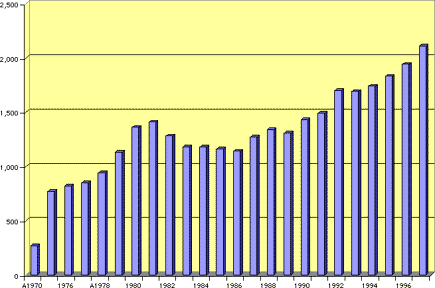 Panama's economy is based primarily on a well-developed services sector that accounts for nearly 80% of GDP. Services include the Panama Canal, banking, the Colon Free Zone, insurance, container ports, flagship registry, medical and health, and other business.
A major challenge facing the government under former President Mireya Moscoso was turning to productive use the 70,000 acres of former U.S. military land and the more than 5,000 buildings that reverted to Panama at the end of 1999. Administratively, this job falls to the Panamanian Inter-Oceanic Regional Authority whose mandate will end on December 31, 2005. In January 2005, the Torrijos Administration passed a comprehensive fiscal reform bill. One of the biggest challenges facing the GOP is the reform of Panama's actuarially bankrupt social security system. The GOP is also seriously considering undertaking a major $4-7 billion expansion of the Panama Canal, but a national referendum, required by Panama's Constitution, has not yet been scheduled.
GDP growth for 2004 was approximately 6.2% compared to 4.3% in 2003. Though Panama has the highest GDP per capita in Central America, about 40% of its population lives in poverty.
Panama has bilateral free trade agreements with El Salvador and Taiwan. Panama is continuing free trade negotiations with the four remaining Central American countries and Mexico, although many of these are on hold. Panama is also negotiating bilateral free trade agreements with the United States and Singapore. From March 2001 to February 2003, Panama served as host for the Free Trade Area of the Americas negotiations.