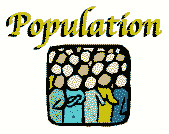 Malaysia's population comprises many ethnic groups, with the politically dominant Malays comprising a plurality. By Constitutional definition, all Malays are Muslim. More than a quarter of the population is Chinese. They have historically played an important role in trade and business.

Malaysians of Indian descent comprise about 7% of the population and include Hindus, Muslims, Buddhists and Christians. About 85% of the Indian community is Tamil.

Non-Malay indigenous groups make up more than half of Sarawak's population and about 66% of Sabah's. They are divided into dozens of ethnic groups but they share some general patterns of living and culture. Until the 20th century, most practiced traditional beliefs, but many have become Christian or Muslim.

The "other" category includes Malaysians of, inter alia, European and Middle Eastern descent.
POPULATION GRAPH
Population:
24,821,286 (July 2007 est.)
Age structure:
0-14 years: 32.2% (male 4,118,086; female 3,884,403)
15-64 years: 62.9% (male 7,838,166; female 7,785,833)
65 years and over: 4.8% (male 526,967; female 667,831) (2007 est.)
Population growth rate:
1.759% (2007 est.)
Birth rate:
22.65 births/1,000 population (2007 est.)
Death rate:
5.05 deaths/1,000 population (2007 est.)
Net migration rate:
0 migrant(s)/1,000 population
note: does not reflect net flow of an unknown number of illegal immigrants from other countries in the region (2007 est.)
Sex ratio:
at birth: 1.07 male(s)/female
under 15 years: 1.06 male(s)/female
15-64 years: 1.007 male(s)/female
65 years and over: 0.789 male(s)/female
total population: 1.012 male(s)/female (2007 est.)
Infant mortality rate:
16.62 deaths/1,000 live births (2007 est.)
Life expectancy at birth:
total population: 72.76 years
female: 75.65 years (2002 est.)
male: 70.05 years
Total fertility rate:
3.01 children born/woman (2007 est.)
HIV/AIDS - adult prevalence rate:
0.4% (2003 est.)
HIV/AIDS - people living with HIV/AIDS:
52,000 (2003 est.)
HIV/AIDS - deaths:
2,000 (2003 est.)
Nationality:
noun: Malaysian(s)
adjective: Malaysian
Ethnic groups:
Malay 50.4%, Chinese 23.7%, indigenous 11%, Indian 7.1%, others 7.8% (2004 est.)
Religions:
Muslim 60.4%, Buddhist 19.2%, Christian 9.1%, Hindu 6.3%, Confucianism, Taoism, other traditional Chinese religions 2.6%, other or unknown 1.5%, none 0.8% (2000 census); note - in addition, Shamanism is practiced in East Malaysia
Languages:
Bahasa Melayu (official), English, Chinese dialects (Cantonese, Mandarin, Hokkien, Hakka, Hainan, Foochow), Tamil, Telugu, Malayalam, Panjabi, Thai; note - in addition, in East Malaysia several indigenous languages are spoken, the largest of which are Iban and Kadazan
Literacy:
definition: age 15 and over can read and write
total population: 88.7%
male: 92%
female: 85.4% (2000 est.)