GDP (2006)PPP: $21.45 billion.
Annual growth rate (2006): -5.0%.
GDP per capita (2006): $5,500 (based on population estimate of 4.4 million).

Budget: Income .............. $4.9 Billion
Expenditure ... $7.9 Billion

Main Crops: citrus, grapes, tomatoes, apples, vegetables, potatoes, olives, tobacco, hemp (hashish); sheep, goats.

Natural Resources: limestone, iron ore, salt, water-surplus state in a water-deficit region .

Major Industries: banking; food processing; jewelry; cement; textiles; mineral and chemical products; wood and furniture products; oil refining; metal fabricating
NATIONAL GNP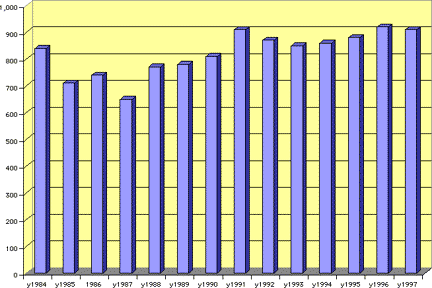 Lebanon has a free-market economy and a strong laissez-faire commercial tradition. The Lebanese economy is service-oriented; main growth sectors include banking and tourism. There are no restrictions on foreign exchange or capital movement, and bank secrecy is strictly enforced. Lebanon has adopted a law to combat money laundering. There are practically no restrictions on foreign investment; however, the investment climate suffers from red tape, corruption, arbitrary licensing decisions, high taxes and fees, archaic legislation, and a lack of adequate protection of intellectual property. There are no country-specific U.S. trade sanctions against Lebanon.

Lebanon embarked on a massive reconstruction program in 1992 to rebuild the country's physical and social infrastructure devastated by both the long civil war (1975-90) and the Israeli occupation of the south (1978-2000). In addition, the delicate social balance and the near-dissolution of central government institutions during the civil war handicapped the state as it sought to capture revenues to fund the recovery effort. Monetary stabilization coupled with high interest rate policies aggravated the debt service burden, leading to a substantial rise in budget deficits. Thus, the government accumulated significant debt, which by 2004 had reached $35 billion, or 190% of GDP, with the budget deficit to GDP ratio reaching 16.6%. Unemployment is estimated at 12-13% for 2003, but in the absence of reliable statistics, some estimate it could be as high as 20-25%.

After negative growth of -0.5% in 2000, the economy picked up slightly in 2001 and posted 2% growth, following measures taken by the government before the end of 2000 and during the first half of 2001 to boost economic activity, reform the administration, and move towards privatization. In February 2001, Prime Minister Hariri presented the government's reform program and economic policies to the World Bank and the European Union (EU) Presidents at a Paris-hosted conference (Paris I). The program focused on economic revival and sustainable growth, privatization, fiscal consolidation and structural reform, and monetary and financial stability.
The government also has maintained a firm commitment to the Lebanese pound, which has been pegged to the dollar since September 1999. The government passed an Investment Development Law as well as laws for the privatization of the telecom and the electricity sector, signed the Euro-Med Partnership Agreement with the EU in March 2003, and anticipates accession to the World Trade Organization (WTO) by 2005. In order to increase revenues, the government introduced a 10% value added tax (VAT) that became applicable in February 2002 and a 5% tax that became applicable in February 2003.

In November 2002, Lebanon submitted a comprehensive program on its financing needs at the Paris II Donors Conference and succeeded in attracting pledges totaling $4.4 billion, including $3.1 billion to support fiscal adjustment and $1.2 billion to support economic development projects. To date, the government has received $2.5 billion, mostly used to retire or replace maturing debt, which carried an average cost of 13.5%. In return, the government issued donors 15-year dollar-denominated Eurobonds carrying a 5% coupon, with a 5-year grace period for repayment.

On the domestic front, the Central Bank of Lebanon (CBL) and commercial banks also contributed to the reduction of debt servicing costs. In December 2002, the CBL wrote off $1.8 billion in public debt it held and re-subscribed $1.8 billion in 15-year Eurobonds carrying a 4% coupon. Commercial banks subscribed 10% of their deposit base as of October 31, 2002 (about $4 billion) in 2-year treasury bills at zero percent interest rates. As a result of these combined efforts, about $10 billion was mobilized from local and international sources and used to replace high cost, short-term debt with lower cost and longer maturity debt. Paris II positively impacted financial markets and lowered interest rates .

On the fiscal front, the government continued to improve fiscal imbalances and succeeded in achieving a 27% improvement in the overall (budget and Treasury) primary surplus in the first half of 2003 over the corresponding period in 2002. In July 2003, the International Monetary Fund (IMF) publicly commended the government's efforts on fiscal reform and debt restructuring, while expressing concern over delays in privatization and securitization, and urging fiscal consolidation, economic reform, and improvement in the overall domestic political climate. The government continues to face difficulties securing political consensus to move forward on privatization. Tension between the President and Prime Minister remains the main obstacle to progress on reform. .
The U.S. enjoys a strong exporter position with Lebanon, generally ranking as Lebanon's fourth or fifth-largest source of imported goods. More than 160 offices representing U.S. businesses currently operate in Lebanon. Since the lifting of the passport restriction in 1997 (see below), a number of large U.S. companies have opened branch or regional offices, including Microsoft, American Airlines, Arthur Andersen, Coca-Cola, FedEx, UPS, General Electric, Parsons Brinkerhoff, Cisco, Eli Lilly, and Pepsi Cola.