GDP (2006 est.)PPP: About $1.18 Trillion
GDP growth rate: 2006, 4.8%
Per capita GNP (2006 est.): $24,200.
Consumer price index: 2001 avg. increase, 4.1%; 2002, 2.8%.


Budget: Income .............. $100 Billion
Expenditure ... $100 Billion

Main Crops: Rice, root crops, barley, vegetables, fruit; cattle, pigs, chickens, milk, eggs; fish

Natural Resources: coal, tungsten, graphite, molybdenum, lead, hydropower.

Major Industries: Electronics, automobile production, chemicals, shipbuilding, steel, textiles, clothing, footwear, food processing
NATIONAL GNP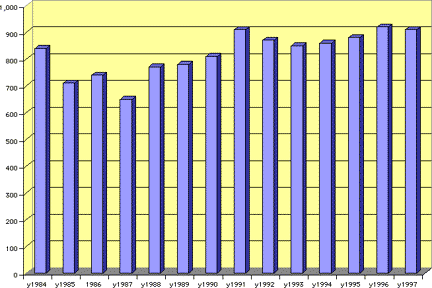 The Republic of Korea's economic growth over the past 30 years has been spectacular. Per capita GNP, only $100 in 1963, exceeded $10,000 in 2003. South Korea is now the United States' seventh-largest trading partner and is the 12th-largest economy in the world.

In the early 1960s, the╩government of Park Chung Hee instituted sweeping economic policy changes emphasizing exports and labor-intensive light industries, leading to rapid debt-financed industrial expansion. The government carried out a currency reform, strengthened financial institutions, and introduced flexible economic planning. In the 1970s Korea began directing fiscal and financial policies toward promoting heavy and chemical industries, as well as consumer electronics and automobiles. Manufacturing continued to grow rapidly in the 1980s and early 1990s.

In recent years Korea's economy moved away from the centrally planned, government-directed investment model toward a more market-oriented one. Korea bounced back from the 1997-98 crisis with some International Monetary Fund (IMF) assistance, but based largely on extensive financial reforms that restored stability to markets. These economic reforms, pushed by President Kim Dae-jung , helped Korea maintain one of Asia's few expanding economies, with growth rates of 10% in 1999 and 9% in 2000. The slowing global economy and falling exports contributed to slower 3.3% growth in 2001, prompting consumer stimulus measures that led to 6.0% growth in 2002. Consumer over-shopping and rising household debt, along with external factors, slowed growth to below 3% again in 2003. Economic performance in 2004 is expected to improve somewhat, although based largely on vibrant exports.

Economists are concerned that South Korea's economic growth potential has fallen, due to structural problems that are becoming increasingly apparent, along with a rapidly aging population. Foremost among the structural concerns is South Korea's rigid labor market, although the country's underdeveloped financial markets and a general lack of regulatory transparency are also╩key concerns. Restructuring of Korean conglomerates (chaebols), bank privatization, and creating a more liberalized economy with a mechanism for bankrupt firms to exit the market are also important unfinished reform tasks. Korean industry is increasingly worried about diversion of corporate investment to China.

North-South Trade╩
Two-way trade between the two Koreas has increased from $18.8 million in 1989 to $724 million in 2003. In 2003, South Korea imported $289.2 million worth of goods from North Korea, mostly agro-fisheries and metal products, while shipping $434.9 million worth of goods, mostly humanitarian aid commodities including fertilizer and rice, materials to construct railways and roads, as well as the component parts for processing-on-commission businesses in North Korea. The R.O.K. is North Korea's second-largest trading partner, after China. Numerous ventures by the Hyundai Asan Corporation have contributed to North Korea's economy, including the Mount Keumgang (Diamond Mountain) tourist site. Last year alone,╩88,130 visitors traveled by Hyundai-operated passenger ships, and via land routes, as part of this tourism initiative, raising the total number of South Koreans to visit the North to over half a million. Nearly 1,023 North Koreans traveled to South Korea in 2003, mainly for joint sporting events. Hyundai Asan and KOLAND, a Korean Government agency, are co-developing an 800-acre industrial complex in Kaesong, located just north of the DMZ. The year 2003 saw significant progress on reconstructing road and rail links across the DMZ with the Seoul-Kaesong link of the Gyeongui (Western line) scheduled for completion by mid-2004.