September 2005 in Iraq
US Casualties

September 3rd Ð 19 Iraqis police and soldiers were killed in a series of attacks on checkpoints and patrols north of Baghdad.
September 7th Sixteen people died following a car bomb attack in the southern Iraqi city of Basra. The Iraqis were killed after a taxi packed with explosives blew up outskide a crowded restaurant. The attack took place a few hours after four Americans contractors were killed.
Sept. 14th More than dozen coordinated bombings rip Baghdad, killing at least 167 people and wounding 570 in insurgency's deadliest day. The attacks brought Baghdad to nearly a stop
September 15th - At least 26 Iraqi police die following two car bombs in the Baghdad. Elsewhere, 3 Shia pilgrims are shot dead by a passenger in a passing car traveling to Karbala, two Iraqi police members are killed near Kirkuk and three civil servants die following an attack on the Ministry of Industry in East Baghdad.
September 17th Ð Terrorists drove their car into a crossed marketplace in southeastern outskirts of Baghdad, got out and then remotely detonated the car. The subsequent explosion killed 30 Iraqis.
September 27th A suicide bomber attacked a police compound in Baquba a town north east of Baghdad. In addition the Iraqi government announced that 22 bodies of Shites were discovered Southeast of the Baghdad not far from the Iraniian border.
September 28th Ð A woman suicide bomber killed herself and seven others at the gate of the an army recruitment center in the cit of Ta Afar. Al Qaeda to responsibility for the attack which took place in this Northern City.
September 29th Ð In the city of Balad which is located 50 miles North of Baghdad a series of 3 bombs went off killing 62 Iraqis. The attack in the largely Shite town bagan at 6:30 Pm when a bomb went off at an open air market and main street. Ten minutes later a second bomb went off just as emergency workers were arriving. A third bomb went off in a Ahite residential area shortly later.
September 30th - 10 people died when a car bomb went off at a fruits and vegetable stand in Hila.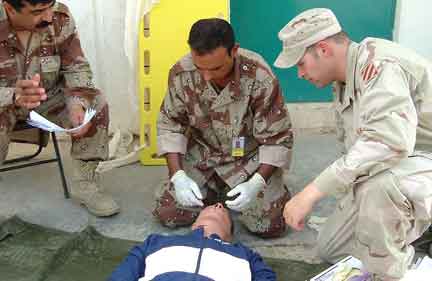 ---