November 2005 in Iraq
US Casualties

November 2nd - Nine Americans were killed around Iraq. Among those who died were two pilots who were killed wine they Super Cobra helicopter crashed near Ramadi
November 5th- Attack across central Iraq claimed the lives of 16 Iraqis. In the worlse incident insurgents dressed up as women attacked a police checkpoint in the won of Buhriz which is 35 miles north of Baghdad that killed 6 police officers. The attack was pulled off when five cars pulled up to the checkpoint and opened firre with automatic fire,
November 7th- A suicide bomber plowed into an American checkpost in Baghdad. The bomber succeeded in killing four American soldiers
November 10th - At least 30 people have died following an insurgent suicide bomb attack on a restaurant in Baghdad. The attack took place at the Quarodi cafŽ at 9:30 in the morning.
November 19th- Ten Americans were killed throughout Iraq, including five who were killed when US patrols were attacked in the vicinity of Bayil.
November 18th A series of suicide bombings kill 74 Shia worshippers at two mosques in eastern Iraq while in Baghdad two car bombs destroy the blast wall protecting a hotel housing foreign journalists and kill eight Iraqis.
November 23th One suicide car bomber kills 18 people, mostly Iraqi police in an ambush in the northern Iraqi city of Kirkuk. An additional 28 people were wounded in the attack. The Prime minister of Italy, Silvio Berlusconi, states that Italian soldiers could leave Iraq by the end of 2006.
November 24th As an American convoy passed the main hospital of the town of Mahmudiya a suicide car exploded killing 30 Iraqis and wounded dozens more. An additional 15 Iraqis were killed in other parts of Iraq.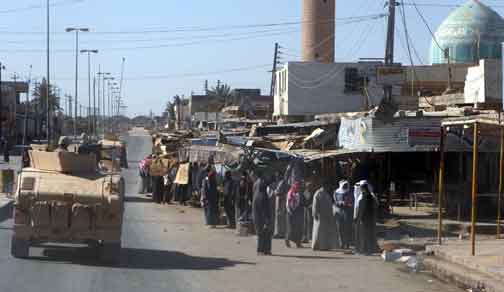 ---