January 2004 in Iraq
US Casualties

January 1 A car bomb destroyed the Nabil Restaurant in Baghdad as Iraqis and Americans were celebrating New Years Eve. Five Iraqis were killed and 30 people including 3 Americans were wounded.
January 8th- An army UH-80 Black Hawk helicopter crashed southeast of Fallujah. All nine men aboard were killed . The Black Hawk was on a medical evacuation mission.
January 18th 20 people were killed and more then 60 inured by a suicide bomber outside coalition headquarters.
January 27th - Six soldiers were killed in two seperate attacks on US forces. A roadside bomb exploded near a US military convoy Kaldiyah killing three. Three other army soldiers were killed inar Iskandariyah 25 miles south of Baghdad.
January 28th- The Shaheen Hotel in Baghdad was attacked by a suicide bomber, Three were killed and 15 wounded when the bomber slammed into the hotel at 7 AM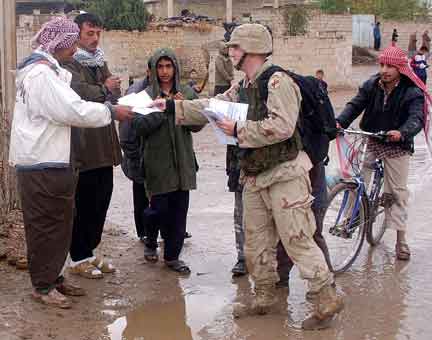 ---