Bremer Statement 6/12/2003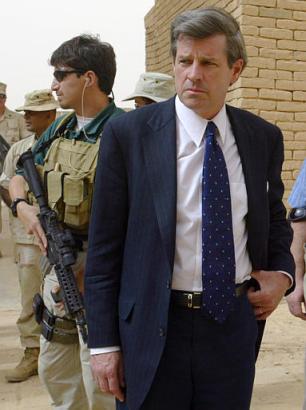 12 June 2003
Bremer Says Iraqi Resistance Not Centrally Directed
(Iraqi de-Ba'athification process will be carried out by council)
(1200)
By Jacquelyn S. Porth
Washington File Security Affairs Writer
Washington --- While there continues to be some organized resistance
to the presence of U.S. military forces in Iraq, Ambassador Paul
Bremer says there is no evidence at the moment of any centralized
command and control.
Bremer, who is President Bush's special envoy to Iraq, told reporters
June 12 at the Pentagon via video teleconference from Baghdad that
there continue to be "isolated attacks against our soldiers," usually
launched by small groups of five or six men seeking to cause
casualties. The attackers may be former members of the now-banned
Ba'ath Party, Saddam Hussein's Fedayeen forces or the Republican
Guard, he said.
"We are clearly on the lookout to see if this evolves into a more
organized ... centrally directed resistance," said Bremer. He is in
charge of the Coalition Provisional Authority (CPA), which has
succeeded the Office of Reconstruction and Humanitarian Assistance
(ORHA) as an entity to run Iraq until an interim Iraqi government is
ready to assume responsibility. Bremer said there is no evidence that
Saddam Hussein might be directing any of the recent attacks.
Asked if the inconclusive fate of Saddam Hussein was making Bremer's
job more difficult, he said: "I would obviously much prefer clear
evidence that Saddam is dead or that we had him alive in our custody."
The special envoy acknowledged that former members of the Ba'ath Party
are causing unease by going into villages and bazaars and spreading
rumors such as "Saddam is alive, and he's going to come back."
Bremer said these kinds of rumors make it difficult for those who are
afraid the Ba'athists may return. He promised that the coalition
authority would "leave no stone unturned in the search for Saddam."
The current organized resistance is occurring west and north of
Baghdad, according to Bremer. Just this week, U.S. forces launched
"Operation Peninsula Strike," to eradicate Ba'ath loyalists,
paramilitaries and other subversive elements on the peninsula along
the Tigris River, northeast of Balad, officials report, taking in
nearly 400 suspects initially and confiscating weapons and ammunition.
Information gathered through the operation is expected to contribute
to more effective law enforcement efforts in Iraq, they say.
The joint Army-Air Force operation -- led by the 4th Infantry Division
-- to halt subversives who are trying to disrupt coalition rebuilding
efforts in Iraq was organized in two stages. According to a June 10
U.S. Central Command (CENTCOM) news release, the first phase sought to
move forces and equipment into place, coordinate with local police and
gather intelligence for the operation. Air assault teams,
ground-attack squads, local security forces, and raiders on river
patrol boats formed the second phase to cut off escape routes.
Meanwhile, an AH-64 Apache helicopter engaging irregular forces in
western Iraq was shot down June 12, CENTCOM said. Earlier a U.S.
F-16CG fighter aircraft supporting operations in Iraq crashed
southwest of Baghdad. The cause of the crash is being investigated.
Bremer, who has been in place for 30 days, was asked about the status
of the 55 Most Wanted Iraqis. He said more than half of them are
confirmed dead or in U.S. custody. Earlier in the week CENTCOM
reported the capture of Latif Nussayyif al-Jasim al-Dulaymi, who was
both a member Iraq's Revolutionary Command Council and a former deputy
secretary of the Ba'ath Party military bureau. In addition, Brigadier
General Husayn al-Awadi, a regional Ba'ath Parry leader and a top
official in Iraq's military chemical weapons corps was also taken in
earlier in the week.
Bremer said the program of de-Ba'athification continues. It is
important "to show through our de-Ba'athification policy, through our
military operations against Ba'athists and through other measures we
take," he said, "that in fact the Ba'athists are finished; they're not
coming back." As part of the plan, the ambassador has called for the
creation of an Iraqi De-Ba'athification Council. Its job, he said,
would be to classify Ba'athists into categories: some will stand
criminal trial while others may receive a reprieve.
Bremer was also asked about a U.S. raid against an alleged Iraqi
terrorist training camp northwest of Baghdad. He would only say that
there is "clear evidence of some Sunni extremism to the west of
Baghdad." CENTCOM reported a coordinated air strike as part of the
assault in question. Members of the 101st Airborne Division were
engaged in the ensuing firefight.
The envoy noted also that there has been evidence of Iranian
interference in Iraq. Bremer pointed to the Ansar al-Islam terrorist
camp that was uncovered in northern Iraq this spring and said: "We are
very attentive to the possibility of those people flowing back into
Iraq and we'll obviously take the appropriate steps if we get evidence
that that's happening."
Bremer was also asked about the duration of the U.S. military presence
in Iraq. "I don't think we should set any artificial deadlines," he
said, stating that U.S. forces will remain until the mission is
finished. "My guess is that it's going to be a substantial amount of
time," the ambassador said, "but whether that is measured in months or
years will depend on developments."
Responding to a question about troop strength, Bremer said: "I think
we have an adequate force level here." Troop levels in Iraq should be
driven by security conditions, he said. He expressed the hope that in
the coming months "we are successful in imposing our will on this
small group of people who are attacking us and causing us casualties."
In the meantime, Bremer's Office of the Administrator of the CPA has
been seeking to tamp down any public incitement of violence or
disorder. Pronouncements that incite violence, civil disorder, or
attacks on coalition forces are prohibited, officials say, as are
those which advocate any return to power of the Ba'ath Party or that
advocate changes to Iraq's borders via violent means.
A weapons "turn-in" program, begun June 1, has brought in 113 pistols,
75 semi-automatic rifles or shotguns, 386 automatic rifles, 40 machine
guns, 130 anti-tank weapons such as rocket-propelled grenade
launchers, 10 anti-air weapons and 249 grenades or similar explosive
devices, the office reports. The program's amnesty period will end on
June 14.
As stability returns to Iraq, Bremer said it will be important to turn
over some of the tasks currently being handled by the military to
civilian entities. The An Najaf police academy just graduated 88
candidates who may now assist in law enforcement operations.
Bremer also said many of the demobilized Iraqi army's enlisted men who
have firearms skills can take over the security burden for protecting
Iraqi ministries and other critical sites from U.S. soldiers.
The burden on U.S. forces will also be further reduced with
deployments this summer by various nations. Spain is scheduled to
co-lead, with Poland, a stabilization force with troop support from
Bulgaria, Estonia, Hungary, Latvia, Lithuania, Romania, the Dominican
Republic, El Salvador and Honduras.

---