April 2005 in Iraq
US Casualties

April 2nd, Scores of insurgents launched an all out assauld on the Abu Ghraib prisons. Using suicide bombs and other weapons approximately 50 insurgents attacked. 20 marines and soldiers were wounded in the attack which was repulsed.
April 7th Ibrahim al-Jaafari, Shiite, appointed prime minister. The day before Jala Talabani a Kuridish militia leader was nominated to be the new Iraqi President.
April 14th Two suicide bombers detonated their vehicles near a police convoy in Baghdad as it passed the Interior Ministry Buildong. The blast killed 13 and left 49 wounded. The Al Qaeda network in Iraq let by Abu Mudab- al Zaraqawi took responsibility for the bombing. An additional attack took place in Kirkurk
April 16th- A series of suicde bombings killed 20 people in Iraq. One of the bomb exploded in a crowded resturaunt in Baquba killing 13 poel there. In addition Sunnis took shitttes hostage in Madaen, saying that they would be killed unless all Shites left the town.
April 19th Two suicide bombers took place in Baghdad. The attacks killed four Iraqis and two Americans. The attack was part of a surge of violence.
April 21st- A Commercial helicopter is shot down south of Baghdad 11 die
April 22nd A Car bomb explodes outside a Shia mosque in Baghdad nine are killed
April 23th 19 People including Nine Iraqi and four US soldiers are killed when a convoy is attacked
April 29th- A total of 49 Iraqis were killed and another 100 wounded when 12 separate car bombs went off throughout Iraq and additional attacks took place against government and American targets that killed five Americans. The attacks began in the morning in the Adhamiya neighborhood of Baghdad with four car bombings. Attacks also took place in Madaen, Baquba and Basra.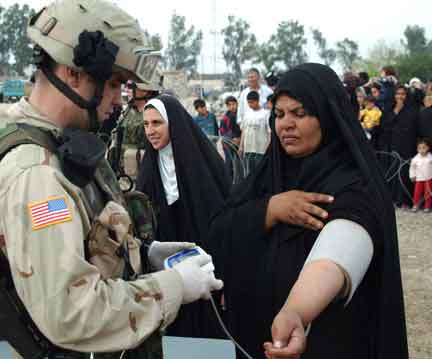 ---