April 2004 in Iraq
April 4th The US launches operation Vigilant Resolve to track down those who attacked the US contractors in Fallujah. The same day was one of the deadliest for American forces. Eleven Americans soldiers were killed. The majority of them were killed when forces of Mahdi army attempt to take control of police stations and other public building in Baghdad.
April 5th/6th Five Marines were killed in the Al Anbar Provinceon the 5th and an addtional 11 were killed on the sixth. This was the single worse two day toll of American soldiers.
April 8th After the Mahdi army under the control of Al Sadr begins a revolt against coalition forces they seize oll of Kut and parts of Najaf, Karbala and Kufa.
April 9th A US fuel convoy on the way to Baghdad airport was ambushed 10 soldiers were killed. An additional 9 US soldiers were killed in actions in other parts of the Iraq
April 11th. Nine US soldiers were killed in various actions aound Iraq, including two killed when their Apache attack helicopter was shot down near Baghdand International Airport.
April 20th Mortars were fired at Abu Gharib prison 22 detainees are killed and 92 wounded
April 21st 68 people were killed in suicide attacks on police stations in Basra and Az Zubyar
April 24th 14 Iraqis were killed when mortar rounds were fired into a crowded chicken market in the Sadr-City section of Baghdad. Sadr City is a stronghold of the radical shite cleric Motada al-Sadr. On the same day 11 US soldiers were killed inclduing three who were killed when suicide bombers attacks oil facilities off Basrah in the Northern Persian Gulf
April 29th Eight Soldiers died when a car bomb when off in the vicinity of Majmudiyah. Three other soldiers were killed in other parts of Iraq. By the next day when the month came to an end 147 American service members had died in Iraq.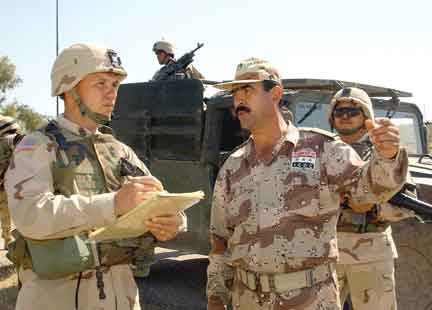 ---