Cartier Explores Canada
Jacques Cartier was sent by the King of France to explore the lands to the west on behalf of France. In three voyages, he explored what became Canada. He claimed the land for France. Cartier arrived in Newfoundland in June 1534.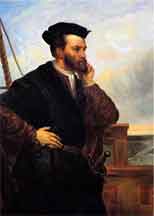 King Francis I of France appointed Jacques Cartier to explore the New World. Cartier was instructed to explore its riches and find a passage to Asia. Cartier set off for the New World on April 20, 1534, with two ships and 61 men. On May 11, he arrived off the coast of Newfoundland. He explored the area and claimed it for France. Cartier encountered natives and took the two sons of one of the chiefs with him when he returned to France in September 1534.
Cartier left for a second voyage on May 13, 1535. He reached the Saint Lawrence River and sailed up it. His first stop was the Iroquoian village of Stadacona, now known as Quebec City. He then sailed up to Hochelaga, now Montreal. During the winter, the French fleet lay frozen in the St. Lawrence River, and the French lived in a fort they had built. Most of the French came down with scurvy. Fortunately, an Indian remedy saved most of their lives. Cartier returned to France on July 15, 1536. More on Second Voyage
Cartier set sail for Canada on his third voyage on May 23, 1541. His goal was to establish a permanent French settlement in Canada, as well as explore for gold and diamonds. He attempted to set up a settlement at present-day Cap-Rouge, Quebec. He sailed up the Ottawa River, but rapids on the river proved impossible to navigate. After spending a difficult winter in the settlement called Charlesbourg-Royal, where Iroquoians attacked the settlement, Cartier returned to France. The next year, the settlement was abandoned.
Map of Cartiers Exploration
Cartier Bio
Account of Voyage
---