First Voyage of Cartier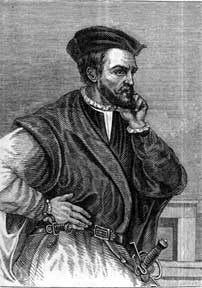 King Francis I of France was persuaded by Admiral Chabo to appoint Jacques Cartier, who hailed from a well-known family of mariners. At the time, France was late in joining the race for exploration, and King Francis was eager for his country to partake in the wealth of the New World. Some scholars assert that Cartier had previously sailed as part of Giovanni da Verrazzano's expedition to the New World.
Embarking from St. Malo on April 20, 1534, Cartier set sail for the New World with two ships and a crew of 61 men. He arrived off the coast of Newfoundland on May 11, where he explored both the East and West coasts.
Subsequently, Cartier discovered Prince Edward Island and claimed the territory for France. Continuing his search for a passage to Asia, he entered the Bay of Chaleur and the Bay of Gaspe. There, he encountered some Iroquois who had come to hunt seals. On July 24, Cartier erected a cross bearing the seal of France, thereby claiming the lands for his country. Iroquois Chief Donnacona initially protested Cartier's actions, but Cartier managed to change his mind. In a gesture of goodwill, Cartier agreed to take the chief's two sons with him on his return voyage to France, which he made in September 1534.
.
---