1956 Elections Eisenhower VS stevenson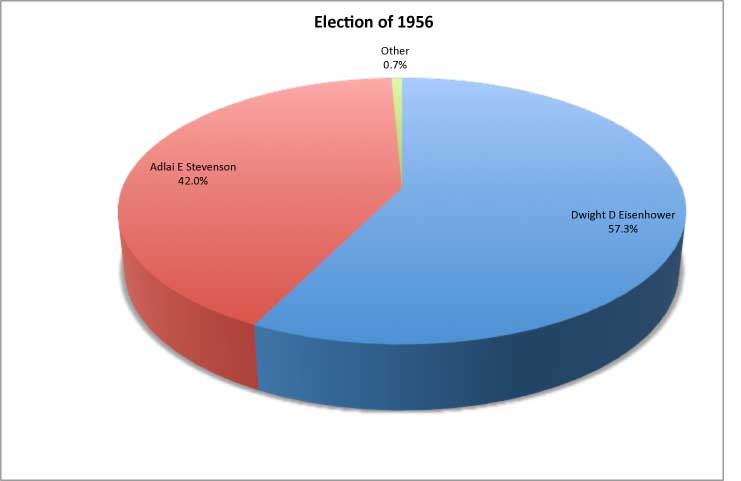 With the 1956 elections approaching the primary question was whether President Eisenhower would run for a second term. He had suffered a heart attack in 1955. In February, he announced his decision to seek a second term. He was immediately nominated for re-election by the Republicans in San Francisco. The only question was whether Nixon would remain on the ticket. Eisenhower decided in favor of keeping Nixon on as his running mate.
At the 1956 Democratic convention, in Chicago, the delegates renominated Adlai Stevenson. The only drama at the convention occurred when Stevenson opened up to the convention body to decide on his Vice Presidential running mate. John F. Kennedy opposed the veteran Senator Estes Kefauver for the nomination. Senator Kefauver won.
Stevenson faced almost insurmountable odds, in opposing the very popular incumbent President. Stevenson attempted to contrast his vigor, with Eisenhower's health problems. Stevenson made proposals regarding benefits for senior citizens, health, education, natural resources, and economic policies. He also called for the end of the draft and the creation of a professional army. Stevenson further called for a Test Ban Treaty on Atomic weapons with the Soviet Union. Stevenson's efforts were unsuccessful. Eisenhower won a landslide victory on November 6, 1956.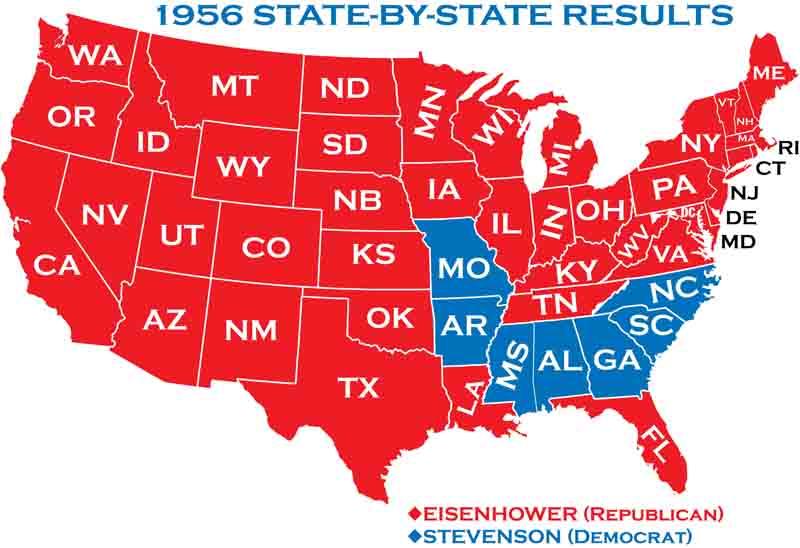 State results in 1956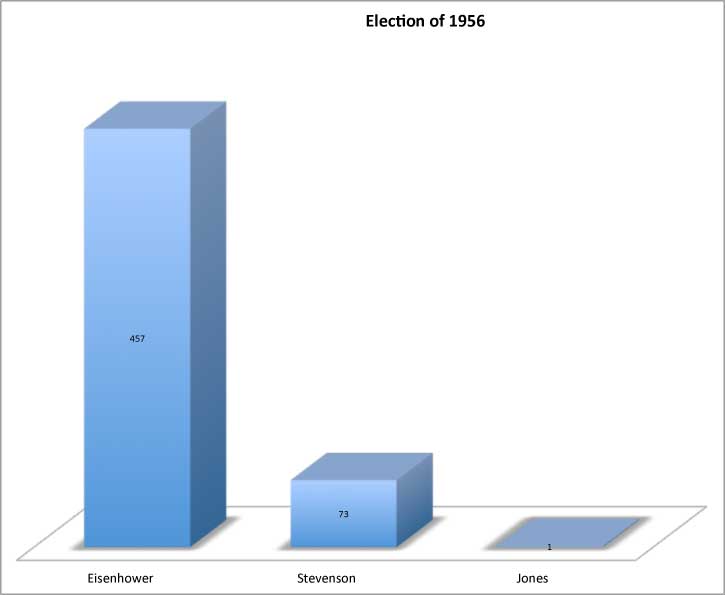 Electoral Results in 1956
| | | | | | | |
| --- | --- | --- | --- | --- | --- | --- |
| Alabama | Dwight Eisenhower | 195,694 | 39.4 | Adlai Stevenson | 280,844 | 56.5 |
| Arizona | Dwight Eisenhower | 176,990 | 61.0 | Adlai Stevenson | 112,880 | 38.9 |
| Arkansas | Dwight Eisenhower | 186,287 | 45.8 | Adlai Stevenson | 213,277 | 52.5 |
| California | Dwight Eisenhower | 3,027,668 | 55.4 | Adlai Stevenson | 2,420,135 | 44.3 |
| Colorado | Dwight Eisenhower | 394,479 | 60.0 | Adlai Stevenson | 257,997 | 39.3 |
| Connecticut | Dwight Eisenhower | 711,837 | 63.7 | Adlai Stevenson | 405,079 | 36.3 |
| Delaware | Dwight Eisenhower | 98,057 | 55.1 | Adlai Stevenson | 79,421 | 44.6 |
| Florida | Dwight Eisenhower | 643,849 | 57.2 | Adlai Stevenson | 480,371 | 42.7 |
| Georgia | Dwight Eisenhower | 222,778 | 33.3 | Adlai Stevenson | 444,688 | 66.4 |
| Idaho | Dwight Eisenhower | 166,979 | 61.2 | Adlai Stevenson | 105,868 | 38.8 |
| Illinois | Dwight Eisenhower | 2,623,327 | 59.5 | Adlai Stevenson | 1,775,682 | 40.3 |
| Indiana | Dwight Eisenhower | 1,182,811 | 59.9 | Adlai Stevenson | 783,908 | 39.7 |
| Iowa | Dwight Eisenhower | 729,187 | 59. 1 | Adlai Stevenson | 501,858 | 40.7 |
| Kansas | Dwight Eisenhower | 566,878 | 65.4 | Adlai Stevenson | 296,317 | 34.2 |
| Kentucky | Dwight Eisenhower | 572,192 | 54.3 | Adlai Stevenson | 476,453 | 45.2 |
| Louisiana | Dwight Eisenhower | 329,047 | 53.3 | Adlai Stevenson | 243,977 | 39.5 |
| Maine | Dwight Eisenhower | 249,238 | 70.9 | Adlai Stevenson | 102,468 | 29.1 |
| Maryland | Dwight Eisenhower | 559,738 | 60.0 | Adlai Stevenson | 372,613 | 39.9 |
| Massachusetts | Dwight Eisenhower | 1,393,197 | 59.3 | Adlai Stevenson | 948,190 | 40.4 |
| Michigan | Dwight Eisenhower | 1,713,647 | 55.6 | Adlai Stevenson | 1,359,898 | 44.1 |
| Minnesota | Dwight Eisenhower | 719,302 | 53.7 | Adlai Stevenson | 617,525 | 46.1 |
| Mississippi | Dwight Eisenhower | 60,685 | 24.5 | Adlai Stevenson | 144,453 | 58.2 |
| Missouri | Dwight Eisenhower | 914,289 | 49.9 | Adlai Stevenson | 918,273 | 50.1 |
| Montana | Dwight Eisenhower | 154,933 | 57.1 | Adlai Stevenson | 116,238 | 42.9 |
| Nebraska | Dwight Eisenhower | 378,108 | 65.5 | Adlai Stevenson | 199,029 | 34.5 |
| Nevada | Dwight Eisenhower | 56,049 | 58.0 | Adlai Stevenson | 40,640 | 42.0 |
| New Hampshire | Dwight Eisenhower | 176,519 | 66.1 | Adlai Stevenson | 90,364 | 33.8 |
| New Jersey | Dwight Eisenhower | 1,606,942 | 64.7 | Adlai Stevenson | 850,337 | 34.2 |
| Now Mexico | Dwight Eisenhower | 146,788 | 57.8 | Adlai Stevenson | 106,098 | 41.8 |
| New York | Dwight Eisenhower | 4,345,506 | 61.2 | Adlai Stevenson | 2,747,944 | 38.7 |
| North Carolina | Dwight Eisenhower | 575,062 | 49.3 | Adlai Stevenson | 590,530 | 50.7 |
| North Dakota | Dwight Eisenhower | 156,766 | 61.7 | Adlai Stevenson | 96,742 | 38.1 |
| Ohio | Dwight Eisenhower | 2,262,610 | 61.1 | Adlai Stevenson | 1,439,655 | 38.9 |
| Oklahoma | Dwight Eisenhower | 473,769 | 55.1 | Adlai Stevenson | 385,581 | 44.9 |
| Oregon | Dwight Eisenhower | 406,393 | 55.2 | Adlai Stevenson | 329,204 | 44.7 |
| Pennsylvania | Dwight Eisenhower | 2,585,252 | 56.5 | Adlai Stevenson | 1,981,769 | 43.3 |
| Rhode Island | Dwight Eisenhower | 225,819 | 58.3 | Adlai Stevenson | 161,790 | 41.7 |
| South Carolina | Dwight Eisenhower | 75,700 | 25.2 | Adlai Stevenson | 136,372 | 45.4 |
| South Dakota | Dwight Eisenhower | 171,569 | 58.4 | Adlai Stevenson | 122,288 | 41.6 |
| Tennessee | Dwight Eisenhower | 462,288 | 49.2 | Adlai Stevenson | 456,507 | 48.6 |
| Texas | Dwight Eisenhower | 1,080,619 | 55.3 | Adlai Stevenson | 859,958 | 44.0 |
| Utah | Dwight Eisenhower | 215,631 | 64.6 | Adlai Stevenson | 118,364 | 35.4 |
| Vermont | Dwight Eisenhower | 110,390 | 72.2 | Adlai Stevenson | 42,549 | 27.8 |
| Virginia | Dwight Eisenhower | 386,459 | 55.4 | Adlai Stevenson | 267,760 | 38.4 |
| Washington | Dwight Eisenhower | 620,430 | 53.9 | Adlai Stevenson | 523,002 | 45.4 |
| West Virginia | Dwight Eisenhower | 449,297 | 54.1 | Adlai Stevenson | 381,534 | 45.9 |
| Wisconsin | Dwight Eisenhower | 954,844 | 61.6 | Adlai Stevenson | 586,768 | 37.8 |
| Wyoming | Dwight Eisenhower | 74,573 | 60.1 | Adlai Stevenson | 49,554 | 39.9 |
fg