1908 Election Results Taft vs Bryan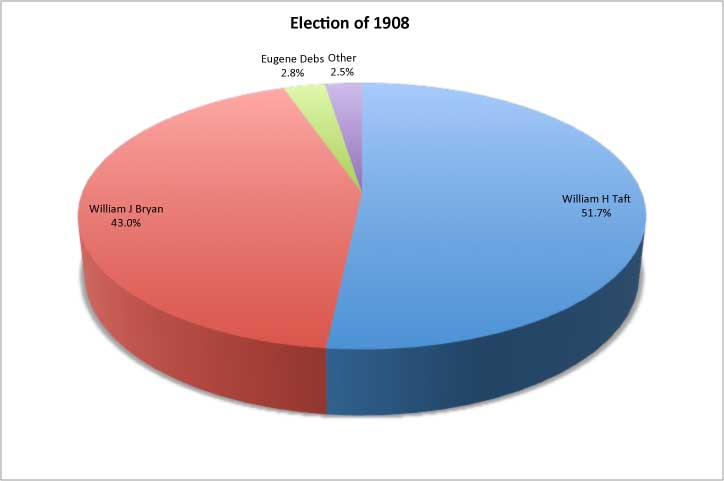 William Howard Taft was President Roosevelt's chosen successor. Taft received the nomination on the first ballot. Taft was a reluctant candidate. He felt he had no choice, but to run for office. However, the Republican "Old Guard" nominated one of their own, Congressman James Sherman, to be the Republican Vice Presidential candidate. When the Democrats met at their convention in Denver, the party felt they had no choice but to nominate William Jennings Bryan as their presidential candidate once again. As a result, Bryan received the Democratic nomination on the first ballot. The 1908 presidential campaign got off to a slow start. William Taft was not an enthusiastic campaigner. Bryan did not seem as driven as he had been in past campaigns. Due to President Roosevelt's continued prodding, Taft became more engaged in the campaign. This was the first time both candidates were actively involved in the campaign.
The primary focus of the campaign was choosing the candidate who could best carry out the vastly popular policies of Theodore Roosevelt. Although Taft was Roosevelt's hand-picked successor, Bryan claimed he was more likely to continue Roosevelt's policies. However, Bryan made a major mistake when he called for the socialization of the railroads. Taft won an overwhelming victory.