1900 Election Results McKinley vs Bryan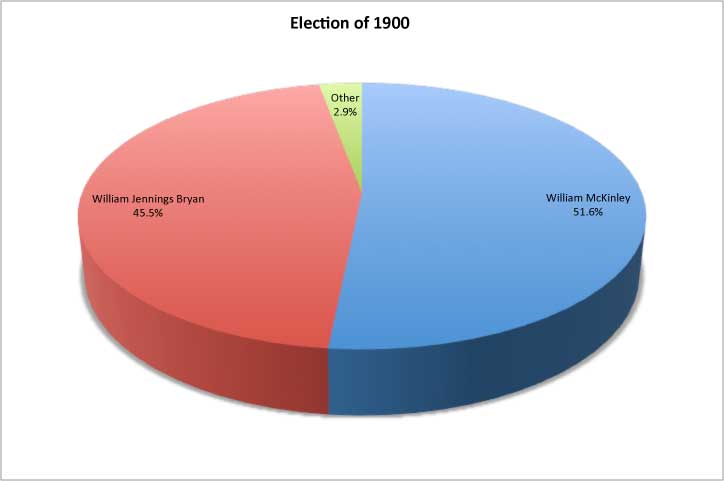 IPresident McKinley was easily renominated at the Republican Convention, in Philadelphia, in June 1900. The major issue at the convention was who would be the vice presidential candidate. Despite his reluctance to give up the governorship of New York, Theodore Roosevelt accepted the VP nomination. At the Democratic convention, William Jennings Bryan was nominated again as well. The major issue at the Democratic convention was whether to maintain support for the silver plank. Many Democrats thought that with the return of prosperity the Silver Standard was no longer necessary.
The campaign itself was largely a replay of the race in 1896. Bryan campaigned rigorously and McKinley did not venture from the White House. The issue of currency and silver was no longer relevant. Instead the campaign focused on whether the United States should give independence to the territories received in its war with Spain. Bryan called for their immediate independence. Roosevelt, who did most of the campaigning, claimed the United States had a duty to civilize those lands first.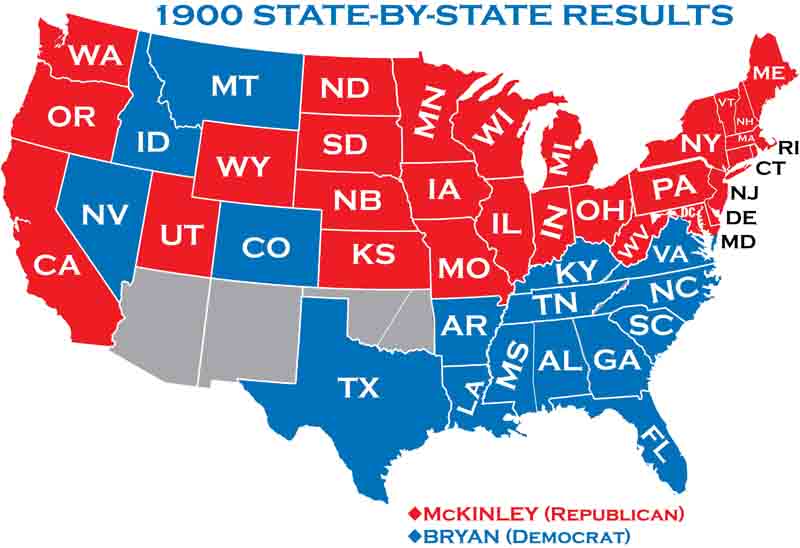 State results in 1900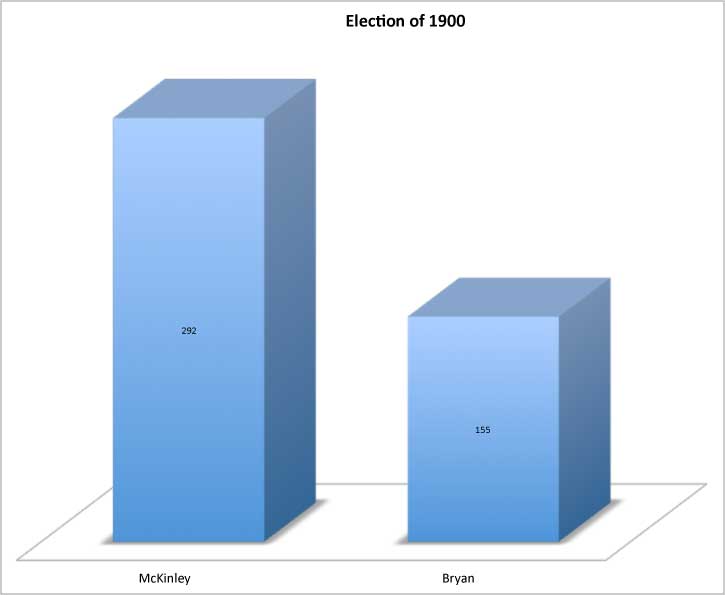 Electoral Results in 1900
| | | | | | | | | | | | | |
| --- | --- | --- | --- | --- | --- | --- | --- | --- | --- | --- | --- | --- |
| Alabama | William McKinley | 55,612 | 34.8 | William Bryan | 97,129 | 60.8 | John Wooley | 2,763 | 1.7 | Eugene Debs | | |
| Arkansas | William McKinley | 44,800 | 35.0 | William Bryan | 81,242 | 63.5 | John Wooley | 584 | 0.5 | Eugene Debs | | |
| California | William McKinley | 164,755 | 54.5 | William Bryan | 124,985 | 41.3 | John Wooley | 5,024 | 1.7 | Eugene Debs | | |
| Colorado | William McKinley | 92,701 | 42.0 | William Bryan | 122,705 | 55.5 | John Wooley | 3,790 | 1.7 | Eugene Debs | 686 | 0.3 |
| Connecticut | William McKinley | 102,572 | 56.9 | William Bryan | 74,014 | 41.1 | John Wooley | 1,617 | 0.9 | Eugene Debs | 1,029 | 0.6 |
| Delaware | William McKinley | 22,535 | 53.7 | William Bryan | 18,852 | 44.9 | John Wooley | 546 | 1.3 | Eugene Debs | 56 | 0.1 |
| Florida | William McKinley | 7,355 | 18.6 | William Bryan | 28,273 | 71.3 | John Wooley | 2,244 | 5.7 | Eugene Debs | 634 | 1.6 |
| Georgia | William McKinley | 34,260 | 28.2 | William Bryan | 81,180 | 66.9 | John Wooley | 1,402 | 1.2 | Eugene Debs | - | |
| Idaho | William McKinley | 27,198 | 46.9 | William Bryan | 29,484 | 50.8 | John Wooley | 857 | 1.5 | Eugene Debs | - | |
| Illinois | William McKinley | 597,985 | 52.8 | William Bryan | 503,061 | 44.4 | John Wooley | 17,626 | 1.6 | Eugene Debs | 9,687 | 0.9 |
| Indiana | William McKinley | 336,063 | 50.6 | William Bryan | 309,584 | 46.6 | John Wooley | 13,718 | 2.1 | Eugene Debs | 2,374 | 0.4 |
| Iowa | William McKinley | 307,799 | 58.0 | William Bryan | 209,261 | 39.5 | John Wooley | 9,502 | 1.8 | Eugene Debs | 2,743 | 0.5 |
| Kansas 2 | William McKinley | 185,955 | 52.6 | William Bryan | 162,601 | 46.0 | John Wooley | 3,605 | 1.0 | Eugene Debs | 1,605 | 0.5 |
| Kentucky | William McKinley | 227,132 | 48.5 | William Bryan | 235,126 | 50.2 | John Wooley | 2,890 | 0.6 | Eugene Debs | 766 | 0.2 |
| Louisiana | William McKinley | 14,234 | 21.0 | William Bryan | 53,668 | 79.0 | John Wooley | - | | Eugene Debs | - | |
| Maine | William McKinley | 65,412 | 61.9 | William Bryan | 36,822 | 34.8 | John Wooley | 2,581 | 2.4 | Eugene Debs | 878 | 0.8 |
| Maryland | William McKinley | 136,151 | 51.5 | William Bryan | 122,237 | 46.2 | John Wooley | 4,574 | 1.7 | Eugene Debs | 900 | 0.3 |
| Massachusetts | William McKinley | 238,866 | 57.6 | William Bryan | 156,997 | 37.8 | John Wooley | 6,202 | 1.5 | Eugene Debs | 9,607 | 2.3 |
| Michigan | William McKinley | 316,014 | 58.1 | William Bryan | 211,432 | 38;9 | John Wooley | 11,804 | 2.2 | Eugene Debs | 2,820 | 0.5 |
| Minnesota | William McKinley | 190,461 | 60.2 | William Bryan | 112,901 | 35.7 | John Wooley | 8,555 | 2.7 | Eugene Debs | 3,065 | 1.0 |
| Mississippi | William McKinley | 5,707 | 9.7 | William Bryan | 51,706 | 87.6 | John Wooley | - | | Eugene Debs | - | |
| Missouri | William McKinley | 314,092 | 45.9 | William Bryan | 351,922 | 51.5 | John Wooley | 5,965 | 0.9 | Eugene Debs | 6,139 | 0.9 |
| Montana | William McKinley | 25,409 | 39.8 | William Bryan | 37,311 | 58.4 | John Wooley | 306 | 0.5 | Eugene Debs | 711 | 1.1 |
| Nebraska | William McKinley | 121,835 | 50.5 | William Bryan | 114,013 | 47.2 | John Wooley | 3,655 | 1.5 | Eugene Debs | 823 | 0.3 |
| Nevada | William McKinley | 3,849 | 37.8 | William Bryan | 6,347 | 62.2 | John Wooley | - | | Eugene Debs | - | |
| New Hampshire | William McKinley | 54,799 | 59.3 | William Bryan | 35,489 | 38.4 | John Wooley | 1,270 | 1.4 | Eugene Debs | 790 | 0.9 |
| New Jersey | William McKinley | 221,707 | 55.3 | William Bryan | 164,808 | 41.1 | John Wooley | 7,183 | 1.8 | Eugene Debs | 4,609 | 1.1 |
| New York | William McKinley | 822,013 | 53.1 | William Bryan | 678,462 | 43.8 | John Wooley | 22,077 | 1.4 | Eugene Debs | 12,869 | 0.8 |
| North Carolina | William McKinley | 132,997 | 45.5 | William Bryan | 157,733 | 53.9 | John Wooley | 990 | 0.3 | Eugene Debs | - | |
| North Dakota | William McKinley | 35,898 | 62.1 | William Bryan | 20,524 | 35.5 | John Wooley | 735 | 1.3 | Eugene Debs | 517 | 0.9 |
| Ohio | William McKinley | 543,918 | 52.3 | William Bryan | 474,882 | 45.7 | John Wooley | 10,203 | 1.0 | Eugene Debs | 4,847 | 0.5 |
| Oregon | William McKinley | 46,172 | 55.5 | William Bryan | 32,810 | 39.4 | John Wooley | 2,536 | 3.0 | Eugene Debs | 1,464 | 1.8 |
| Pennsylvania | William McKinley | 712,665 | 60.7 | William Bryan | 424,232 | 36.2 | John Wooley | 27,908 | 2.4 | Eugene Debs | 4,831 | 0.4 |
| Rhode Island | William McKinley | 33,784 | 59.7 | William Bryan | 19,812 | 35.0 | John Wooley | 1,529 | 2.7 | Eugene Debs | - | |
| South Carolina | William McKinley | 3,525 | 7.0 | William Bryan | 47,173 | 93.0 | John Wooley | - | | Eugene Debs | - | |
| South Dakota | William McKinley | 54,574 | 56.7 | William Bryan | 39,538 | 41.1 | John Wooley | 1,541 | 1.6 | Eugene Debs | 176 | 0.2 |
| Tennessee | William McKinley | 123,108 | 45.0 | William Bryan | 145,240 | 53.0 | John Wooley | 3,844 | 1.4 | Eugene Debs | 346 | 0.1 |
| Texas | William McKinley | 131,174 | 30.9 | William Bryan | 267,945 | 63.1 | John Wooley | 2,642 | 0.6 | Eugene Debs | 1,846 | 0.4 |
| Utah | William McKinley | 47,089 | 50.6 | William Bryan | 44,949 | 48.3 | John Wooley | 205 | 0.2 | Eugene Debs | 717 | 0.8 |
| Vermont | William McKinley | 42,569 | 75.7 | William Bryan | 12,849 | 22.9 | John Wooley | 383 | 0.7 | Eugene Debs | 39 | 0.1 |
| Virginia | William McKinley | 115,769 | 43.8 | William Bryan | 146,079 | 55.3 | John Wooley | 2,130 | 0.8 | Eugene Debs | - | |
| Washington | William McKinley | 57,455 | 53.4 | William Bryan | 44,833 | 41.7 | John Wooley | 2,363 | 2.2 | Eugene Debs | 2,006 | 1.9 |
| West Virginia | William McKinley | 119,829 | 54.3 | William Bryan | 98,807 | 44.8 | John Wooley | 1,628 | 0.7 | Eugene Debs | 286 | 0.1 |
| Wisconsin | William McKinley | 265,760 | 60.1 | William Bryan | 159,163 | 36.0 | John Wooley | 10,027 | 2.3 | Eugene Debs | 7,048 | 1.6 |
| Wyoming | William McKinley | 14,482 | 58.6 | William Bryan | 10,164 | 41.1 | John Wooley | - | | Eugene Debs | 21 | 0.1 |