1872 Election Results Grant vs Greeley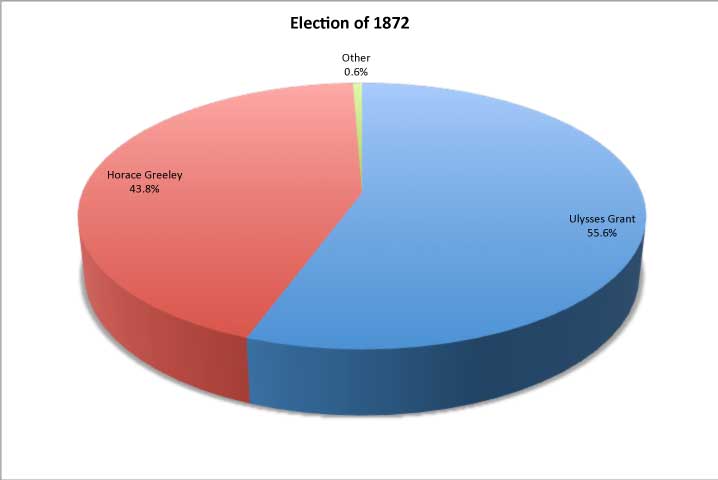 President Grant was nominated to run for a second term at the Republican Convention at Philadelphia in June 1872. Grant was renominated without opposition. The Republican platform condemned racial and religious discrimination. It also called for granting women greater rights. President Grant's opponent was Horace Greeley of New York. Greeley was first nominated by the "Liberal Republicans," who wished to protest the corruption of the Grant administration. The Democrats were in such disarray that they were unable to select a presidential candidate. Therefore, they endorsed Greeley.
Horace Greeley had been the editor of the New York Tribune. Greeley was known to be an eccentric figure. At various time, Greeley had been a supporter of spiritualism, prohibition, vegetarianism, and socialism. This made Greeley an easy target of Republican attacks.
Greeley's campaign focused primarily on the theme of "more honest government." He also campaigned for an end to radical reconstruction. Greeley received support from most of the South. Grant received support from most Northerners and most business interests. Most Americans still found Grant popular. Most Americans were also convinced that Grant was not responsible for the corruption in his administration. Thus, Grant was re-elected, receiving an overwhelming majority of the votes. Grant's victory was one of the largest in American electoral history.
Greeley died on November 29th, 1872, before the electoral college could vote. As a result, his vote was split four ways.