1938 Hughes Sets New Around the World Record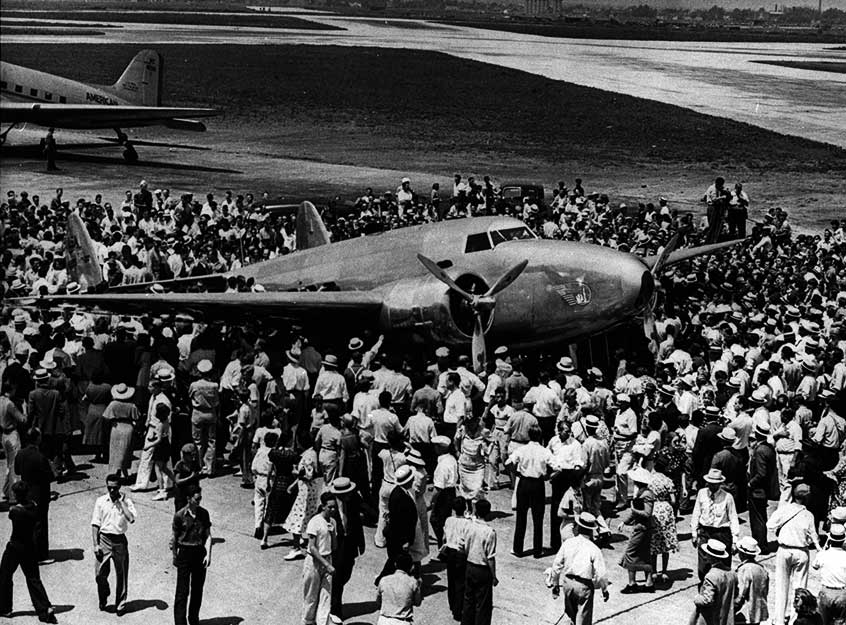 Howard Hughes set a new "around the world" record when he completed his flight in 3 days and 19 hours and 8 minutes. He departed on July 10th in a Lockheed 14N Super Electra. The aircraft was specially designed for Huges and had a range of nearly 5,000 miles.
---

Howard Hughes set off on his round the world flight as part of the promotions for the New York World's Fair. Hughes had aboard his copilot Harry Connor and his navigator Thomas Thurlow, his flight engineer Edward Lund, and his radio operator Richard Stoddard. Advising them was Al Lodwick who was Vice President of Curtis Wright and handled all the logistics of the flight. They had onboard the most advanced navigational equipment available at the time including a homing radio compass a periscope drift indicator and gyro pilot and powerful radio. They left Floyd Bennet Field on July 10th. Along the way they stopped in Paris, Moscow, Omsk, Yakutsk, Fairbanks, and Minneapolis. The plane and crew returned to New York on July 14th 91 hours after departing.
After the flight, Hughes released this statement:
There is one thing about this flight that I would like everyone to know. It was in no way a stunt. It was the carrying out of a careful plan.
If any credit is due anyone, it is the men who designed and perfected, to its remarkable state of efficiency, the modern American flying machine, and equipment.
All we did was operate this equipment and the plane according to the instruction book."