1938 DC-4 Flown For the First Time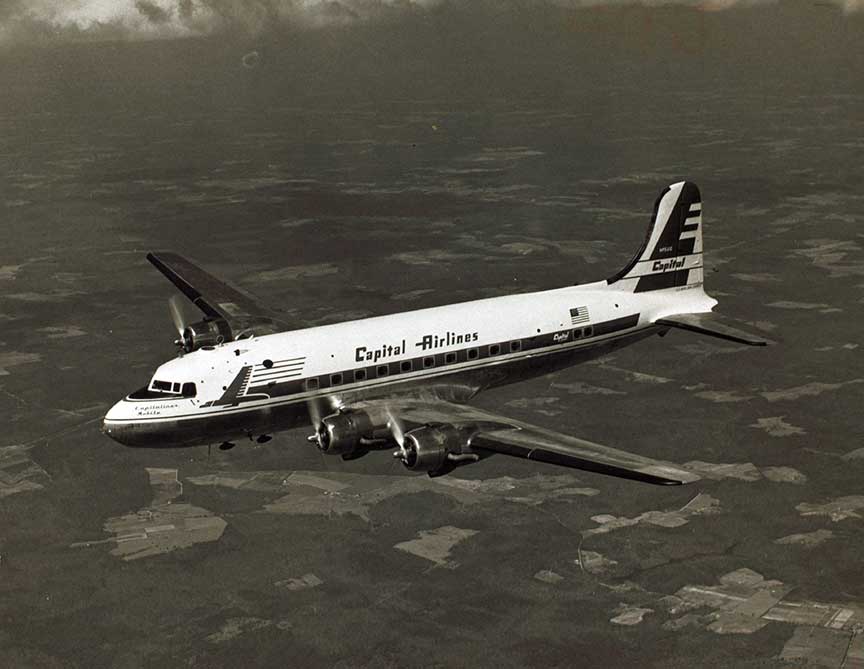 On June 7th Douglas Aircraft unviled their new plane- the four engine DC-4 this aircraft was powered by four Pratt and Whitney engines.and had seats for 52 passengers.
---
In 1935 while the DC-3 was still in the design phase, airlines asked for a larger plane to be designed by Douglas.
That was the DC-4. American Airlines, Eastern Airlines, Pan American, and TWA all gave Douglas $100,000 to begin design. The aircraft was to carry 52 passengers in two rows and have four engines. The plan included three vertical stabilizers. The plane was the first with a nosewheel, auxiliary power units, power controls, and air conditioning.
The first flight of the DC4-E flew on June 7, 1938, from Clover Field, California. The original design turned out to be costly to operate and maintain.
Douglas redesigned the plane, and when it began delivering the aircraft to airlines, it had one vertical fin and was slightly smaller. A military variant was called C-54, and between May 1942 and August 1947 a total of 1,245 were built. The following airlines flew the DC-4
Aden
Aden AirwaysNote
Algeria
Air Algerie
Antigua and Barbuda
Seagreen Air Transport
Aerolineas Argentinas DC-4 at Ministro Pistarini Airport, Argentina, 1958.
Argentina
Aerolineas Argentinas
Aerotransportes Entre Rios
Aerovias Halcon
FAMA (Flota Aérea Mercante Argentina)
Australia
Air Express
Ansett-ANANote
Australian National Airways
British Commonwealth Pacific Airlines
Pacific Air Freighters
Qantas
Trans Australia Airlines
Barbados
Carib West Airways
Belgium
SABENA
Avions Fairey
Belgian International Air Services
Bolivia
Frigorifico Reyes
Burundi
King of BurundiNote 1
Cameroon
Air Cameroun (Societie Anonyme des Avions Meyer et Compagnie)[1]
Cameroon Airlines
Canada
Air North
Eldorado Aviation
Canadian Pacific AirlinesNote
National Research CouncilNote
Trans-Canada AirlinesNote
World Wide AirwaysNote
Buffalo Airways (14 registered as of 29 January 2011 with 4 in operation, 2 cargo and 2 waterbombers[4]
Curtiss Reid Flying Services Canada
Kenting Aviation
Maritime Central Airways
Millardair
Nordair
Pacific Western
Soundair
Transair
Chad
Air Tchad
Republic of China
China Airlines
Civil Air Transport
Colombia
Avianca
Democratic Republic of the Congo
Air Congo
Denmark
Flying Enterprise - Canadair North Star
Ecuador
Aerovias Ecuatorianas
El Salvador
TACA International Airlines
France
Air France
Gabon
Transgabon
Greece
Olympic Airways
Guatemala
Aviateca
Hong Kong
Cathay Pacific Airways
India
Indian Airlines
Iceland
Icelandair
Loftleidir
Ireland
Aer Turas
Shannon Air
Israel
El Al
Italy
Alitalia
Côte d'Ivoire
Air Afrique
Japan
Japan Air Lines
Kenya, Uganda, Tanganyika and Zanzibar
East African AirwaysNote
Lebanon
Middle East Airlines
Trans Mediterranean Airways
Luxembourg
Luxair
Madagascar
Air Madagascar
Mauritania
Air Mauritanie
Mexico
Aerovias Guest
Líneas Aéreas Unidas Mexicanas
The Netherlands
KLM
Martin's Air Charter
Nicaragua
LANICA (Lineas Aereas de Nicaragua S.A.)
Niger
Air Niger
Norway
Det Norske Luftfartsselskap (DNL)
Panama
Aerovias Internacional Balboa
Copa Airlines
Paraguay
Paraguayan Airways Service
Lloyd Aéreo Paraguayo S.A.
Peru
Faucett Perú
Philippines
Philippine Air Lines
South Africa
SkyClass Aviation
Africair
Safair
South African Airways
Trek Airways
South Korea
Korean Air Lines
South Vietnam
Air Vietnam
Spain
Aviaco
Iberia
Spantax
Trans Europa
Sweden
Scandinavian Airlines
Svensk Interkontinental Lufttrafik
Switzerland
Balair
Syria
Syrian Airways
Thailand
Thai Airway
United Kingdom
ACE Freighters
Air Charter Limited
Channel Airways
Dan-Air
Eagle Airways
Invicta Airways
Lloyd International
Skyways
Starways
Air LinksNote
BOACNote
British MidlandNote
Derby AirwaysNote
Overseas AviationNote
Transglobe AirwaysNote

United States
Aero Union
Air America
American Airlines
American Export Airlines/American Overseas Airlines
ARAMCO
Biegert Aviation
Capital Airlines
Chicago and Southern Airlines
Eastern Airlines
Matson Airlines
National Airlines
Northwest Airlines
Pan American World Airways
Pacific Southwest Airlines
Santa Fe Skyways
Transocean Air Lines
Trans World Airlines
United Airlines
Westair Transport
Waterman Airlines
Western Airlines
Zantop
Venezuela
Linea Expressa BolivarNote