La Guardia Airport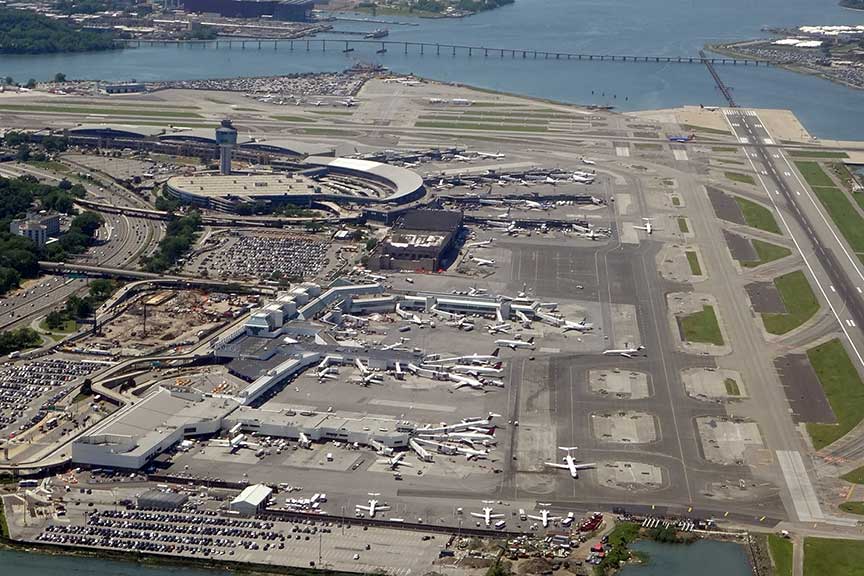 Photo by Eric Salard
The site of the present airport was originally occupied by the Gala Amusement Park. In 1929 the land was used to create a private flying field called the Glenn H. Curtiss Airport and later the North Beach Airport. The field was taken over by New York City and was dedicated as New York City Municipal Airport on October 15, 1939. On November 2, 1939, the name was changed to New York Municipal Airport-La Guardian Field and was opened go commercial traffic on December 2, 1939. And the final name change came in 1947 when the airport was leased to the Port Authority and became LaGuardia Airport.
The airport was an immediate success with all the major airlines at the time moving their operations there. Thousands also flocked to the airport to watch the planes providing a constant source of income for the airport. In its early years, the airport also was the terminal for international flights, but with the building of the larger Idlewild( now JFK) airport on the other side of Queens.

Laguardia is the closest airport to Manhattan and thus continued to grow. In 1984 to limit congestion at the airport the FAA announced that only non-stop service to airports within 1,500 except for Denver where there were already flights would be allowed except on Saturday.
In 2015 work began to replace the Main Terminal at the airport with a new modern terminal. Passenger traffic has continued to grow at the airport. With 19,686,000 passengers in 1991 and 30,094,000 in 2018. 14 airlines fly in and out of Laguardia with Delta and American the largest operators at the airport.