Battle of Trafalgar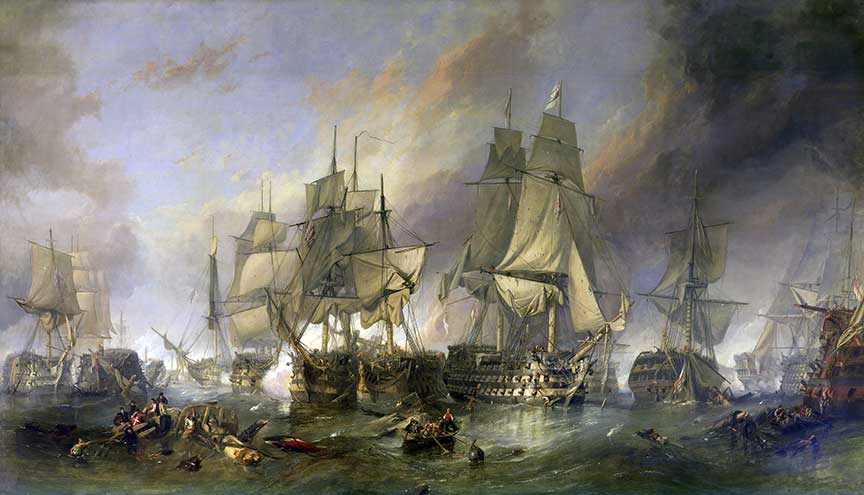 Painting by Clarkson Stanfield
On October 21, 1805, the British Navy fought the combined navies of France and Spain. Leading the British fleet was Admiral Lord Nelson. The Battle took place off the coast of Spain west of Cape Trafalgar. The British achieved a complete victory in the battle ensuring their naval dominance for a century.
---
During the much of the Napoleonic Wars, the British had maintained a naval edge over the French. The British fleet was able to maintain a loose blockade over the French and Spanish coast limiting their trade and the mobility of their armies. The French and Spanish fleets while not as well trained as the British fleet were on paper formidable and required a constant effort on the part of the British to guard against them and to maintain the blockade. The British decided were interested in engaging the French/Spanish fleet in a decisive battle.
A large number of ships were dispatched from guard duty in the English Channel, that fleet combined with the mobile forces of Admiral Nelson rendezvoused off the Spanish coast. The British had a total of 27 ships of the line including 3 what were termed First rates with 100 guns or more while the Spanish and the French and 33 included 4 first rates.
The combined French/Spanish Fleet was commanded by Admiral Pierre Charles Villeneuve. On September 16th, 1805 Villeneuve received orders from Napoleon to set sail as soon as possible for Naples. On October 18th Villeneuve gave the order to set to sail. The fleet took over a day to depart the harbor of Cadiz. By October 20th the fleet had organized and was sailing South. By the morning of the 21st, the British fleet was spotted and Villeneuve ordered a return to Cadiz, but turning around the fleet was chaotic. Meanwhile, Nelson ordered his fleet to attack. Nelson had planned an unconventional attack. Instead, of the usual one line of ship attacking in parallel to the opponent, Nelson planed two lines of ships attacking perpendicular to the enemy line thus dividing the enemy into three groups. It was daring and risky since the lead British ships would be vulnerable to enemy fire. The gamble succeeded, while the first British trips came under withering fire including Nelson's flagship Victory,(resulting in Nelson being killed by enemy infantry fire) as more and more British ships engaged the overwhelmed the French Spanish ships. The British captured a total of 22 Spanish/French ships and lost none of their own. Nelson was quoted as saying as he lay dying- Thank God I have done my duty".

As a result of the battle, British Naval dominance was firmly established. Never again would the French Navy threaten the British Navy. The British navy ruled the seas unchallenged for over 100 years until the US began to take over that role.