Wall Street Bombing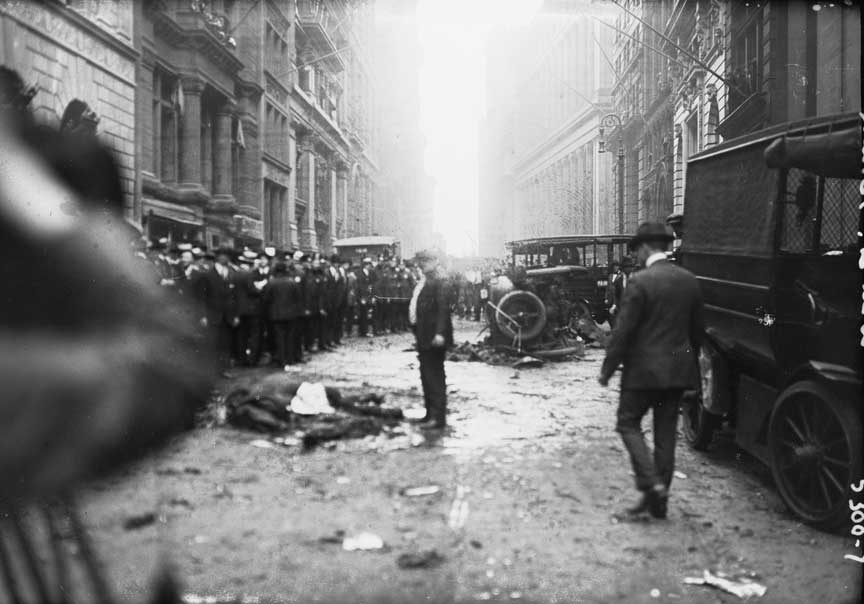 On September 16, 1920, a bomb went off on Wall Street in front of the building of JP Morgan. A total of 38 people were killed and 143 severely wounded. The perpetrators of the bombing were never found, it is believed that Italian anarchists carried out the attack.
---

At 12:01 Am on September 16th, 1920 a wagon that was passing the JP Morgan building at 23 Wall Street in lower Manhattan New York exploded. Inside was 100 pound of dynamite together with 500 pounds of weights. The driver is believed to have left the wagon before it exploded. 30 people died on the spot. Eight died later from their wounds. 143 people were seriously wounded with hundreds more sustaining minor injuries. Most of those injured were young messengers and drivers, as well as people out to lunch. The buildings themselves were only lightly damaged.

The case was never solved. Investigators were initially not clear that it was a terror attack since the target was not clear. The next day thousands of people came out to celebrate constitution day at a celebration that had earlier been planned at the same locations. Two days later a flyer was found nearby that said "Remember, we will not tolerate any longer. Free the political prisoners, or it will be sure death for all of you." At the bottom was: "American Anarchist Fighters." The prevailing view has been that it was the Galleanist who had done the bombing. It is believed that the explosion was done in response to the conviction of Sacco and Vanzetti two Italian anarchist.