Idaho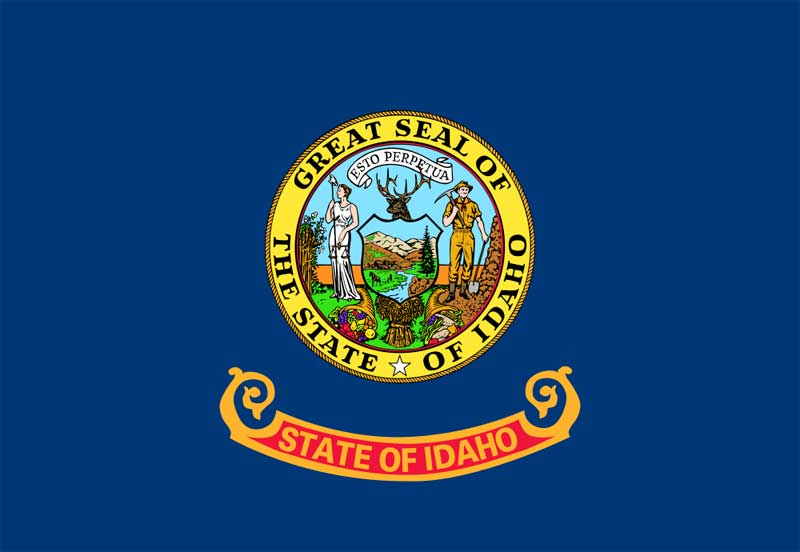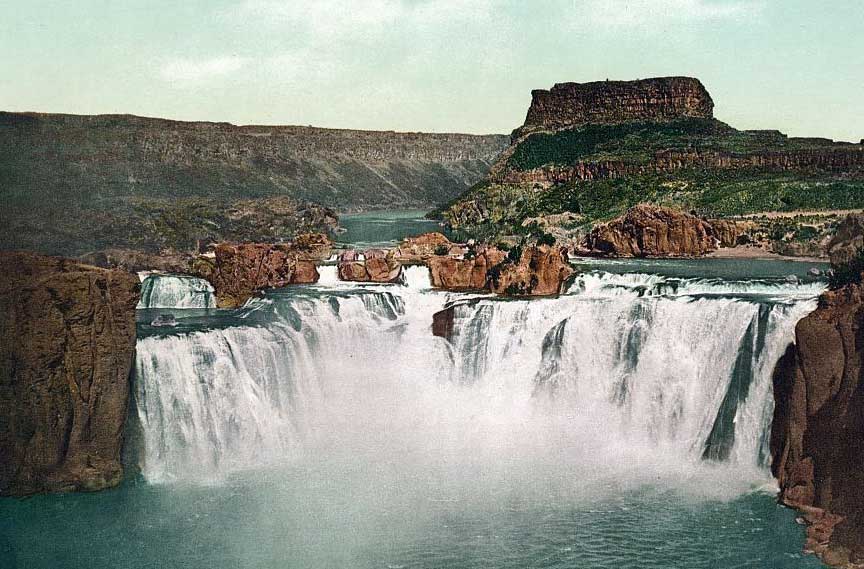 Basic Information
Postal Abbreviation: ID
Natives: Idahoan

Population 2020: 1,839,106
Legal Driving Age: 17
Age of Majority: 18
Median Age: 34.6
State Song: "Here We Have Idaho"
Lyrics: McKinley Helm &
Albert J. Tomkins
Music: Sallie Hume Douglas
Median Household Income:$50,895

Capital..... Boise
Entered Union..... July 3, 1890 (43rd)
Present Constitution Adopted: 1889
Nickname: Gem State
Spud State
Panhandle State

Motto:
"Esto Perpetua" (It is forever)
Origin of Name:
An Indian-style word invented by George M. Willing.
Idaho Economy
AGRICULTURE: barely, beans, cattle,
fruit, hay, onions, potatoes, sheep,
sugar beets, wheat.
MINING: gold, lead, phosphate,
sand, silver.
MANUFACTURING: chemicals,
electronics, food processing, lumber,
machinery, printed matter.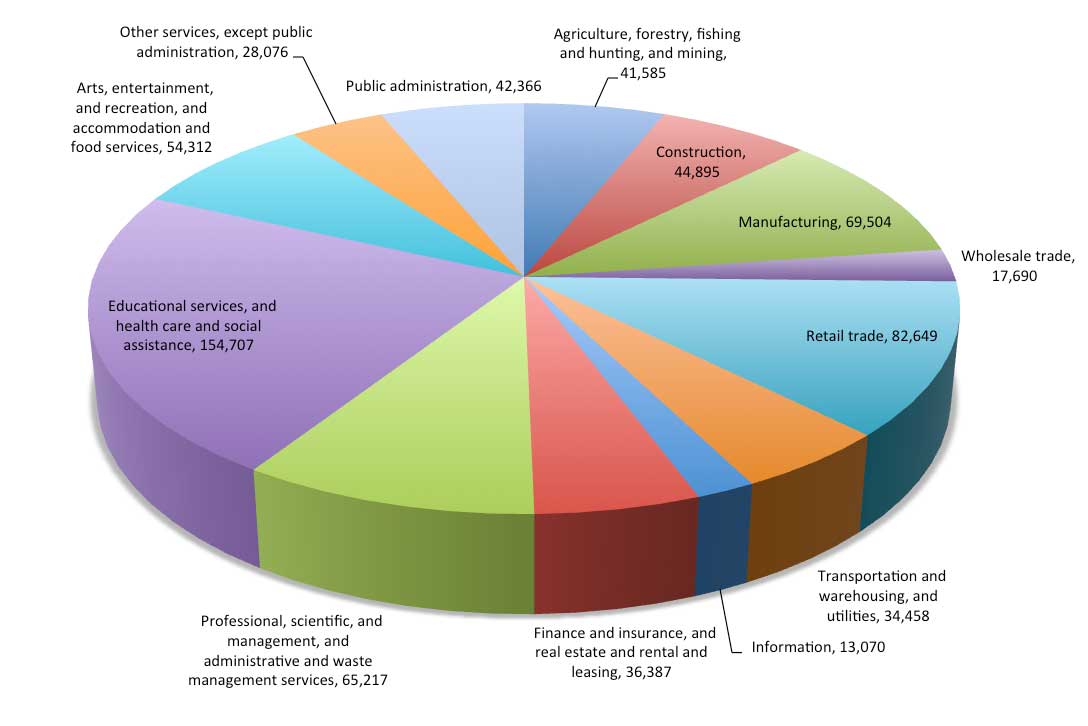 ---
Idaho Geography
Total Area: 83,574 sq. miles
Land area: 82,751 sq. miles
Water Area: 823 sq. miles
Geographic Center: Custer County
SW of Challis
Highest Point: Borah Peak
Custer County (12,662 ft.)
Lowest Point: Snake River
Nez Perce County (710 ft.)
Highest Recorded Temp.: 118˚ F (7/28/1934)
Lowest Recorded Temp.: -60˚ F (1/18/1943)
Idaho is an elevated and mountainous state. There are two main mountain chains: Salmon River and the Bitter Root. While the mountains are highest in the eastern part of the state, they extend throughout the state. There are three major rivers in Idaho: Snake River, which runs to the Pacific; Bear River, which runs into to the Great Salt Lake; and a branch of the Columbia River.
Cities
Boise, 228,790
Nampa, 96,252
Meridian, 106,804
Idaho Falls, 61,535
Pocatello, 56,266
Caldwell, 56,541
Coeur d'Alene, 51,303
Twin Falls, 49,764
Lewiston, 32,817
Post Falls, 32,817
Idaho History
1805 Meriwether Lewis and William Clark cross Idaho.
1809 First trading post in Idaho.
1848 Oregon Territory is established- includes Idaho.
1860 Franklin is founded.
1863 Idaho territory was established.
1880 Silver was found in Idaho.
1882 The Northern Pacific railroad connected Idaho to the Atlantic and Pacific
Coasts.
1890 Idaho was admitted to the union as the 43rd state.
1936 The Sun Valley ski resort was created.
Famous People


Joseph Nez Perce
Frank Church
Ezra Poud
Lana Turner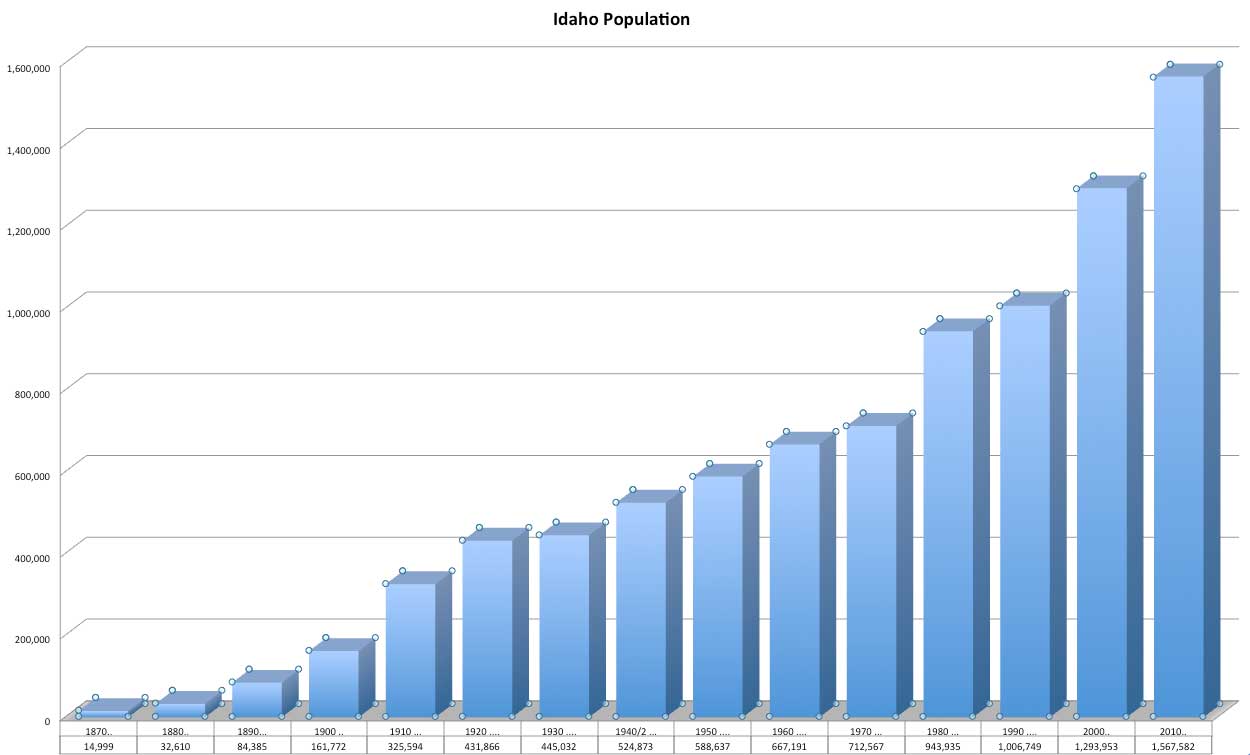 Idaho National Sites
1) Craters of the Moon National Monument
The park contain a moon like landscape created by volcanic flows. The 53,000 acre site is located in Southern Idaho.
2) Hagerman Fossil Beds National Monument
this 4,200 acre monument located on the Snake River. It contains one of the world's best collection of Plicene fossils.
3) Nez Perce National Historical Park
The park is dedicated to the Nez Perce Indians. The park is scattered in 24 sites throughout north and central Idaho.