Idaho II BB-24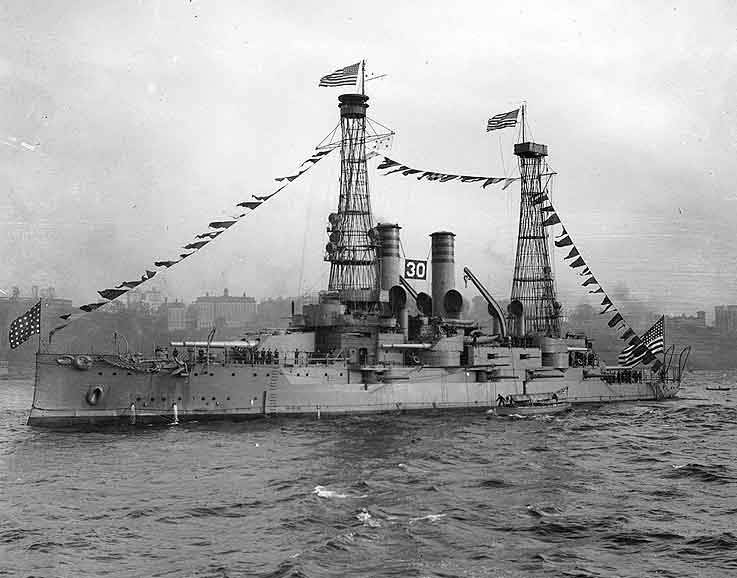 Idaho II

(BB-24: dp. 13,000 n.; 1. 382'; b. 77'; dr. 24'8"; s. 17 k.; cgl. 744; a. 4 12", 8 8", 8 7", 12 3", 2 21" tt.; cl. Mississippi)

The second Idaho (BB-24) was launched by William Oram,p & Sons, Philadelphia, 9 December 1905- sponsored by Miss Louise Gooding, daughter of the Governor of Maho; and commissioned at Philadelphia Navy Yard 1 April 1908, Captain S. W. B. Diehl in command.

The new battleship conducted a shakedown cruise to Cuba April-May 1908, and after a visit to Panama returned to Philadelphia for alterations. The ship took part in the giant naval review in Hampton Roads 22 February 1909 celebrating the return of the Great White Fleet from its around the world cruise. In March she returned to the Caribbean for maneuvers, continuing to take part in training operations until October 1910. Idaho sailed 29 October for exercises in British and French waters and upon her return participated in gunnery exercises in Chesapeake Buy 19 to 23 March 1911.

Idaho sailed from Philadelphia 4 May 1911 for a cruise up the Mississippi River to Louisiana ports. ~She then steamed to the east coast of Florida for battleship maneuvers, and continued to operate off the coast and in the Caribbean until entering the reserve at Philadelphia 27 October 1913. There she remained until 9 May 1914, when the ship sailed to the Mediterranean with midshipmen for at sea training. After visiting various ports in North Africa and Italy and carrying out a rigorous training program, Idaho arrived Villefranche 17 July 1914, transferred her crew to Maine, and decommissioned 30 July. ~She was turned over to the government of Greece, whom she served as coastal defense ship Kilkis until being sunk in Salamis harbor by German aircraft in April 1941.