Israeli Elections 2019 Version Two
Who would have thought there would have been a part-two to the 2019 Election Blog? But here we are — a complete do-over. You can learn how we got here, from my explanation of the events of the night of May 29th, which appeared in my Newsweek article. However, now, that's ancient history and the question is — Are we heading into a total replay of the last election? The answer is — its too early to tell. Many of the players will be the same, but there are many unknown variables.
Here are a few:
Now that Kachlon is part of the Likud, will the votes he received in the last election all go to the Likud? My initial sense is — No.
What will happen to the Labor party? We know for sure that Avi Gabbay will be ousted and a new head will be chosen. At this time, Amir Peretz is the only one who has said he plans to run. Itzik Shmuli and Stav Shafir have not yet stated whether or not they will run. Amir Peretz joins a long list of politicians, both in Israel and in the US, who in my opinion, do not know when to retire. Of course, whether the Labor party runs at all is a significant question. The only hope for the Labor is if the young generation takes control. But then, the question becomes why shouldn't Labor merge with Meretz, who has clearly indicated their desire to run together. The Blue & White party does not wish to have any part of the Labor Party, considering it an electoral liability. This is probably the end of the line for the party that founded the state.
As to Blue & White, they made their first mistake tonight, stating they will continue their agreement to have a rotation between Gantz and Lapid in the top spot. This decision will likely cost them votes — But as is the case with all politicians, ego counts too much.
As to the right-wing, they have spent a few days carrying out a circular fire squad. Of course, the most ammunition was set off between the Likud and Lieberman Party — Each blaming the other for the failure to form a government. Netanyahu started off immediately, Wednesday night, by stating that Lieberman was no longer a right-winger, but a leftist. The next day Lieberman laughed and asked how the person who lives in Ceasaria (i.e., Netanyahu) feels justified calling the person lives in the West Bank settlement of Nokidim (Lieberman) a "leftist". It has been downhill from there. Lieberman is going to run a campaign declaring that Netanyahu has sold out to the ultra-Orthodox, and that he is the real right-wing, and true champion of the secular.
Today, Netanyahu opened another front, firing both Naftali Bennett from his position as Education Minister and Ayelet Shaked from her position as Justice Minister. Netanyahu claimed that since Bennett and Shaked had not been re-elected in the last election, they did no longer had the support of the public. Whether you agree or disagree with either of their policies, by all accounts, Bennett and Shaked were by far the most efficient of the all the ministers in the current government. In their places, Netanyahu is likely to appoint two present Likud MKs to those job for a few months, good government be damned.
Netanyahu's expected coalition partners from the Jewish Home Party are demanding those newly vacant posts. However, Netanyahu has indicated he will not give those positions to MKs from another party at this time. MK Bezalel Smotrich, from the Jewish Home Party (who has been demanding the Ministry of Justice post) said at an event at Mercaz Harav, Sunday night, that he wanted the Ministry of Justice "to bring a Justice system based on the Torah to Israel."
One more question that is open is whether Bennet and Shaked's "New Right Party" will run again. Shaked had hoped to join the Likud. Although it was reported today that Sara Netanyahu vetoed that possibility. While, as of tonight, Bennett indicated the pair was probably going to run together again, Shaked said she still needed a few days to think about it. She went on to say it had to be God that brought about a second 2019 election.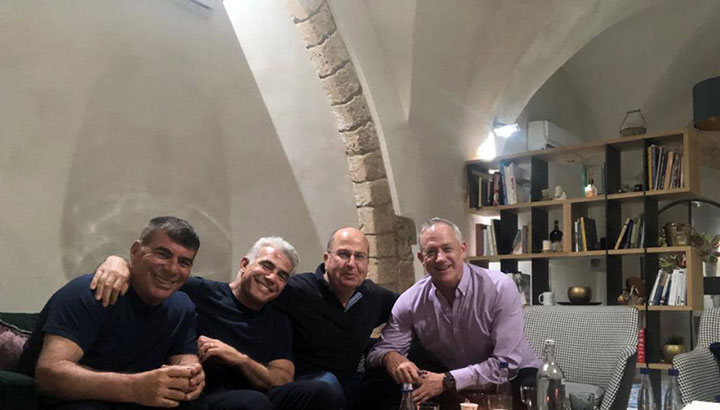 Blue and White Leaders
About this Section- by Marc Schulman
This is part two of the Israeli Elections of 2019. Israel and specifically Prime Minister Netanyahu has called a redo. All that happened in version 1 in the previous page are relevant, but it is a new election and as such things may turn out very differently, or maybe not.
This overall website started with a section on American Presidential elections — a subject that I have written about extensively and on which I have authored a book ("A History of American Presidential Elections: From George Washington to Barack Obama
"). I have closely observed/participated in Israeli politics since 1975. In 1977 I voted in Israel for the first time, choosing the party that promised change, "Shinui". I was in uniform the first time I voted, as I was the second time (while doing reserve duty), when I was probably one of the few people at that point to ever vote from outside Israel, as I was stationed on the Egyptian side of the border during the disengagement. Since then I received an academic understanding of Israeli politics, having been a student of the late Asher Arian, considered the dean of experts on Israeli elections. For the past more than seven years, I have once again had the chance to observe Israeli politics close-up, after returning to Israel following an absence. For the last five years, I have published a column in Newsweek called "Tel Aviv Diary", which has given me closer access to people and events. Over the course of the coming months, I hope to chronicle and analyze the significant milestones and turning points in this year's Israeli elections, here on these pages. Some of these decisive junctures will find their way to Newsweek, and others will appear in our new Israel economic app, called DigitOne. Some of it may appear in our new economic news site DigitOne.News