Israeli Elections 2019/2020/2021 Version Four
March 2, 2021
Tonight the latest Channel 13 poll has come out. The changes are small, and it still comes down to which of the parties do and do not have enough votes to make it into the Knesset. Netanyahu has not been able to gain any votes and does not have a likely path to a government. Over the past few weeks, the slow winner has been Yair Lapid's Party, which has slowly been rising in the polls. The polls, while seeming static, are still a terrible indicator, with Prof Camil Fuchs, the pollster, saying that the number of undecided is unprecedented. He said he is deciding between three parties. I happen to share his indecision, as do most voters I know.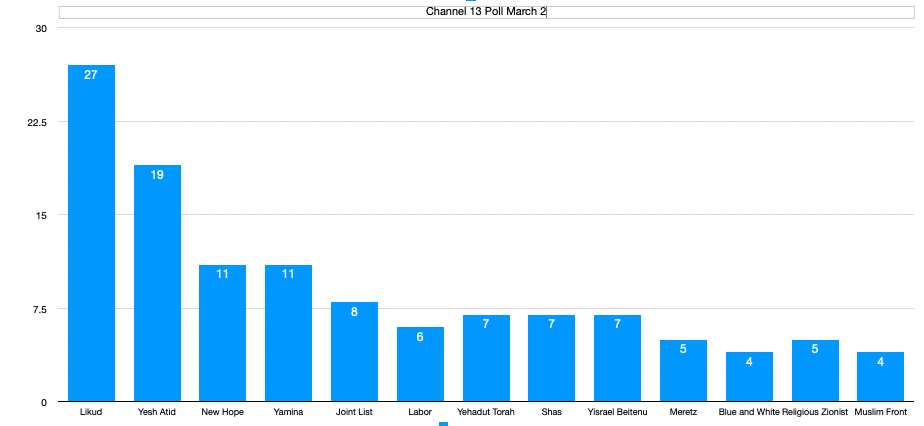 The Supreme Court decision recognizing Conservative and Reform conversion for the purposes of the Law of Return has added a new element into the race. Interesting, it's once again Avigdor Lieberman, who has come out most vigorously in defense of the Supreme Court and attacking the Ultra-Orthodox parties for their position on the matter. The issue became even more heated when United Torah Judaism Yitzhak Pindrus stated that those women who the Rabbis of the IDF have converted are considered shiksas. If someone marries them, their families should go into mourning. Lieberman attacked Netanyahu, Gantz, and the Chief of Staff of the Army for not coming to the defense of army conversions.
February 16, 2021
The Israeli election is five weeks away, and to be honest; this is about the most boring election that I can remember writing about. Prime Minister Netanyahu has taken to the offensive attempting to make Lapid his primary opponent, thus setting up a classic right-left confrontation. Will enough Israelis fall for it again? It is hard to say. Indeed, Netanyahu opponents have been relatively incapable of presenting any real alternative vision to Netanyahu, who himself has no real idea other than self-survival at the moment. Below is the latest Channel 13 survey, which shows little change. Based on this poll, Netanyahu is still short of the magic 61 votes needed to create a government willing to give him immunity. I think it is crucial that I do not believe you can take the polls all that seriously. Almost no one I talk to other than party activists has decided who to vote for-, except for Netanyahu loyalists. No one I know is enthusiastic about any candidate, and indeed everyone is tired of elections. However, even though only one person is responsible for those elections, I doubt it will cause him to lose any support amongst his base.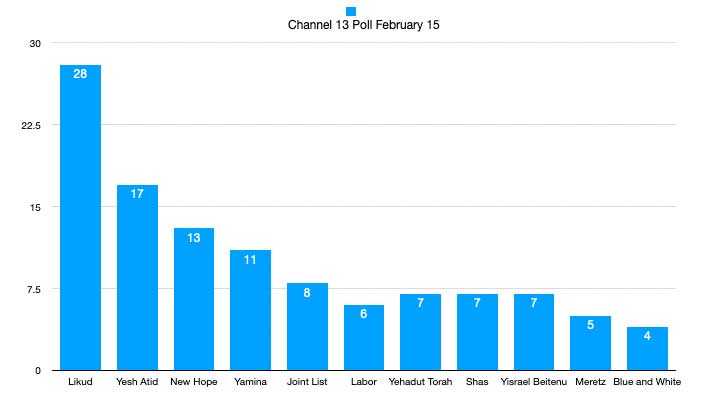 February 2, 2021
The following are the results of the Channel 13 poll. This is the last poll before the parties have to submit their lists. There have been significant changes. The biggest is the rebirth of the Labor Party. Since the Labor primaries and Meirav Michaeli's election, Labor has gone from not making reaching the threshold to seven seats. The party of Tel Aviv Mayor Huldai has all but disappeared with the expectations that he will drop out. With the current number, Prime Minister Netanyahu does not have a coalition, and those opposing him have a government. But much can change.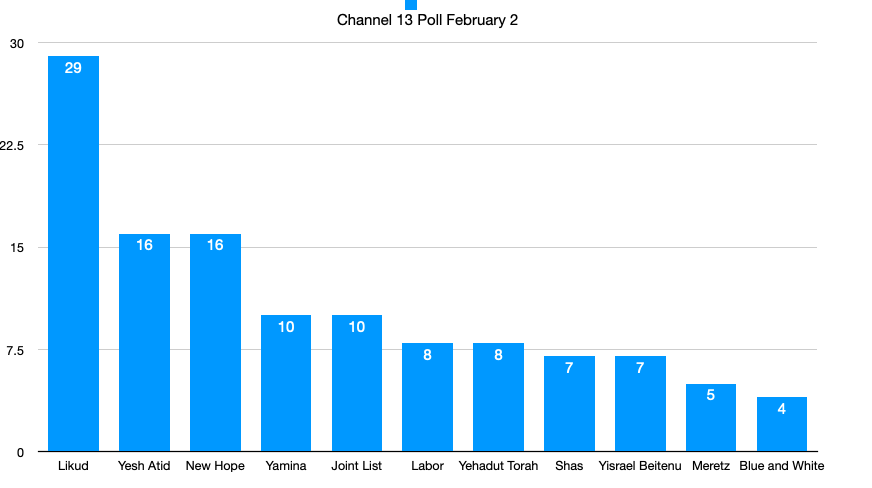 December 30, 2020
The following is poll results of Channel 13. In it we see that Bennet and Sa'ar have both lost momentum with Huldia's new party gaining traction. The Joint Arab List has only 10 seats down from 14 in the last election but that is a little suspect.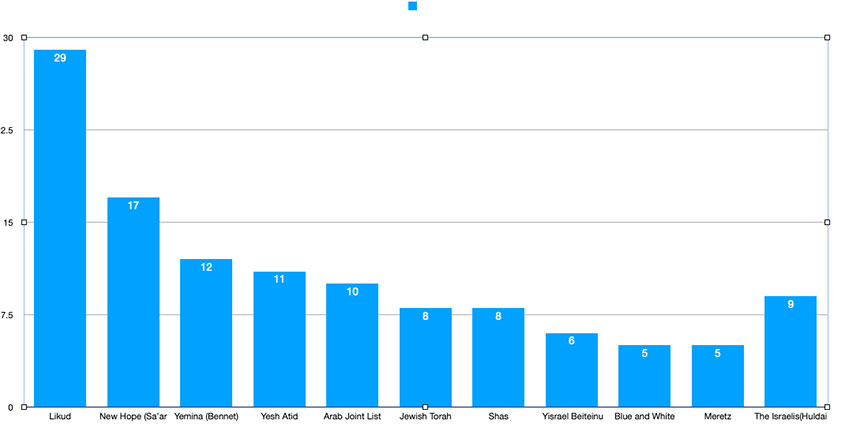 December 29, 2020 Huldai Forms New Party
Israel has another new political party — "The Israelis". Ron Huldai, Mayor of Tel Aviv announced the formation of this new party. In an excellent speech, Huldai passionately laid out what he and the new party stand for. The Israelis is undoubtedly a liberal party, positioned left-of-center. Huldai made it clear he is a man of action and that his experience and life record will allow him not only to stand for values, but to accomplish what he promised.
Huldai reminded those listening that he was a fighter pilot in both the Six-Day War and the Yom Kippur War, rising to the rank of Brigadier General, and the commander of Israel's largest Air Force base. After retiring from the Air Force, Huldai was a very successful principal of a high school, and of course, he has been the outstanding Mayor of Tel Aviv for the last 22 years. While Huldai is not universally beloved, he is widely admired as an excellent administrator. Huldai is credited with Tel Aviv's rebirth, and its hard earned title as one of the world's great cities. You can read my interview with Huldai from four years ago here.
What difference will it make? First, there is a place for this new party. The Labor Party, in which Huldai has been a lifelong member, is virtually dead. Meretz seems unable to gain any more than its usual 5-6 seats, and its leadership is far from dynamic. That leaves just Yesh Atid on the center-left. Lapid has proven to be an able politician, but there is a sense that he has reached his ceiling. Especially after the break from his long-time supporter, Ofer Shelach, who recently left the Yesh Atid party, Lapid is liable to lose support. I think it is possible that Huldai could unite the Center-Left vote, but his success will depend on who he can get to join his list, hopefully, including some women.
Joining Huldai at his press conference was Avi Nisenkorn, who until a few hours ago, had been the Justice Minister, from the Blue and White party. Nisenkorn joined a long list of people who have exited Blue and White in the past few days.
Defense Minister Benny Gantz also gave a press conference tonight that somehow was both strong and pathetic at the same time. He spoke in a passionate, urgent voice, with robust conviction. However, the speech was all about what he did and what he gave up. In the speech, Gantz made it clear he plans to continue in politics — although I am not sure the next set of polls will project his party to even get enough votes to pass the threshold. At this point, Gantz has no natural constituency.
December 23, 2020 Election Once Again.
I find it hard to believe I am writing about Israel's fourth Knesset election in two years. As Israel copes with its third wave of the COVID-19 virus, and will likely enter its third lockdown, the Israeli Parliament has officially disbanded, automatically triggering a new election. The technical cause for the fall of the government was its failure to pass a state budget, in this case, the budget for 2020. This is the first time in Israel's history that a government fell for this reason.
Following the third election, Blue & White party head MK Benny Gantz had been tasked to form the next government. However, after two members of his faction (Tzvi Hauser and Yoaz Hendel) refused to back a government supported by the Arab Joint List from outside the coalition, Gantz thus had no means of forming a governing coalition.
It was then, a mere eight months ago, that Gantz agreed to enter into a coalition with Prime Minister Benjamin "Bibi" Netanyahu, branded as an "emergency, Coronavirus government". Blue & White voters had relied on Gantz's word he would never join a government headed by Netanyahu. By ultimately doing so, Gantz shocked and disillusioned his supporters, who had overwhelmingly voted for him to replace Netanyahu. The agreement reached between Netanyahu's Likud and Gantz's Blue & White Party supposedly guaranteed Gantz would become Prime Minister for the second half of the government's three-year term; and until that time, Gantz would control half the government ministries. Israel's Basic Laws were modified to reflect this new arrangement.
When the agreement was signed, an eager Netanyahu promised "no tricks, no shticks". However, in retrospect, it became clear Netanyahu had one significant tactical maneuver up his sleeve. Under Israeli law, a national budget must be passed by a specific date, and if no budget passes by that predetermined date, the Parliament is automatically dissolved. Gantz did not believe passing the budget would pose a problem, since part of his agreement with Netanyahu stipulated that a two-year budget would be passed by August — and it had been a demand of the Likud to authorize a two-year budget.
But August came, and no budget was presented by Netanyahu's confidant, Finance Minister Yisrael Katz. So, a compromise was reached to change another Basic Law to extend the date of the budget presentation for the current year (2020) until December 20th, with the additional promise to pass both the 2020, and 2021 budgets. It became apparent that the reason Netanyahu refused to pass a budget was to give himself the maximum flexibility, regarding when new elections would be held — in such a way that would deprive Gantz from serving as Prime Minister in the interim. (The Netanyahu-Gantz agreement mandated that if the government fell as a result of a No Confidence vote, Gantz would become Prime Minister for the time leading up to the election; but there was no provision for that to happen if the Knesset disbanded because a budget was not passed.)
As December neared, Blue & White explicitly stated they were unwilling to allow a one-year budget for 2020 to be passed without a budget for 2021, which would ensure that Gantz would replace Netanyahu as Prime Minister when it was his turn, and would also provide Israel with additional economic stability. At the same time, Netanyahu wanted to keep open his escape ramp from his agreement with Gantz, which he could only accomplish by not passing a 2021 budget.
Netanyahu seems unconcerned about a government that has been operating without an updated, approved budget for the last two years. Moreover, the Prime Minister seems to believe holding elections in late spring or early summer would be better timing for him than heading to the polls in late March. As such, it is in his interest to pass the 2020 budget, without the approving a budget for 2021. Netanyahu's hope is that by late spring, most of Israel's population would be vaccinated against the Coronavirus, allowing society and the economy to be on its way to recovery from COVID-19, and Israelis would be more likely to forget his government's failures.
Despite his continued denials, Netanyahu seemed more than willing to hold new elections, if he could avoid turning over the prime ministership to Gantz. However, Netanyahu's willingness to precipitate elections changed on December 8th, when MK Gideon Sa'ar, (a life-long Likud loyalist) announced he would leave the Likud and form a new party to oppose Netanyahu. Initial polls show that Sa'ar's new party could do quite well in the next election.
Sa'ar, whose views are on the right-wing of the Israeli political spectrum, makes a difficult target for Netanyahu to attack with his standard jeers, calling all of his opponents "radical leftists". Having Sa'ar (who has pledged not to enter into a government with Netanyahu) in the picture, makes Netanyahu's prospects of re-election seem less likely.
Realizing the significance of this shift in political alliances, Netanyahu reopened serious negotiations with Blue & White. While the talks did make progress, Netanyahu was unwilling to give-in and agree to accept the initial agreement, without added concessions from Gantz relating to the Ministry of Justice, which is indirectly overseeing his trial. While Gantz appeared willing to go along with some of Netanyahu's demands, several members of his own Blue & White party were less inclined.
During the evening of December 21st, with the clock running out on the Knesset about to automatically dissolve at midnight of the 22nd, a last-minute attempt was made to extend the deadline by amending the law requiring a budget pass by the 22nd. Some members of Blue & White had COVID-19 and others were in quarantine; several members of Blue & White refused to support another extension; and finally, a couple of Likud members suddenly voted against the government, (i.e., those aligned with Sa'ar, who had resigned from the Knesset after announcing the formation of a new party). Thus, despite Netanyahu's efforts, the vote failed pass and on March 23rd, Israel, which has no means of remote, or mail-in voting, will hold its 4th Knesset election in two years' time — amidst a pandemic.
Six weeks ago, a former Likud leader told me privately that Netanyahu had better agree to the rotation with Gantz, because if elections are held, Netanyahu would lose. Over the years, election pollsters would project the strength of the right-wing vs. the left-wing. This time, that seems to be less of a factor. Instead, pollsters have been presenting the strength of the "pro" and "anti"-Bibi parties. If elections were held today, and if the pollsters are correct, Netanyahu has no path to form a new government.
Still, no one should underestimate Netanyahu's raw abilities as a politician. He has significant successes to which he can point, including arranging for Israel to receive a massive number of Coronavirus vaccines exceedingly early, and peace agreements with four Muslim states signed during the last few months. That being said, three months is a long time in Israeli politics, and the upcoming election will be conducted in the shadow of Netanyahu's corruption trial. It should also be noted that Netanyahu failed to win a governing coalition in any of the past three elections.
Much can happen in the next three months — i.e. creation of new parties, mergers of old parties, entrance of new and veteran leaders joining the political scene. Yet, to most Israelis, this upcoming election will feel very much like groundhog day … where once more, the only real issue on the ballot will be — Should Netanyahu continue as Prime Minister? Stay tuned.
About this Section- by Marc Schulman
This is part four of the Israeli Elections of 2019/2020 2021. Israel and specifically Prime Minister Netanyahu has forced anntoher elction. All that happened in version 1and 2 and 3 in the previous pages are relevant, but it is a new election and as such things may turn out very differently, or maybe not.
This overall website started with a section on American Presidential elections — a subject that I have written about extensively and on which I have authored a book History of American Presidential Elections: From George Washington to Donald Trump
"). I have closely observed/participated in Israeli politics since 1975. In 1977 I voted in Israel for the first time, choosing the party that promised change, "Shinui". I was in uniform the first time I voted, as I was the second time (while doing reserve duty), when I was probably one of the few people at that point to ever vote from outside Israel, as I was stationed on the Egyptian side of the border during the disengagement. Since then I received an academic understanding of Israeli politics, having been a student of the late Asher Arian, considered the dean of experts on Israeli elections. For the past more than seven years, I have once again had the chance to observe Israeli politics close-up, after returning to Israel following an absence. For the last five years, I have published a column in Newsweek called "Tel Aviv Diary", which has given me closer access to people and events. Over the course of the coming months, I hope to chronicle and analyze the significant milestones and turning points in this year's Israeli elections, here on these pages. Some of these decisive junctures will find their way to Newsweek, and others will appear in our new Israel economic app, called DigitOne. Some of it may appear in our new economic news site DigitOne.News