Great Plains Native Americans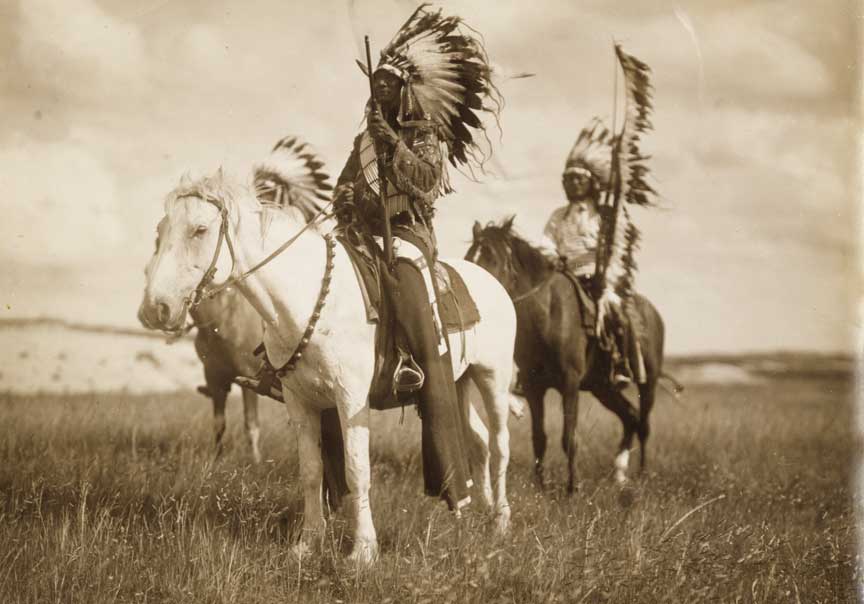 ---
The Natives of the Great Plains are those Native American tribes living between the Mississippi River and the Rock Mountains. Their history is often divided between before the horse and after the horse. Horses first arrived in the 1600's an became common by the 1700's. Before the arrival of the horse, the Plains were sparsely populated, and the tribes were initially hunter-gathers. The only animal that was domesticated was the dog. Slowly in the 12th and 13th centuries man of the Plain Indians started to live together in larger villages and became at least part-time farmers. They grew corn, beans, and squash. The woman were primarily responsible for the farming while the men did much of the hunting. The area was full of large animals such as bison, deer, and elk.
With the introduction of the horse, the Natives ability to hunt the vast herds of bison was significantly improved, and for many tribes, it became their primary source of food.
Most of those living in the Plains used tepees, which was a conical tent with a circular base. Those who were considered villagers lived in mud huts for most of the year. The different tribes often traded among themselves and sometimes fought in small groups against each other. The natives of the region shared the same belief in animism that all things were part of the spirit worlds. To the Natives of the Plains, it was essential to get the help of the spirit world, something you could receive after going on a vision quest.
The following are the tribes of the Great Plains:

Arapaho
Arikara
Assiniboine
Blackfoot
Comanche
Cheyenne
Crow
Gros Ventre
Hidatsa
Ioway
Kaw
Kiowa
Kitsai
Missouria
Mandan
Omaha
Osage
Otoe
Pawnee
Plains Ojibwe
Plains Cree
Plains Apache
Ponca
Quapaw
Sarcee
Sioux
Stoney
Tonkawa
Wichita