FDR At Groton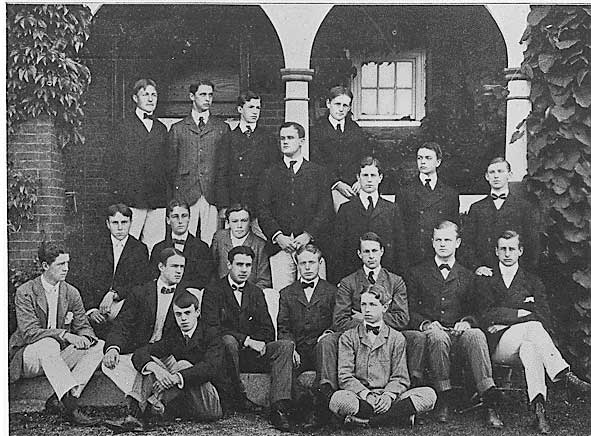 FDR's Class at Groton
Franklin left his parents for the first time at the age of 14 to enroll in Groton. Groton was an exclusive preparatory school for the children of the wealthy. Most children began their education at Groton at the age of 12, but an exception was made for Franklin.
On September 15, 1896, Franklin set off with his parents for Groton, in his parents' private railcar. The parting was dry-eyed, but Sara, his mother, confided in her diary: "James and I feel this parting very much, it is hard to leave my darling boy."
For Franklin it was major shift, from a home were he was king, to a life that was completely regulated. Franklin worked hard to fit in to his new environment. His day began with a morning wake-up bell at 6:45 a.m. All the boys were then expected to rush and take a cold shower. At 7:30 a.m. the second bell was rung for breakfast. The rest of the day was regimented with chapel, classes, dinner, sports, supper, evening study, evening prayers, and a ritual goodnight to the headmaster, Endicott Peadbody. Franklin worked hard at his schoolwork and did reasonably well. He was competent, but not brilliant.
Endicott Peadbody preached a philosophy of public service to his students. Peadbody had stated to a friend in 1894: " How distressing the political outlook seems to be! One looks in vain for men who are willing to serve their country. Those who are not for themselves seem to be hopelessly bound to their party interests, and country comes in a certain last." Peadbody made sure that his students were exposed to public events. Among those whom Franklin heard speak at Groton were Jacob Riis, Booker T. Washington, and his cousin Theodore Roosevelt.
Groton also instilled in its students a responsibility for helping those less fortunate. During the summers it ran a camp for poor children. Franklin was a counseler there a number of times.
Franklin's single biggest problem at Groton, seems to have been his cousin Taddy. Taddy had a reputation of being a bit queer and a loafer. In his first years at Groton, much to his chagrin, Franklin was often mixed up with Taddy.
By his final year at Groton, Franklin was not only the manager of the baseball team but he played on the second squad in football and was a dormitory perfect as well. Franklin was a principal actor in a play the senior form put on, The Wedding March- An Eccentricity in Three Acts. He distinguished himself in this performance. His major disappointment was not being selected as one of the senior perfects. At his graduation, Franklin received the award for the best Latin essay.
---