The Tennessee Valley Authority Created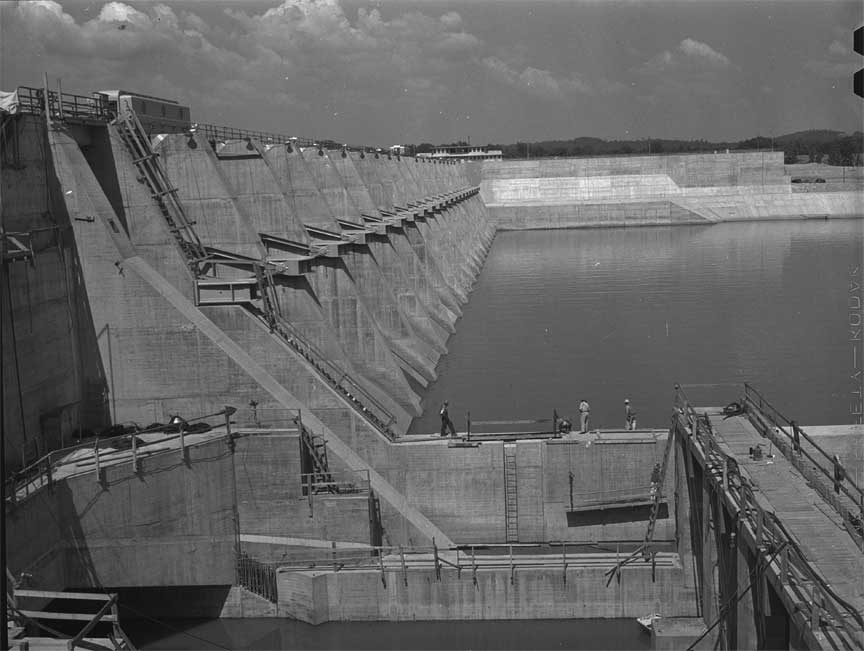 Watts Bar Dam, Tennessee. Tennessee Valley Authority.
An independent public corporation was established to develop the Tennessee Valley by providing electricity and fertilizers to the inhabitants of the area. Between 1933 and 1944, nine large dams, as well as numerous power plants, were built.
---
The Tennessee River Valley was one of the most impoverished areas in the United States. It was an area with which Roosevelt was familiar; thanks to the time he spent in Warm Springs, Georgia. The Federal Government had built a giant hydroelectric plant in Muscle Shoals, Alabama during World War I. (Though the Alabama plant remained idle once the war ended.) The progressives in Congress had twice passed legislation authorizing the government to operate the hydroelectric facilities. However, both Coolidge and Hoover had vetoed the bills. In January 1933, after his election, FDR took a trip from Warm Springs to inspect the Muscle Shoals plant. He stated during that visit: "The first step is to put Muscle Shoals to work. The second step is to make of Muscle Shoals a part of an even greater development that will take in all of that magnificent Tennessee River from the mountains of Virginia down to the Ohio… We have an opportunity to set an example of planning, tying in industry and agriculture and forestry and flood prevention, tying them all into a unified whole over a distance of a thousand miles."
The above statement became the basis for FDR's proposal to Congress to establish the Tennessee Valley Authority– to develop the Tennessee River and produce electricity from its hydroelectric power. Despite some misgivings, (that the Roosevelt government was going where no federal government had gone before), the measure was easily passed. The Tennessee Valley Authority Act was signed into law by President Roosevelt on May 18, 1934.