Royal Visit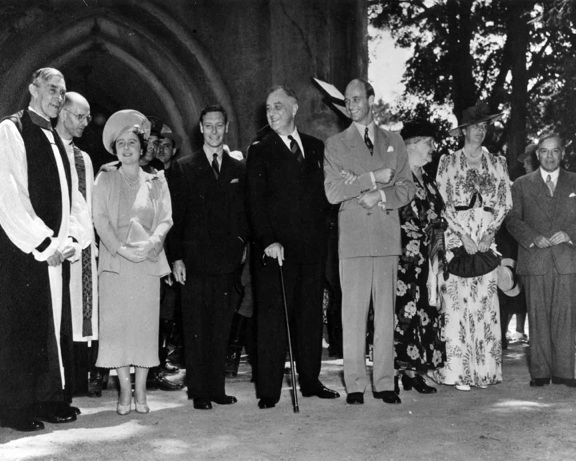 FDR with the King and Queen of England
With the winds of war blowing President Roosevelt invited the King and Queen of England to make a royal visit. They arrived in June 1939 for the first Royal visit to the United States.
---
In August of 1938 F.D.R. wrote to England's King George and invited him to visit the United States, following his planned visit to Canada the next year. The King accepted. The President took it upon himself to plan the Royal visit. F.D.R. wished to use to the King's trip to convey the friendship between the United States and Great Britain.
King George VI and Queen Elizabeth arrived at Niagara Falls on the evening of June 7th 1939 . The King and Queen took a train to Washington, DC from Niagara. In Washington, the royal couple hosted a reception in the garden of the British Embassy on June 8th. Later that evening they attended a formal dinner followed by entertainment at the White House– in the sweltering heat.  The next day, the Royal couple accompanied the President on a cruise to Mt Vernon. They continued on with a visit to Arlington National Cemetery. The King placed a wreath at Arlington's "Tomb of the Unknown Soldier". The affirming imagery of the trip was fostered further by a two-day visit to Hyde Park. Roosevelt hosted a famous picnic at Hyde Park that included hot dogs and baked bean. The visit, which was the first of a King of England to the United States, was a great success. It expressed the deep ties that existed between the United States and Great Britain.