National Industrial Recovery Act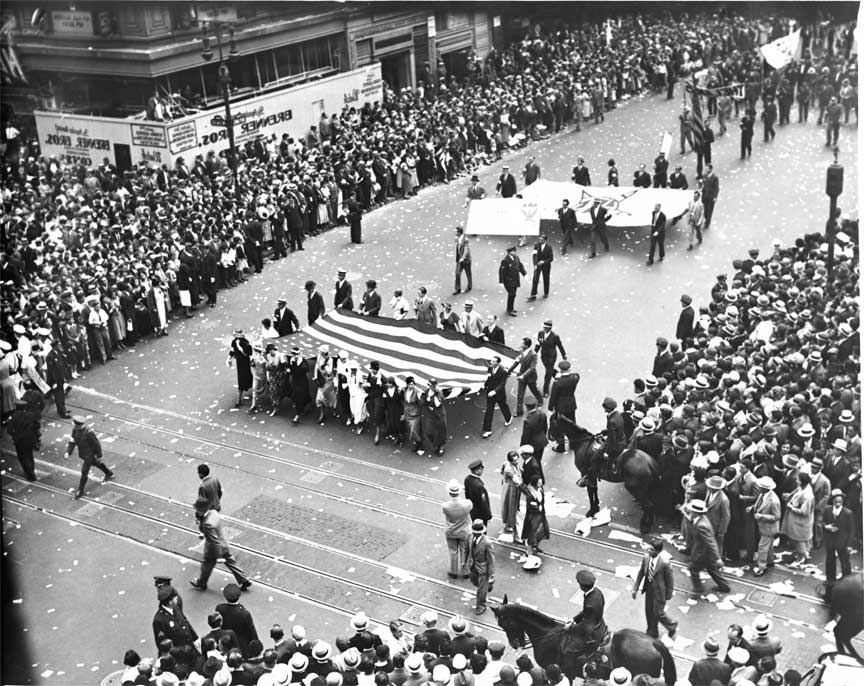 Female film industry workers carrying a large American flag as part of an National Recovery Administration parade
The National Industrial Recovery Act was a comprehensive plan to regulate production and distribution.
---
The last major piece of legislation passed during the 100 days was the establishment of the National Industrial Recovery Act (N.I.R.A.) one of the passages in that bill called for the creation of the National Recovery Administration. The National Recovery Administration's goal was to rationalize the production process, eliminate overproduction and create government-approved cartels. General Hugh Johnson, a West Point graduate, who had left the military in 1919, headed the new organization.
Johnson was colorful and powerful. The General took it upon himself to try to address America's economic trouble as if it was a military campaign. Johnson had only limited success in that regard. The goal of the National Recovery Act organization was to get industries to voluntarily establish codes of conduct to regulate both production and payment of wages. Johnson had one early and quick success, in creating the cotton board. However, after his initial success, Johnson seemed to hit a concrete wall. He was unable to get any additional industries to establish labor codes. Johnson was also advised that any legal actions attempting to force companies to agree to his proposals would be unconstitutional.
Instead, General Johnson decided to launch a nationwide campaign to get companies to sign on the President's Reemployment Agreement. The agreement called for companies to pledge to pay a minimum wage of 40 cents per hour and to employ each worker for a maximum of 35 hours a week (eliminating the option of working "overtime" would allow for a larger number of different personnel to be employed). Every establishment that agreed to the Reemployment Pledge received a Blue Eagle for display. FDR launched this campaign himself during a radio address. Soon the Blue Eagles were ubiquitous. How much the Reemployment Pledge helped the economy remains in doubt.