Inauguration of 1933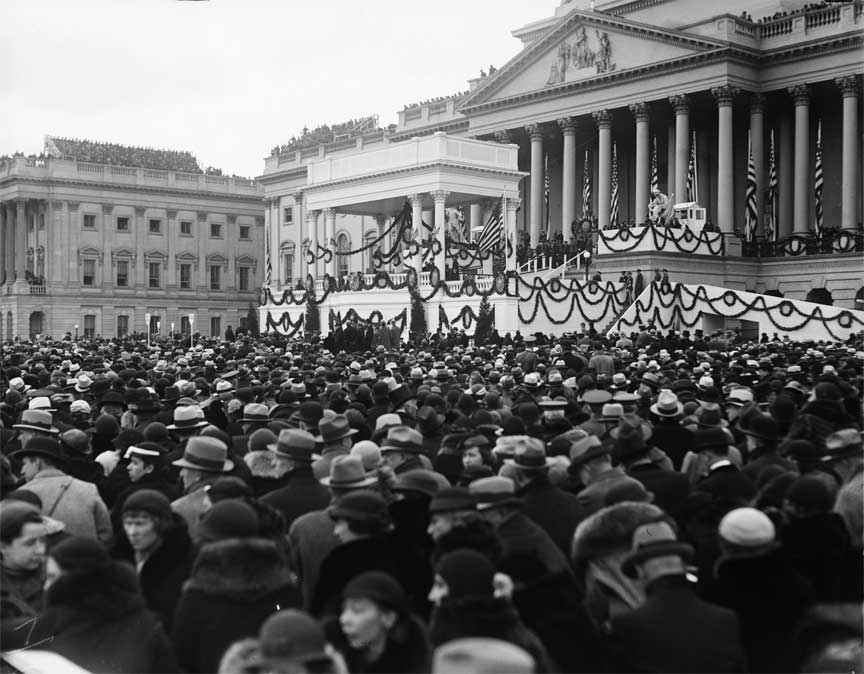 Bonus Encampment
President Roosevelt was Inaugurated on March 4, 1933 after waiting 4 months from the day of his election. He gave one of the most memorable addresses in US history.
---
When March 4th dawned, it was dark and gloomy in Washington. The weather seemed to reflect the mood of the nation. FDR began his day at a prayer service at the St. John's Episcopal Church. Reverend Endicott Peabody from Groton presided over the ceremony. FDR arrived in his car at the North portfolio of the White House at 11 a.m. President Hoover joined Roosevelt in the vehicle. Mrs. Hoover entered a separate car with Eleanor Roosevelt to travel the short two-mile ride up Pennsylvania Avenue to the Capital.
The outgoing Vice President, Charles Curtis, swore in John Nance Garner first. Then the crowd headed to the inaugural stand outside. With the help of his son James, Franklin Roosevelt then made the 146-foot walk to the rostrum. The Chief Justice of the Supreme Court, Charles Evan Hughes was waiting to greet the President and administer the oath. Also waiting for FDR was the Dutch family Bible brought to the new world by Roosevelt's ancestors in the 1650's. After taking the oath of office and waiting for the artillery cannons to stop their 21-gun salute, FDR began one of the most famous inaugural addresses. Starting with the words: "This is a day of national consecration." Roosevelt went on to speak the most memorable words of the day: "This great nation will endure, as it has endured, will revive and will prosper. So first of all, let me assert my firm belief that 'the only thing we have to fear, is fear itself.'"
The words of Franklin Roosevelt's address seemed to lift the nation– at least temporarily– from its depression. After the inauguration, Roosevelt partook in a quick lunch, after which he stood for almost three hours and reviewed one of the longest inaugural parades on record going by. Following the parade, Roosevelt then went into the White House and joined the cabinet– all of whom had been confirmed by the Congress that day– and attended their official swearing-in ceremony. After that ceremony, Roosevelt went downstairs to greet 13 children with polio who had come from Warm Springs. FDR did not attend the inaugural balls that evening. Instead, Roosevelt turned in at 10:30 p.m., after reflecting with Louis Howe on what they had accomplished.