Draft Begun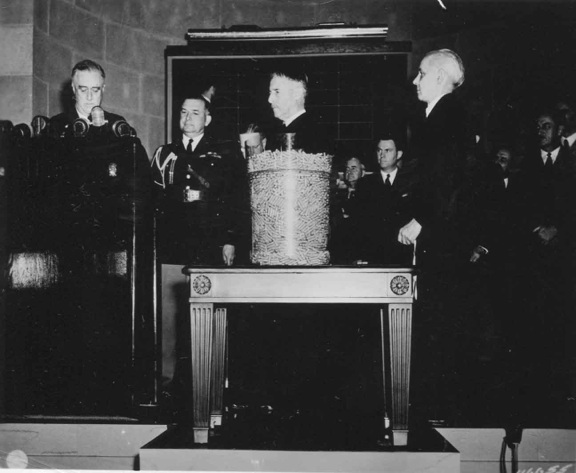 Picking Draft Numbers
On October 29th the first US peace time draft took place. The fall fo France had made it clear that the chances of the United States staying out of the war was small and the US army needed to be ready.
---
With the Nazis quick victory in the West, it was clear to many that the U.S. military had to grow. On June 20th, 1940 Nebraska Democrat, Edward R. Burke introduced a bill to begin the first peacetime draft in U.S. history. In the House of Representatives, a Republican, New York's James Wadsworth introduced similar legislation. This peacetime draft legislation was introduced as private bills, not on behalf of the administration. They were initially given no chance at passage. The isolationists came out in full force against the bill. Many claimed it was against the very essence of America to have a peacetime army made up of conscripts. F.D.R. privately supported the bill. Roosevelt did what he could to quietly allow the bill to gain traction. The President encouraged General Marshall and Secretary of War Stimpson to testify on Capital Hill in favor of the bill. The bill slowly gained public support, growing from around 50% of the public who favored the draft in June (when France surrendered), to 86% in favor by the end of August.
On August 2nd, F.D.R. offered his first public support for the bill. His opponent in the election, Wendell Willkie also came out in support of the bill. On August 28th, in a vote of 69-16 the Senate voted in favor of the draft. On September 14th, both houses voted for the bill as it came out of conference– with the House approving the legislation in a 232-124 vote.
On October 29th, the first draft drawing took place at Philadelphia's Independence Hall. Secretary of War Stimpson picked the first numbers, handing them to F.D.R. to read. Over the next year, 600,000 troops would be drafted. Over the course of that time, the U.S. Army would grow from 189,000 men to 1.4 million– thanks to a combination of the draft, the calling up of the reserves and National Guard, and recruitment efforts.