Sherman's March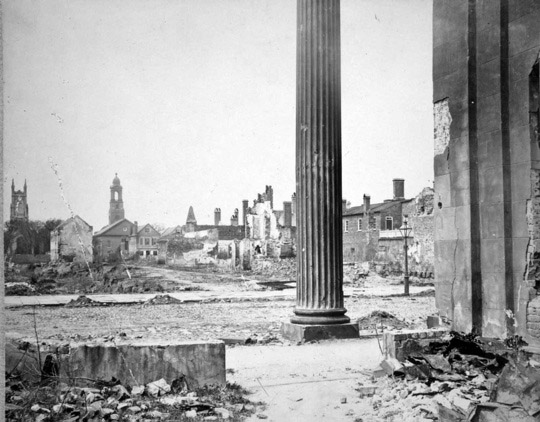 After his capture of Atlanta Union General Sherman began his march to the sea, through what was considered the heart of the confederacy. His march created a zone of destruction across a wide part of Georgia from Atlanta to Savannah.
---
After Sherman's victory in Atlanta, Hoods army attempted to cut off Sherman from his supply line in Chattanooga. Sherman effectively repulsed Confederates. He then convinced Grant to allow him to march his army to the sea across Georgia. On November 16th Sherman's Army set off. In the course of the march, his soldiers ate off the land, and destroyed anything of conceivable military value in its way. One Union major wrote in his diary:
"While I deplore this necessity daily and cannot bear to see the soldiers swarm, as they do, through fields and yards... nothing can end this war but some demonstration of their helplessness. This Union and its government must be sustained, at any and every cost; to sustain it, we must war upon and destroy the organized rebel forces, must cut off their supplies, destroy their communication produce among the people of Georgia, a thorough conviction of the personal misery which attends war, and the utter helplessness and inability of the their ruler State or Confederate to protect them".
On December 20th Sherman's army entered Savannah, where the Union fleet was waiting with supplies (which were not needed) and mail which was much appreciated. Sherman then started North into South Carolina. There his troops took particular pleasure at destroying property at the sight of what was considered the heart of the rebellion- South Carolina.