the Second Battle of Bull Run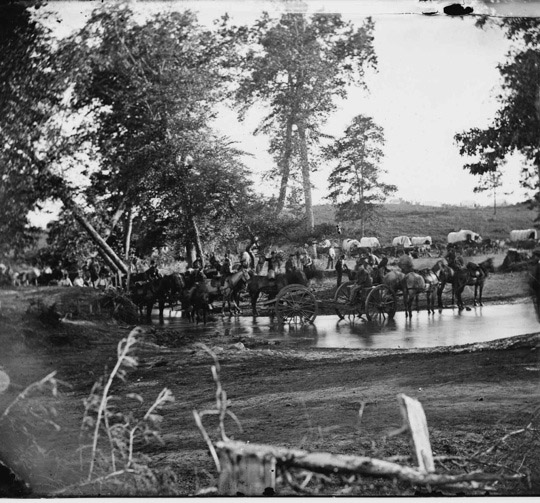 On August 1863 the second Battle of Bull Run was fought on the same grounds as the first. For a short time the Confederates had an advantage, but as the Union brought more forces to bear the battle ended up in a stalemate.
---
.
Despite Lee's victory in the Seven Days Campaign, he was very concerned about his strategic position. McClellan's army was still at Harrison's Landing. They were bloodied, but still powerful. They were a mere day's march from Richmond. At the same time, Burnside had a force of 15,000 troops aboard ships that could strike at any time. Meanwhile, there was a large Union force led by Hooker at Fredericksburg. What became most alarming, however, was the force led by Pope, which occupied Culpeper on July 16th. If Pope continued his advance, he would reach Gordonsville, and cut Richmond's supplies from the Shenandoah Valley.
Lee sent Jackson's division to Gordonsville to head off Pope. Jackson arrived first. After Lee sent in A.P. Hill's division, Jackson was ordered to advance on Popes forces, near Cedar Mount. The battle initially favored Pope's forces, who attacked on Jackson's flank. However, Pope's troops were repulsed at the last moment, and the Confederates went on the offensive. The battle which took place on August 9th ended in a stalemate. The battle was not resumed on the 10th. On the 11th, when Union forces suggested a truce, so that the dead and wounded could be tended to, Jackson readily agreed. At this point, Pope's forces were being steadily reinforced. Thus, Jackson decided to withdraw. Though Jackson was forced to pull back after the battle of Cedar Mountain, he had successfully thwarted Pope's further advances.
At this point, the strategic advantage switched to Lee. General Halleck had become the new commander of all U.S. forces. When McClellan made it clear he would not engage in any offensive actions without substantial reinforcements, Halleck, ordered McClellan to withdraw from the James River– with Lincoln's concurrence. Thus, Lee was free to remove his troops from around Richmond and concentrate his forces against Pope. However, Lee had a short window of opportunity. Lee's window to attack would be open only while McClellan's army was in transit. Lee's forces joined Jackson against Pope. It was Lee's plan to attack Pope, while his forces were located between the Rapidan and Rappahannock Rivers. On August 19th, Pope pulled his forces back behind the Rappahannock, before Lee could attack. All of Lee's attempts to cross the river were repulsed. Lee's single success was sending the cavalry, commanded by Jeb Stuart, to Warrenton Junction on a raid behind Union lines, where he seized Pope's personal baggage.
After Stuart's successful raid, Lee decided to follow up with a much larger attack. On August 25th, Lee sent Jackson's division on a large flanking movement to the west of Pope and through the Thorough Gap Pass. Time was running out, as Elements of the Army of the Potomac were arriving every day. On the evening of August 26th, Stonewall Jackson appeared in Pope's rear. Jackson struck Pope's supply line on the Orange & Alexandria railroad, at Bristol Station, and the massive supply station at Manassas Junction. Instead of retiring, Jackson, with his 24,000 men, decided to make a stand near Manassas. Jackson sent his men a few miles away, to a ridge overlooking the Warrenton Pike.
Pope lost sight of Jackson, and first ordered his troops to converge on Manassas, and then, on to Centerville. However, Jackson could not be found. On the afternoon of the 28th, Jackson took matters into his own hands and had his troops open fire on a passing federal division, led by general Gibbons. The passing soldiers were surprised, but did not panic. Each side stood its ground and fired until it was too dark to see anything at which to fire. This short battle was merely a prelude to the battle the following day that became known as "The Battle of Groveton". As a result of the Groveton battle, an additional 2,300 men became casualties.
The day the after the Battle of Groveton, Pope ordered an attack against Jackson's lines. Although Pope had an overwhelming numerical advantage, he was unable to deploy all of his forces against Jackson forces, as Jackson's troops were entrenched in excellent defensive positions. Jackson's forces successfully repelled the various Federal assaults. That night, Pope became convinced that Jackson and the Confederates were withdrawing. Thus, he ordered a pursuit for the morning. Pope was again mistaken. Not only was Jackson not beaten, he was being reinforced.
In the morning, the Union troops attacking Jackson were met with withering fire. They almost broke through, which forced Jackson to ask for help. Help came in the form of an attack by the soldiers of General Longstreet, who together with the rest of Lee's army were now present South of Jackson's positions. Despite the massive attack, the Union lines did not break. Although the Union lines were slowly driven back.
For a short while, Union troops made a stand at the Henry House, the sight of Jackson's stand in the first battle of Bull Run. Slowly, Union forces pulled back, crossing the stone bridge, over Bull Run. When the last Bluecoat crossed, they destroyed the bridge. Union forces reformed at Centerville. The following day, Jackson's tired troops tried to outflank Pope. In this brief battle, known as the Battle of Chantilly- (a few miles north of Centerville) Jackson was repulsed, but at the cost of the lives of two Union generals; Stevens and Phil Kearny. This brought the battle to an end, the Union forces were now too strong for the Confederates to attack.