Battle of New Orleans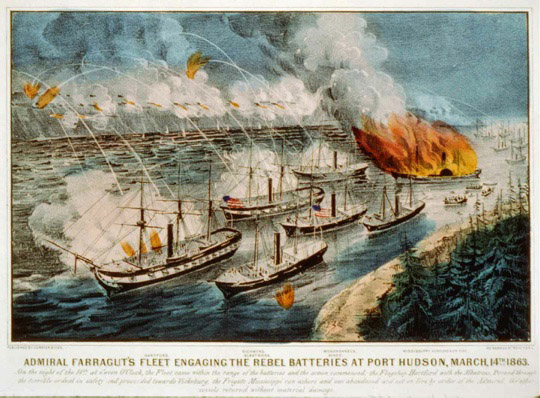 On April 24th 1862 the Union captured New Orleans. A Union fleet defeated a smaller Confederate fleet and swifly captured the city.
---
.
The prime defenses of New Orleans were Fort Jackson and Fort St Philip, both located on a bend of the Mississippi, 75 miles to the South of New Orleans. The Confederates considered them impregnable. By Mid April the federal fleet arrived just below the forts. The fleet included a number of mortar boats, which were especially designed to lob large shells at forts. On April 18th 1862 the mortar boats opened fire. Porter, who commanded the mortar fleet was convinced he could destroy the forts in two days. For almost a week he fired 16,800 shells at the forts. Despite this heavy bombardment he was unable to disable the guns of the forts. Farragut called off the shelling and instead decided to run the gauntlet of the forts with his fleet.
The fleet was powerful consisting of seventeen warships. At 2 AM on the morning of April 24th Farragut ordered the fleet forward. They ran the gauntlet of the fort and then came upon the small confederate fleet which they annihilated. All told one federal warship was sunk and three were seriously damaged, 37 union sailors were killed and 149 wounded. Farragut then continued upriver unchallenged, where New Orleans, the South's largest port and second largest city was forced to surrender. The next day the soldiers in the two forts below the city mutinied and the forts surrendered.