Atlanta Captured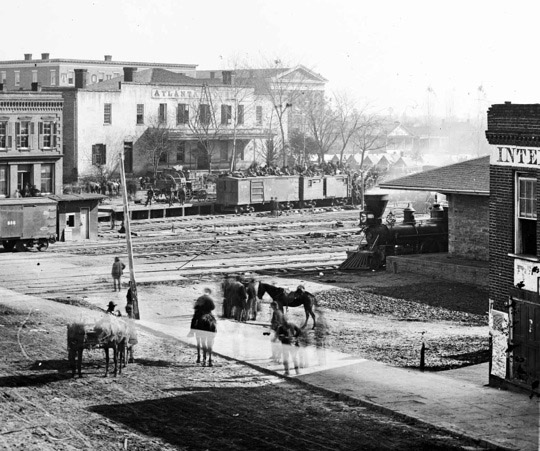 On July 22, 1864 Atlanta was captured by Union troops after a series of battles. Atlanta was the spiritual center of the Confederacy and its' capture was a major blow to the South.
.
---
After the victory at Missionary Hill, Sherman succeeded Grant as commander of the Armies of the West. Grant went on to become a Lieutenant General, as the General-in-Chief.

Sherman's next goal for the army of West was not an attack on any western city, but rather, an attack on the heart of the South– The city of Atlanta. Atlanta was 100 miles away from Chattanooga, as the crow flies. Though, between Sherman's army and the city of Atlanta lay a series of mountains that provided many opportunities for defense. Confederate General Johnson, who replaced General Bragg, planned to stop Sherman by contesting every hilltop. General Sherman, however, had other plans.
Johnson's first line of defense was the Rocky Face Ridge at Buzzards Roost. However, Sherman had sent his forces on a flanking movement to Resaca. This forced Johnson to pull back there, which he did, by May 12th. At Resaca Johnson held up Sherman who could not find any weakness in the defenses there. Instead, Sherman, once again, engaged in a wide flanking movement. This forced Johnson to pull back once more. This time to Cassville. There, Johnson planned to turn and fight. Sherman's forces were dispersed, but the Confederates believed they had been outflanked again. Thus, they fell back, once again. This time they withdrew to positions overlooking the railroad at Altoona Pass. Yet again, Sherman outflanked Johnson, forcing him to fall back to New Hope Church. There, the two armies skirmished for a few days, as they slowly moved northward back to the rail line. In the course of the skirmishing, Confederate General Polk was killed by a Union shell. Union troops stopped before reaching entrenched Confederate positions along the Kennesaw mountain. On June 27th, in frustration, Sherman launched a number of fruitless attacks on Confederate lines. Here, for the first time Sherman's forces suffered higher losses than the Confederates.
Sherman then reverted to flanking movements, this time sending McPherson around to the Confederate rear. Johnson spotted the movement and fell back to Smyrna, about five miles from the Chattahochee. Sherman had considered a frontal assault, but finally thought better of it. Sherman decided on another flanking movement instead. This time he forced the Confederate troops back to the Chattahochee River. When Sherman reached it, he was able to see his goal. The city of Atlanta was eight miles in the distance. After another flanking movement, Sherman forced Johnson to make one last retreat– this time to Peachtree Creek, a mere five miles from Atlanta.
By this time the Confederate government had lost faith in Johnson's ability to defend Atlanta. On the 16th he was relieved of command and replaced by Hood one of his subordinates.
Hood was more aggressive than Johnson. On July 21 and 22nd, Confederates launched two attacks against Union forces, under the command of General Hood. Neither attack succeeded. On the 22nd, during the course of the attack, Union General McPherson was killed. Sherman considered McPherson the finest general in the Union army– after Grant and himself. Then, Sherman went ahead and began a siege of Atlanta. He began long range artillery fire as inhabitants of the city began to flee.
Sherman was not content to maintain a long term siege of the city. He was determined to cut the last remaining rail link between the city and the rest of the South. Sherman's army began one final flanking movement to the South, cutting the rail line at Jonesboro. Hood's forces responded by attacking the Union forces. Hood's attempt failed. As a result, Hood had no choice but to retreat from Atlanta, which he promptly did. On September 2nd, Sherman's army entered Atlanta. In less than four month, and at the cost of 31,000 casualties, the heart of the South had been taken.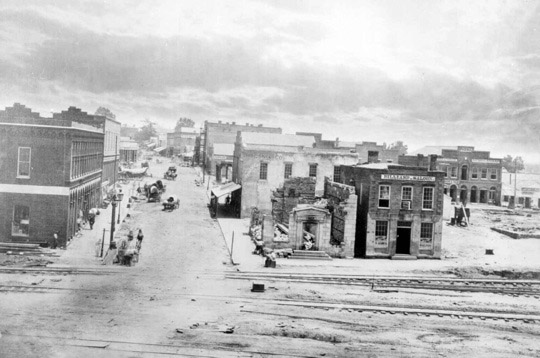 Atlanta, Ga. Peachtree Street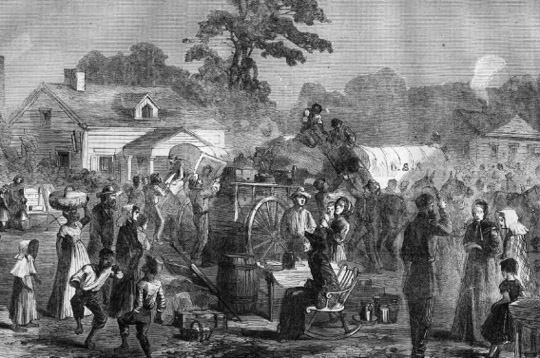 This Illustration appeared in Harpers Weekly on October 15, 1864 showing Confederates leaving Atlanta.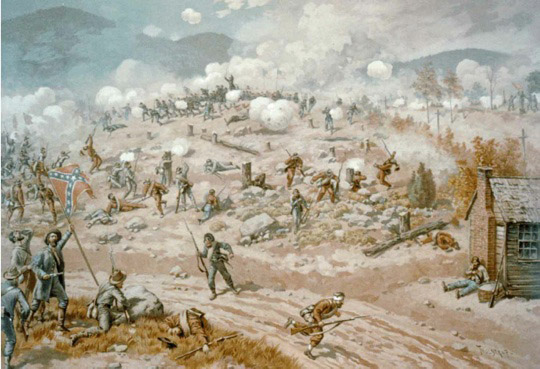 This is an illustration of the Battle Altoona . The Battle of Allatoona, also known as Allatoona Pass, was fought October 5, 1864, in Bartow County, Georgia, as part of the Franklin-Nashville Campaign of the American Civil War. A Confederate division under Maj. Gen. Samuel G. French attacked a Union garrison under Brig. Gen. John M. Corse, but was unable to dislodge it from its fortified position protecting the railroad through Allatoona Pass.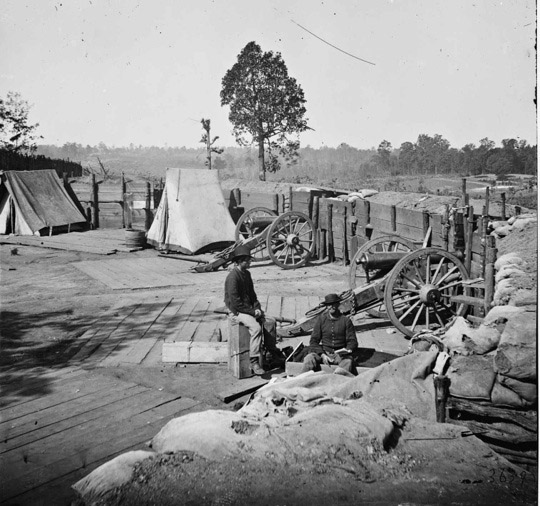 Confederate Fort in Front of Atlanta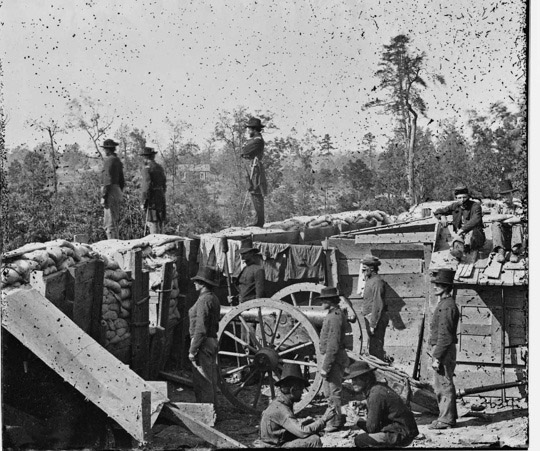 Sherman's Troops in Confederate Fort South of Atlanta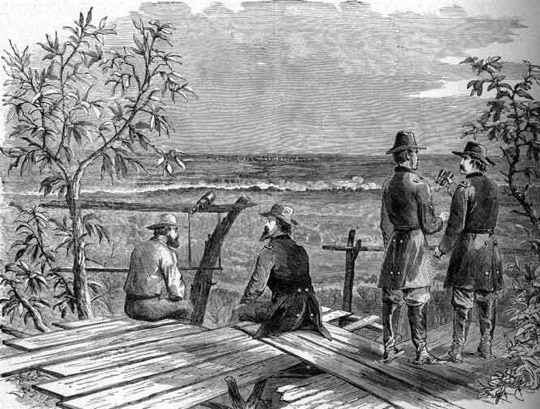 This is a drawing showing Atlanta in a distance.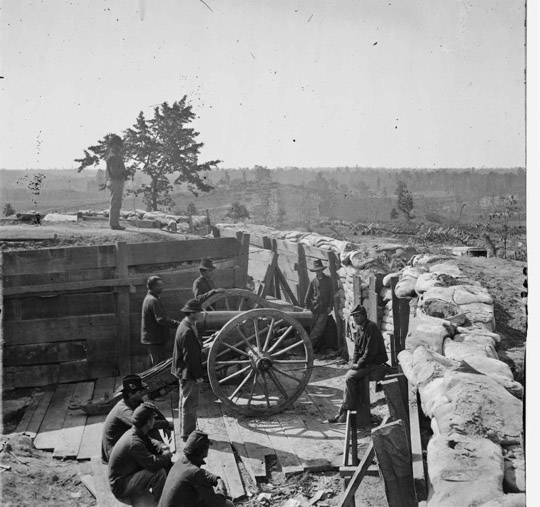 Confederate Fort in Front of Atlanta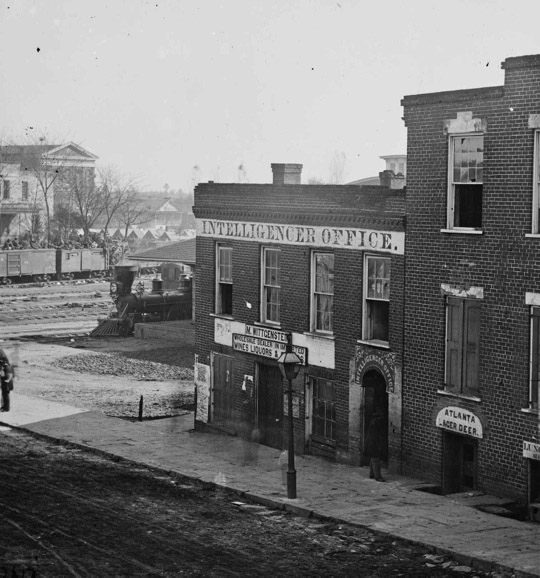 Taken in the fall of 1864 this photograph shows the intelligencer office next to the railroad depot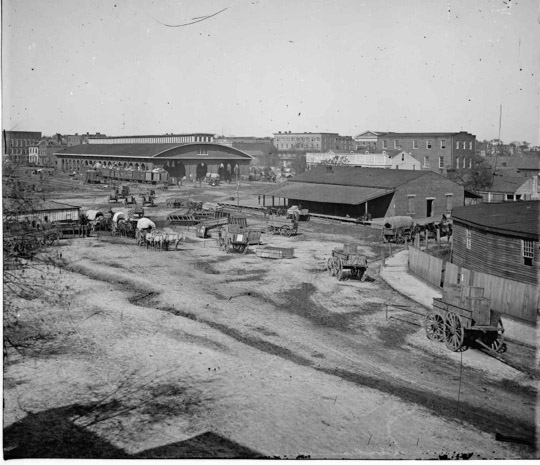 Atlanta, Ga. Railroad depot and yard; Trout House and Masonic Hall in background]

Sherman's Advance—general Logan's Skirmishers Advancing Toward The Railroad At Resaca, May 13, 1864.—from A Sketch By Theodore R Davis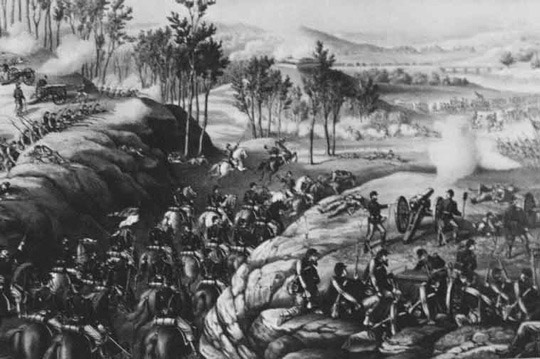 This is an illustration of the Battle of Rhingold Gap that was fought on November 27, 1863. It allowed the Confderate troops to withdraw towards Atlanta.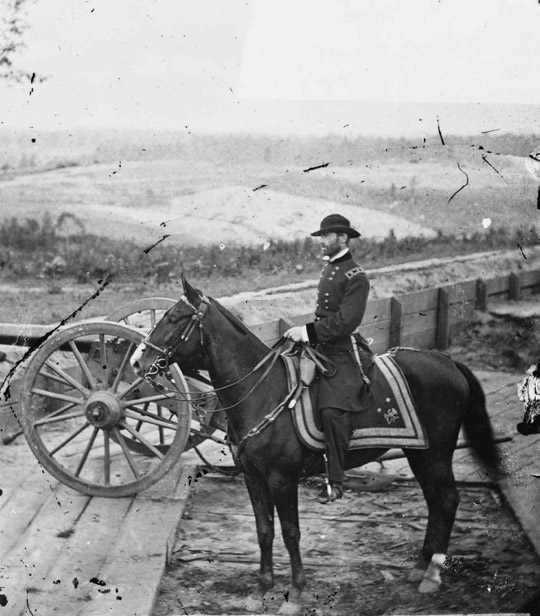 Gen. William T. Sherman on horseback at Federal Fort No. 7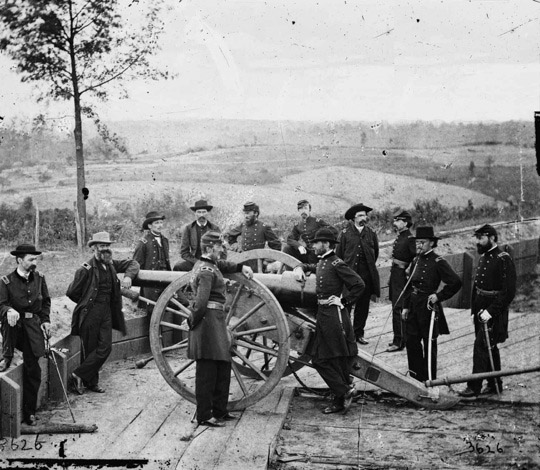 Atlanta, Ga. Gen. William T. Sherman, leaning on breach of gun, and staff at Federal Fort No. 7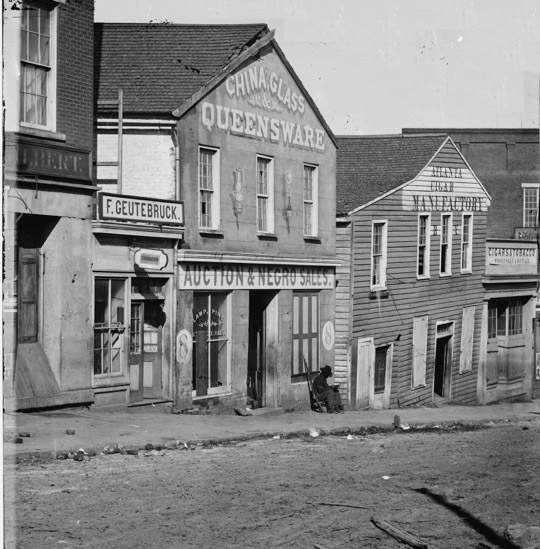 Slave Store Downtown Atlanta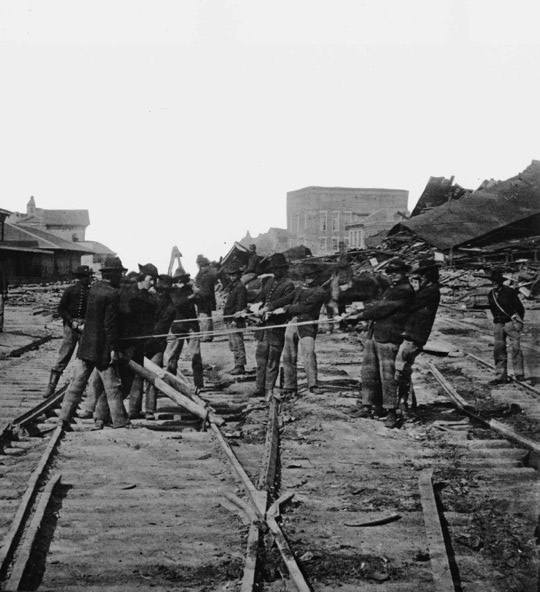 Atlanta, Georgia. Sherman's men tearing up railroad track.