Witness: Passing the Torch of Holocaust Memory to New Generations
by Eli Rubenstein 
reviewed by Marc Schulman
After a two-year hiatus, the March of the Living is scheduled to take place again this year. However, with war raging in Ukraine, not far from Poland's borders, this year's March will be noticeably smaller than those in the past. Moreover, as the march of time inevitably continues forward and only eight Holocaust survivors will participate in this transformational commemoration.
This year's theme will be "Passing the Torch". We are nearing the time when there will no longer be any survivors among us. Those involved in Holocaust education have been working on ways of addressing this inescapable, sad eventuality, as they labor to keep the memory and knowledge of the Holocaust alive for future generations.
One of those vital tools is a new book produced by Eli Rubenstein  and the March of Living. Witness begins with an overview of the history of the Holocaust. The second chapter of the book is devoted to the major Death Camps in Poland (Auschwitz, Treblinka, Majdanek, and Belzec), where industrial murder took place. The third chapter highlights resistance during the Holocaust. The fifth chapter focuses on the importance of survivors and students passing the torch of memory. The final chapter calls for a commitment to create of a new generation of witnesses.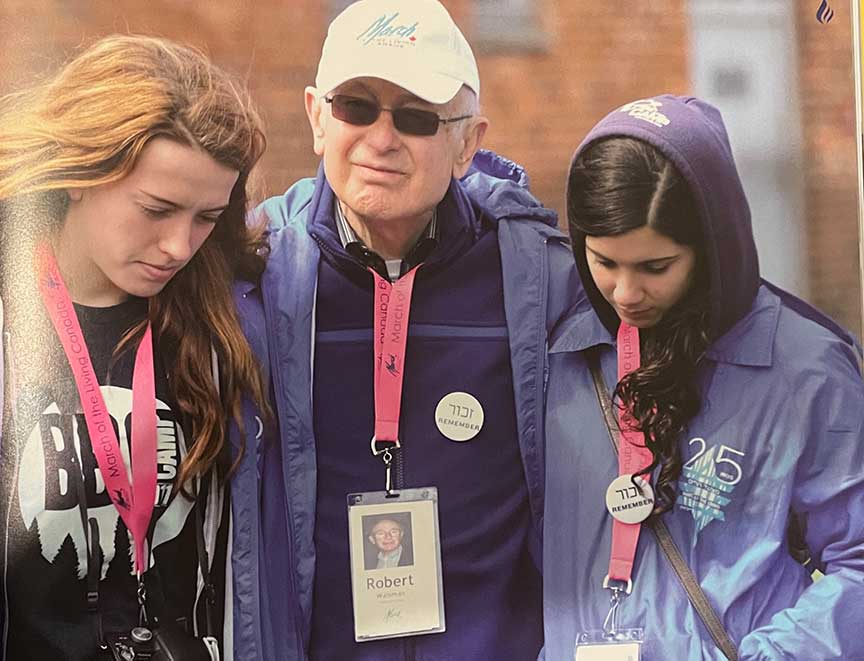 While the prose in the book is excellent, and the quotes are moving, what is really special about the book is the phenomenal photography. Most of the images were taken during the various March of the Living experiences over the past 30 years. Almost every picture includes a survivor, often with a student on the March; sometimes with another survivor or, in a few cases, the family of those who saved them. Not being a survivor, I cannot imagine what it was like for those who came on the March to return to locations that house such painful memories. These photographs successfully capture the complex emotions of those moments, in a way words simply cannot.
Those reading the book via the Digimarc Discovery app can listen to powerful videos which include survivor testimony, adding another powerful resource to explore.
I am often troubled by the thought of a world without survivors who can provide their invaluable personal testimony. Unfortunately, that world is fast approaching, and this impressive book provides a robust resource, which captures the moment and safeguards the spirit of those survivors who not only endured, but often prospered in a new life — and at the same time dedicated a good portion of their lives to perpetuating the memory of those who perished.
Witness is available in English, Spanish, Polish, and Hebrew.
---