Strong, William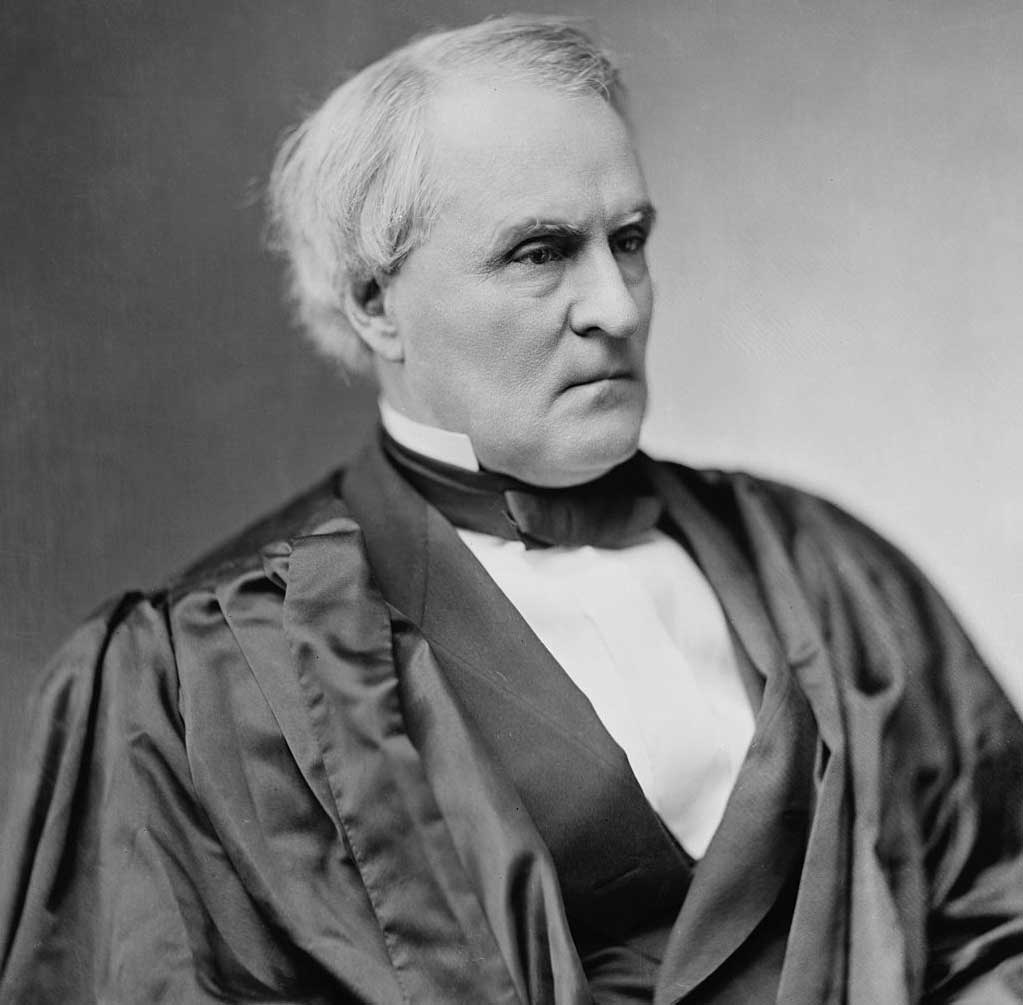 Strong, William (1808-1895) Supreme Court Justice
William Strong was born on a small farm in Somers, Connecticut, on May 6, 1808. He attended local public schools, augmenting his education by studying mathematics and the classics with his father. After spending a year at preparatory academies in Monson and Plainfield, Massachusetts, he entered Yale College when he was fifteen years old. Strong graduated in 1828, and worked as a teacher in New Jersey for three and a half years to pay off student debts. At the same time, he studied law with a local attorney, eventually returning to Yale for law school. He earned a master's degree in law in 1832, and was admitted to the bar in Connecticut and Pennsylvania. At the advice of experienced friends, he moved to Reading, Pennsylvania, and set up a law office there. He learned the local German dialect in order to deal with the his many German immigrant clients, and he soon established himself as a professional success and a prominent citizen. He served on the city council and the board of education, was a director of a bank and a railroad, and was counsel to the Philadelphia and Reading Railroad Company. He married Priscilla Lee Mallery in 1836, and the couple had three children before her death in 1844. Strong remarried six years later, and he and his new wife, Rachel Davies Bull, had three additional children.
In 1846, Strong, a Democrat, was elected to Congress as an antislavery candidate. Among his colleagues in the House of Representatives were future Presidents Abraham Lincoln and Andrew Johnson. Strong was reelected in 1848, and served as chairman of the Committee on Elections. After his second term concluded, he chose to return full-time to his law practice rather than run for a third term. He was elected a judge of the Pennsylvania Supreme Court in 1857 for a term of fifteen years. Maintaining his allegiance to the Union and to the ideal of abolition, he switched to the Republican Party before the beginning of the Civil War. As a judge, he worked to uphold the cause of the Union, voting to support the federal government's wartime actions. When Chief Justice Roger B. Taney died in 1864, President Lincoln considered nominating Strong as a replacement, but chose Strong's political rival Salmon P. Chase instead. Meanwhile, Strong left the bench after eleven years in order to return to private practice in Philadelphia.
When Justice Robert Grier resigned from the Supreme Court, President Ulysses S. Grant was inclined to nominate Strong, but Strong was bypassed again in favor of former Secretary of War Edwin M. Stanton. Stanton was confirmed, but died before he could take the oath of office. The Court had two vacant seats, one which had stood free since 1868, while a major issue of policy remained in limbo. The incomplete Court had found the legal tender act unconstitutional, so that debts incurred after 1862 would have to be paid in gold or silver rather than paper money. Ironically, the Secretary of the Treasury who had endorsed the act during the war, Salmon Chase, was now the Chief Justice who voted against his owns actions. The decision was held for reargument in 1869, but the Court's elected to hold official announcement of the decision to strike down the legal tender act until the two vacancies were filled. The national economy lay in the balance, and many charged President Grant with trying to "pack" the Court in his favor when he nominated Strong and fellow northern Republican Joseph P. Bradley for the vacancies, rather than yielding to pressure and nominating at least one Southern Republican. Strong was confirmed on February 18, 1870, followed by Bradley a month later. Although both candidates were considered qualified to sit on the Court, the "Court-packing" allegations were given credence when the Court, now complete in number, reversed the legal tender decision in May 1871.
On the Court, Strong wrote relatively few constitutional cases, dealing instead with issues of patents, common law, taxes and shipping rights. He avoided politics, except for taking part in the 1877 commission which decided between Rutherford B. Hayes and Samuel J. Tilden in the disputed presidential election. Although he was still in good health, he decided to retire in order to set an example for Justices Nathan Clifford, Ward Hunt and Noah H. Swayne, whose ill health was adversely affecting the Court. Strong retired on December 14, 1880, followed by Swayne a few weeks later. Clifford died in July of 1881, and Hunt died early in 1882.
A year after he retired, Strong wrote an article for the North American Review, in which he made several proposals to relieve the heavy workload given to the Court. Many of his suggestions were included in laws passed ten years later. He remained in Washington after his retirement, working actively in the Presbyterian church. He served as president of the American Bible Society (1871-1895), the American Tract Society (1873-1895) and the American Sunday School Union (1883-1895). Strong died at Lake Minnewaska, New York, on August 19, 1895, after a brief illness.