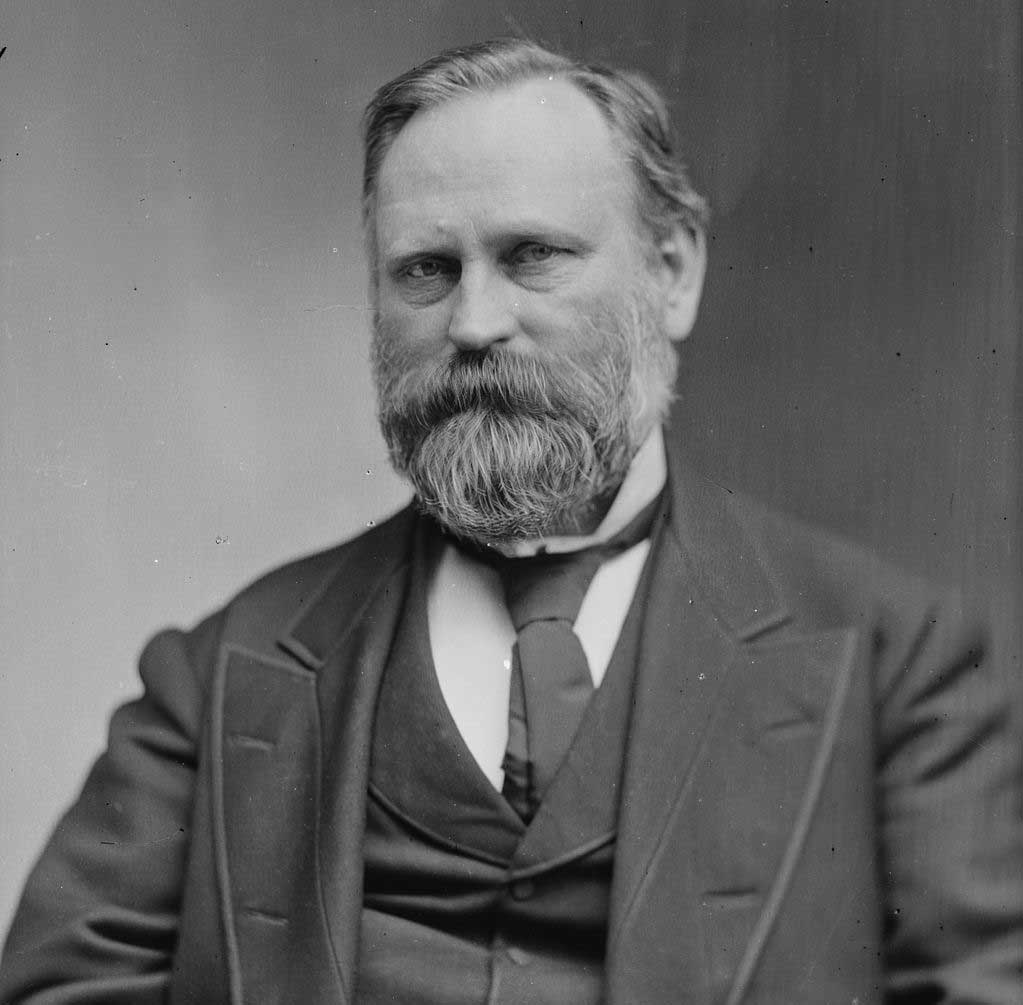 Strong, WilliThomas Stanley Matthews was born on July 21, 1824, in Cincinnati, Ohio, one of sixteen children. He was educated by his father, then, following a common practice, was admitted as a junior to Kenyon College in 1839. At Kenyon, he made the acquaintance of future President Rutherford B. Hayes. Matthews graduated with honors in 1840 and studied law briefly in Cincinnati. Since Ohio required lawyers to be at least twenty-one years old to be admitted to the bar, Matthews moved to Tennessee, a state which allowed him to be admitted to the bar at his age of eighteen. While practicing law in Columbia, Tennessee, Matthews served as editor of the Tennessee Democrat. He married Mary Ann ("Minnie") Black in 1843. They moved back to Cincinnati in 1844, and Matthews was admitted to the bar once he reached the age of twenty-one.
Matthews became an abolitionist, and edited the antislavery Morning Herald. He was selected as the clerk of the Ohio legislature in 1848. Although he was elected to the court of common pleas for Hamilton County three years later, he had to resign because his salary was too small. He was elected to the state senate in 1855, in which he served until 1858. He was also active as an attorney, even appearing before the Supreme Court. His business and consulting interests made him prosperous, while he became more moderate in his antislavery views, joining the mainstream of the Democratic party. He was appointed US attorney for the Southern District of Ohio in 1858, in which position he prosecuted journalist W. B. Connelly for violating the Fugitive Slave Act by helping two slaves escape to freedom. In his private life, he lost four of his six children to a scarlet fever epidemic.
When Abraham Lincoln was elected President, Matthews resigned his position as US attorney. Once the Civil War broke out, Matthews and Rutherford B. Hayes enlisted together in the Twenty-third Ohio Infantry. Matthews began as a lieutenant-colonel, and was promoted to colonel in the Fifty-first Ohio Volunteers. He resigned his commission in order to run for the Cincinnati Superior Court in 1863. He won the race and remained on the bench until 1865, when he returned to his practice in railroad law. An active Presbyterian lay leader, Matthews drafted the church's formal condemnation of slavery at its General Assembly in 1864.
Despite his tendency to follow an independent path both as an attorney and a politician, Matthews was appointed to complete John Sherman's term in the US Senate in 1877, thanks to the influence of then-
President Rutherford B. Hayes. Near the end of his term, in December 1880, Hayes nominated Matthews to the Supreme Court. The Senate, however, did not act, but the new President, James A. Garfield, resubmitted his name in 1881. His appointment was hotly debated in the Senate for several reasons, including the fact that he had served as "robber baron" Jay Gould's attorney. Although he was rejected by the Judiciary Committee 7-to-1, he was confirmed by a 24-23 vote in the Senate.
Matthews spent fewer than eight years on the Court. One of his most significant cases was Yick Wo v. Hopkins (1886), in which the Court struck down a San Francisco ordinance which was enforced in such a way that it discriminated against Chinese laundry owners. Matthews wrote that "thought the law itself be fair on its face ... yet if it is applied and administered by public authority with an evil eye and an unequal hand ... the denial of justice is still within the prohibition of the Constitution."
Matthews' wife, Minnie, died in 1885, and Matthews married Mary Theaker in 1887, over the objections of his children. Matthews contracted a rheumatic illness in 1888 and, although he seemed to be recovering, died at his home in Washington on March 22, 1889.