Samuel Clemens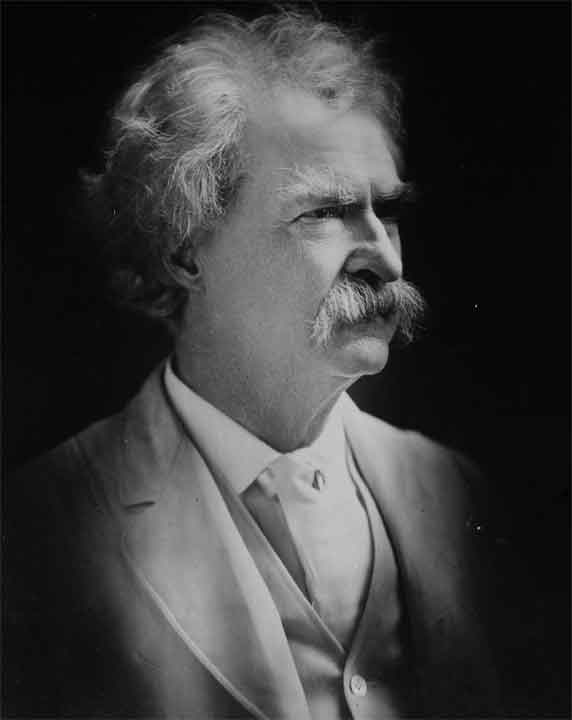 Samuel Langhorne Clemens was born on November 30, 1835, in Florida, Missouri, and was reared in Hannibal, Missouri. He left school at the age of 12 and worked for a printer, eventually becoming a journeyman printer in St. Louis, New York, Philadelphia and Iowa. In the 1850s, he became a licensed riverboat pilot. During the Civil War, he joined a Confederate volunteer company, but deserted after a week and moved to Nevada. He worked as a journalist, adopting the pen name "Mark Twain," which in riverboat terminology meant "two fathoms deep," i.e., safe water. In 1865, he came into national prominence when his short story, "The Celebrated Jumping Frog of Calaveras County," was published in the New York Saturday Evening Press, and was reprinted in newspapers across the country.
Mark Twain has become recognized as one of the greatest writers the United States has ever produced. His skill in creating entertaining characters and engaging plots, as well as effectively evoking local color, make novels like The Adventures of Huckleberry Finn (1884) enduring works in the cannon of American fiction. He was also a brilliant satirist and social critic, and in his essays and travelogues as well as his novels and short stories, he was able to poke fun at society and its foibles with irreverent humor and disturbing accuracy. Twain traveled widely across the country and the world as a popular lecturer as well as a writer. Among his writings are The Celebrated Jumping Frog of Calaveras County, and Other Sketches (1867), The Innocents Abroad (1869), Roughing It (1861), The Gilded Age (1862, with Charles Dudley Warner), Tom Sawyer (1876), The Prince and the Pauper (1882), Life on the Mississippi (1883), A Connecticut Yankee in King Arthur's Court (1889), Pudd'nhead Wilson (1894), Joan of Arc (1896) and Following the Equator (1897).
After the Spanish-American War, Twain became a passionate anti-imperialistic, fiercely criticizing King Leopold of Belgium for his policies in the Congo. A generally more pessimistic view of humankind became evident in Twain's later writings, including works such as What Is Man? (1906) and The Mysterious Stranger (1916, published posthumously). Twain died in Redding, Connecticut, on April 21, 1910. In 1924, Mark Twain's Autobiography was published.