Samuel Blatchford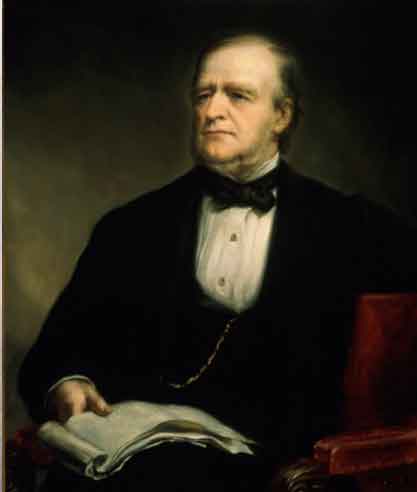 Samuel Blatchford was born on March 9, 1820, in New York City, to a wealthy and prominent family. After graduating from Columbia College at the top of his class at the age of 17, he began studying law in his father's New York law office. Soon, however, New York Governor William Seward, a close friend of Blatchford's father, invited the young man to serve as his private secretary. Thus, by the time Blatchford was admitted to the bar in 1842, he had acquired a knowledge of public policy as well as the practice of law. After marrying Caroline Appleton in 1884, he joined Seward in private practice, and established a new partnership with Seward's nephew nine years later. He turned down an 1855 appointment to the state supreme court for the sake of his practice. In 1852, he began reporting federal court cases, which had not been available in a continuing series. Eventually he published 24 volumes, with a special focus on shipping and maritime law, continuing even after he was appointed a judge.
Blatchford was appointed district judge for the Southern District of New York in 1867, the same year in which he became a trustee of Columbia University, his alma mater. In 1872, he became a judge for the Second Circuit in New York. After Blatchford had served as a federal judge for 15 years, a seat on the US Supreme Court became vacant with the retirement of Ward Hunt of New York. Blatchford was President Chester Arthur's third choice for the seat, but when the first two declined the appointment, Blatchford was nominated. A moderate Republican and a lifelong New Yorker, he was easily confirmed to the "New York seat" on the Court, thus called because there had been a Supreme Court Justice from New York continuously since 1806. Blatchford joined the Court on April 13, 1882.
A confirmed moderate on the Court, Blatchford supported the opinions of the Court in all but two cases, and wrote 430 majority opinions. He became known for his courtesy to judges and lawyers alike and his modest and pleasant temperament, as well as for his encouragement of younger members of the legal profession. He took on more cases than his fair share, and was considered a "workhorse" of a justice. After serving on the Court for 11 years, Blatchford died in Newport, Rhode Island on July 7, 1893. When his "New York seat" was given to Louisiana Senator Edward D. White, the continuous line of New Yorkers on the Court ended.