Morrison Waite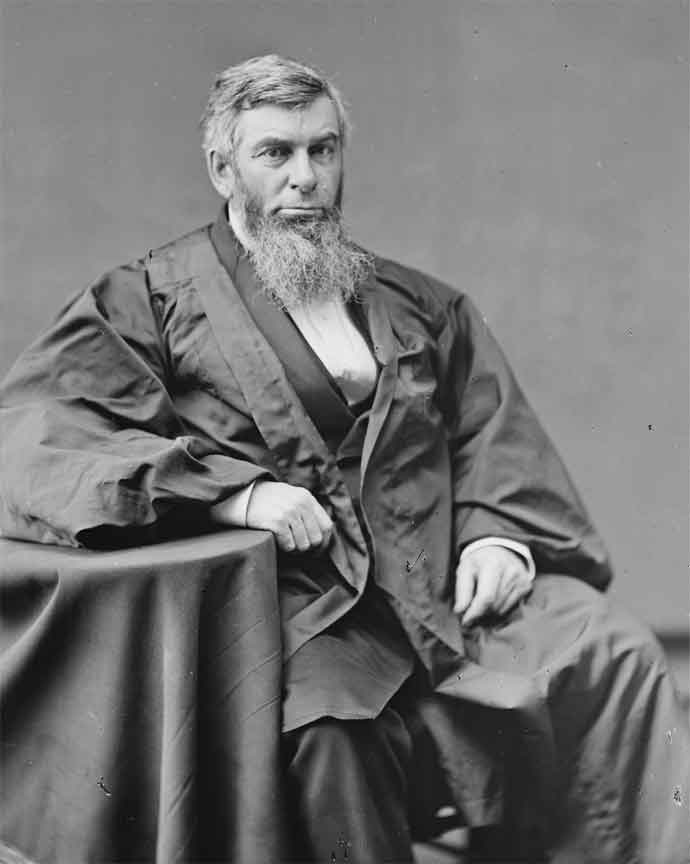 Morrison Remick Waite was born in Lyme, Connecticut, on November 27, 1816. He graduated from Yale College in 1837, then moved to northwest Ohio in 1838. He settled in Maumee City, near Toledo, and studied with attorney Samuel D. Young, eventually becoming Young's law partner. Waite became a distinguished Ohio attorney, known for his honesty, kindness, and unwillingness to charge his clients high fees. Two years after he moved to Ohio, Waite married his second cousin, Amelia C. Warner. The couple moved to Toledo, and raised a family of five children. Waite became active in the local community, serving as a director of the Bank of Toledo and president of the Young Men's Association.
Waite was also active in politics, as a Whig. He lost an 1846 bid for Congress, but was elected to the Ohio General Assembly three years later. An abolitionist, he took part in the organization of the Ohio Republican Party, although he was too conservative to join the radical wing of the party. During the Civil War, Waite gave speeches and wrote petitions in support of the Union. He was offered a seat on the Ohio Supreme Court after he worked for John Brough's successful gubernatorial campaign. Waite refused the position, choosing instead to act as an advisor to the newly-elected governor. In 1871, President Ulysses S. Grant appointed Waite one of three US representatives to the Geneva Arbitration to settle Civil War compensation claims, especially those between the US and Great Britain. As a result of the arbitration, the US was awarded $15.5 million, and the virtually unknown lawyer from Ohio became a national figure.
After he returned to the US, Waite won election to the Ohio Constitutional Convention of 1873, then was made president of the convention. During the convention, Waite was notified by telegram that
President Ulysses S. Grant had nominated him to be Chief Justice of the Supreme Court. The nomination was a surprise to everyone, especially Waite himself. Grant had considered at least five other people before Waite, but all had been unsuitable for various reasons. Waite was confirmed unanimously, and took the bench in March 1874, without having ever served as a judge, or even argued a case before the Supreme Court.
Although his colleagues were initially unwelcoming and patronizing toward the inexperienced new Chief Justice, Waite managed to win them over with his excellent management skills and his personal friendliness and humility. He took the responsibility of writing the largest share of opinions for himself, and covered the caseloads of his colleagues when they were ill. In his fourteen years on the Court, he wrote 872 opinions. The Waite Court was cautious in interpreting the Civil War Amendments (Thirteenth, Fourteenth and Fifteenth) as expansions of the federal government's authority to enforce civil rights within the states.
Unlike his predecessor, Salmon P. Chase, Waite avoided politics, writing that his "duty was not to make [the position of Chief Justice] a stepping-stone to something else, but to preserve its original purity." He even declined to take part in the electoral commission which determined the results of the 1876 presidential election between his friend Rutherford B. Hayes and his Yale classmate Samuel J. Tilden. The Court workload increased drastically as Waite's tenure continued, to the point that it drove Waite to ill health and exhaustion. In addition, his salary as Chief Justice was not enough to provide for his family and allow his to fulfill the social obligations of his office, so that he came close to bankruptcy. He wrote the opinion in the Telephone Cases of 1888, but was too ill to read it when he came to the Court on March 20. Three days later, on March 23, 1888, Waite died. Concerned individuals took up a collection to help support Waite's widow.