Melville Fuller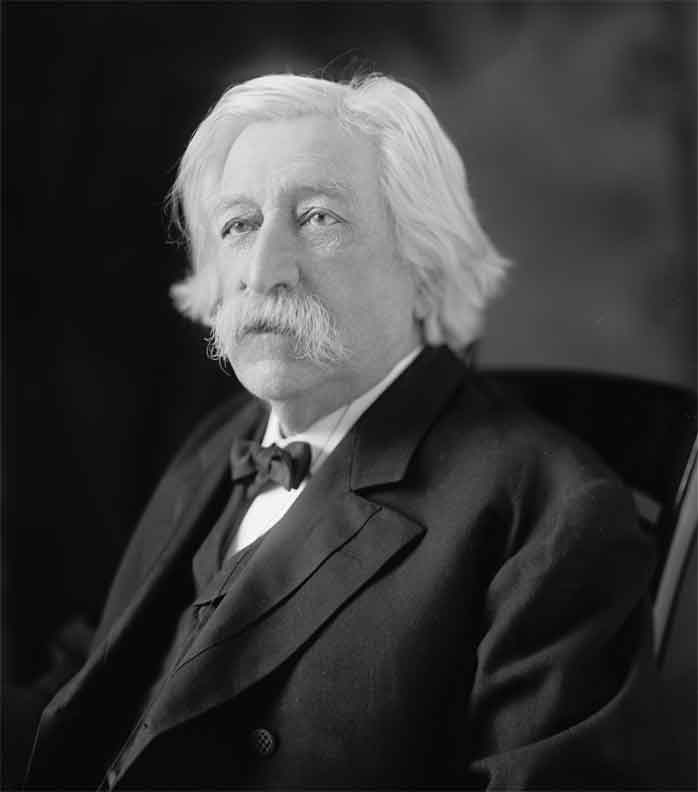 Melville Weston Fuller was born in Maine on February 11, 1833. His parents divorced when he was 2 months old, and he and his older brother grew up with their mother and her parents in Augusta, Maine. Since Fuller's father remarried and did not provide any substantial financial assistance to his first wife and her two children, Fuller's mother gave piano lessons to earn money for her children. When he was 16 years old, Fuller entered Bowdoin College in Brunswick, Maine, graduating Phi Beta Kappa in 1853. He read voraciously, and was a prolific poet. His literary interests remained with him throughout his later legal career. Fuller studied law in a law office in Bangor, Maine, then attended lectures at Harvard Law School for six months. This experience would make him the first Chief Justice to have received any law school training.
Admitted to the bar in Maine in 1855, he went on to open a practice in Augusta, Maine. Fuller also worked as an editor of The Augusta Age, a Democratic newspaper run by his paternal uncle. When he was 22 years old, Fuller was appointed city solicitor and elected president of the Common Council. The next year, he moved to Chicago, where he joined a law firm, and became a partner the following year. Fuller soon became active in Illinois' Democratic politics, and was elected to the Illinois House of Representatives in 1863, serving for one year.
He married Calista Ophelia Reynolds in 1858, with whom he had two daughters. His wife died of tuberculosis in 1864, and Fuller was left with the sole responsibility of raising his children. In 1866, however, he married Mary Ellen Coolbaugh, and the couple had eight more children, seven of whom survived childhood. In order to support his growing family, Fuller focused his efforts on his work, and his real estate investments and developing law practice helped secure him financially. One of his most celebrated cases was his defense of a dissident Episcopalian minister from a suit by an Episcopal tribunal, a case which Fuller won, thus helping to establish the Reformed Protestant Episcopal church in the United States.
Fuller became influential in the Democratic party, and was a friend of Grover Cleveland. When Cleveland was elected President, he made repeated attempts to appoint Fuller to various civil service posts, all of which Fuller rejected. Finally, in 1888, Fuller accepted the position of Chief Justice of the US Supreme Court.. The nomination was confirmed by the Senate on July 20, 1888.
As Chief Justice, Fuller held many of the justices' conferences at his large brick mansion in Washington, which was more comfortable than the Court's offices in the Capitol. Overwhelmed with the amount of responsibilities of his position, he largely withdrew from Washington society, despite his general sociability. Fuller began the practice, which continues to this day, of having the justices shake hands with each other at the beginning of private conferences and before going into the courtroom, in order to promote harmony. Under Fuller, the Court remained generally conservative, despite the changes occurring in the nation as the nineteenth century ended and the twentieth century began.
In 1897, Fuller served on the Venezuela-British Guiana commission that helped resolve a border dispute. The next year, he was appointed to the Permanent Court of Arbitration in the Hague, a position he held for ten years while remaining on the Supreme Court bench. After his second wife died in 1904, his heath began to fail. His heavy workload also contributed to his deteriorating physical condition, and he died of a heart attack on July 4, 1910.