George Washington Carver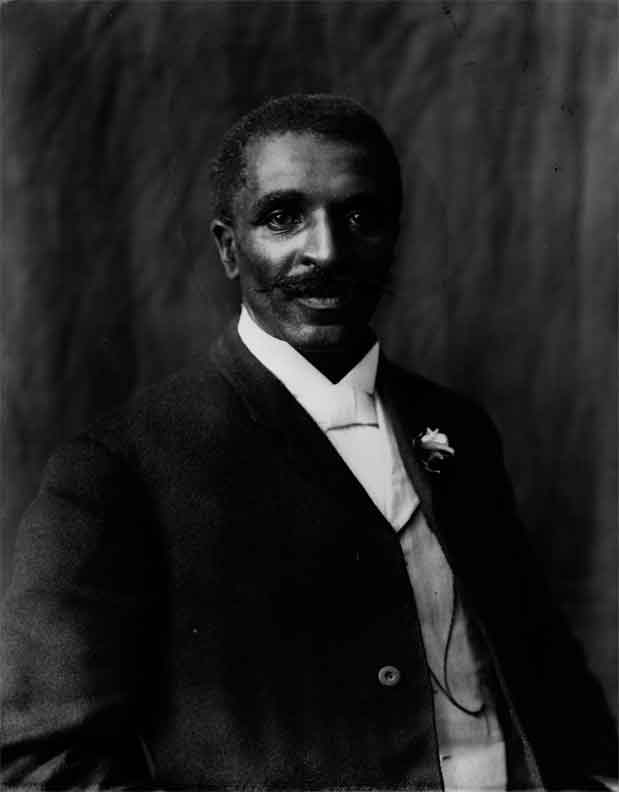 George Washington Carver was born on July 12, 1861, near Diamond Grove, Missouri., the son of parents living in slavery. In 1894, he graduated from Iowa State College of Agriculture and Mechanical Arts with a bachelor's degree in agriculture. Obtaining a position on the faculty there, he was in charge of the greenhouse and bacterial laboratory. After he earned a master's degree in 1896, Carver was appointed head of the agricultural department at Iowa State and director of agricultural research at the Tuskegee Institute in Alabama. He would hold those two positions for the rest of his life.
Carver's life's work was to help poor southern farmers, especially African Americans, make a better living through more efficient and effective agricultural methods. He urged cotton-only farmers to diversify their crops, including such soil-enriching plants as peanuts and sweet potatoes. He was able to invent new uses for these common substances which were both practical and economical. In addition, he developed a hardier variety of cotton, called Carver's Hybrid. Throughout his career, Carver chose not to take advantage of the financial rewards of his countless inventions and discoveries. In 1935, he was chosen as a collaborator in the Department of Agriculture's Bureau of Plant Industry, Division of Mycology and Disease Survey. In 1940, he used his life savings to establish the George Washington Carver Foundation to continue and extend his research work. Carver died on January 5, 1943, in Tuskegee, Alabama. Ten years later, the plantation on which he was born was declared a national monument.