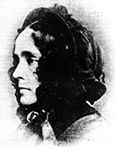 Jane Means Appleton Pierce
1806-1863
Born: Hampton, NH
Married: Franklin Pierce, 1834
Children: Frank, Benny
First Lady: 1853-1857

Jane Pierce's life was tragic. Two months before her husband's inauguration, their only surviving child, eleven-year-old Benny, was killed in a train crash. Grief nearly killed her, as well. Too, Jane suffered from tuberculosis and bore the burden of Franklin Pierce's alcoholism. Jane Pierce was the daughter of the president of Bowdoin College and came from a prominent New England family. Her husband believed that she would be a substantial political asset for him. But Jane found Washington to be a depressing, unpleasant place and she wanted Pierce to abandon politics. Although it seemed as if she had gotten her wish when Pierce turned down a job as President's Polk's attorney general, Pierce eventually returned to the political arena after the war with Mexico. It is said that when Jane received word of her husband's nomination as president, she fainted. During their four years in the White House, she made few public appearances and spent much of her time away in her room writing letters to her dead children. The Pierces returned to New Hampshire after the inauguration of James Buchanan. Jane died in 1863, consumptive and still grief-stricken.